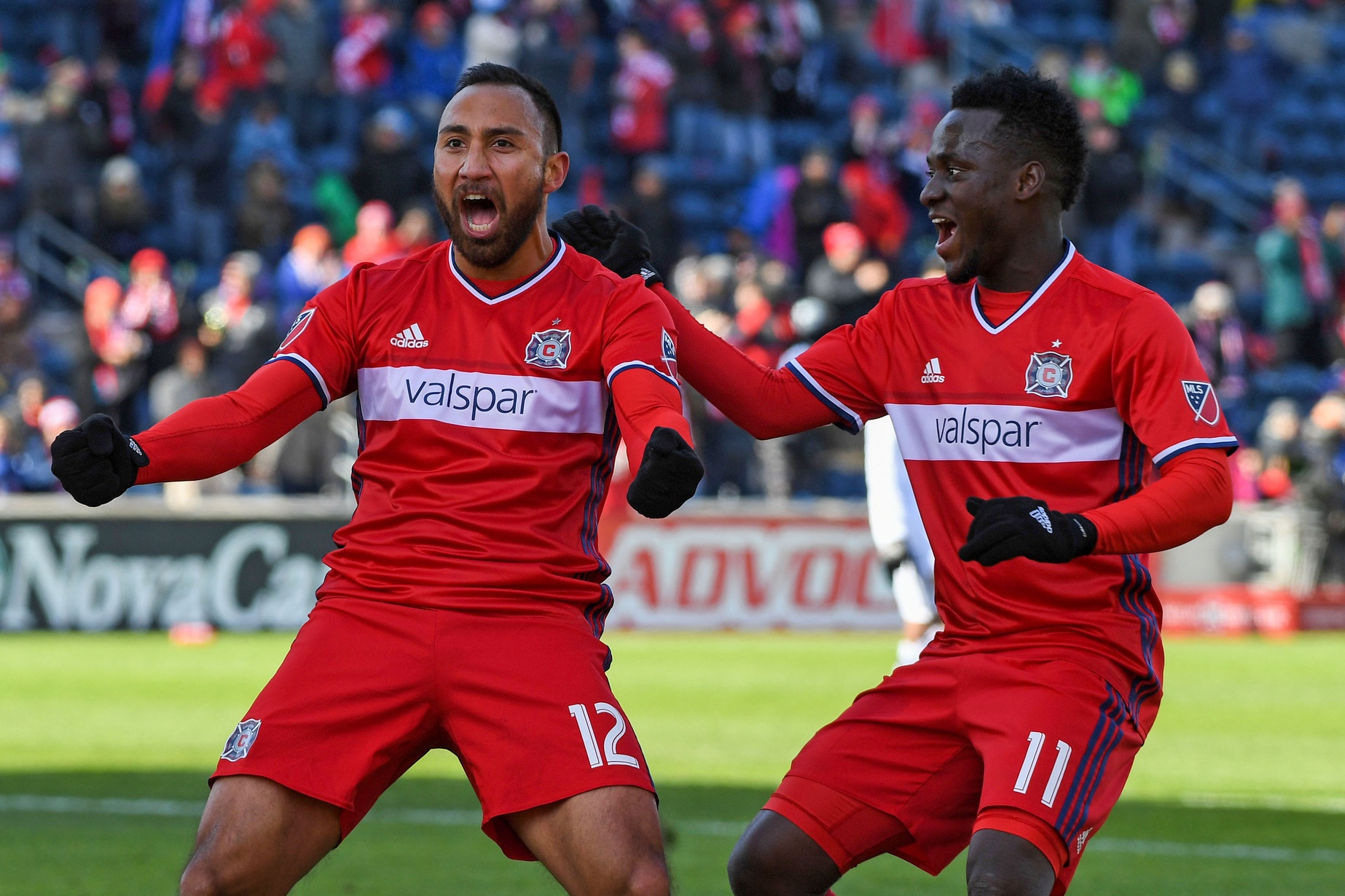 After a lackluster first half in their season opener, the Chicago Fire turned on the jets in the second half to earn a point on the road. On Saturday, the Fire took the field for their second match of the season, and, unlike last time out, they didn't waste any time.
Nemanja Nikolic and Artura Alvarez fired a pair of goals within the first 15 minutes leading the Fire to a 2-0 win over Real Salt Lake on Saturday at Toyota Park. The win sees the Fire collect their fourth point of the young season while RSL sits on just one after drawing Toronto FC last time out.
Just moments into the match, the Fire jump-started the scoring, taking advantage of the RSL backline. A back pass from Sunny found its way to Nikolic, who took the ball and ran at a helpless Nick Rimando. The Hungarian Designated Player was left with a simple one-on-one finish, sliding a shot past Rimando for an 11th minute lead.
Four minutes later, the Fire doubled their lead through Arturo Alvarez. Pinned deep, the RSL defense remained too loose, allowing Alvarez to cut onto his favored left foot. The Fire midfielder then fired, scoring yet again for an early two-goal punch.
RSL had a chance to get back into the match late into the second half but missed out as Yura Movsisyan failed to put a sitter on frame. Luis Silva also had a chance to fire a much-needed goal, but the young midfielder's header went wide on the 35th minute chance.
When all was said and done, Fire goalkeeper Jorge Bava was hardly troubled, making just one save on the day despite seeing his side outshot, 12-6.
Following the loss, RSL returns to action on Saturday against the LA Galaxy while the Fire look to remain unbeaten when they travel to face Atlanta United that same day.
MAN OF THE MATCH
It was far from a sexy performance, but Dax McCarty controlled the match for the Fire in the midfield. The introduction of Juninho made a major difference, but McCarty's influence on both the attacking and defensive sides of the ball was crucial against an RSL team that couldn't get a man on him.
MOMENT OF THE MATCH
The first goal was a setback for RSL, but the Fire's second finish was a real punch to the gut. After allowing an early one to Nikolic, the RSL defense simply let Alvarez fire a second goal within minutes, all but ending the match just as it was getting started.
MATCH TO FORGET
Kyle Beckerman was unavailable for most of preseason and the RSL legend looked very, very off in their second game of the season. Beckerman was a step slow and could have been positioned better for both goals, marking his second lackluster performance of the young season.