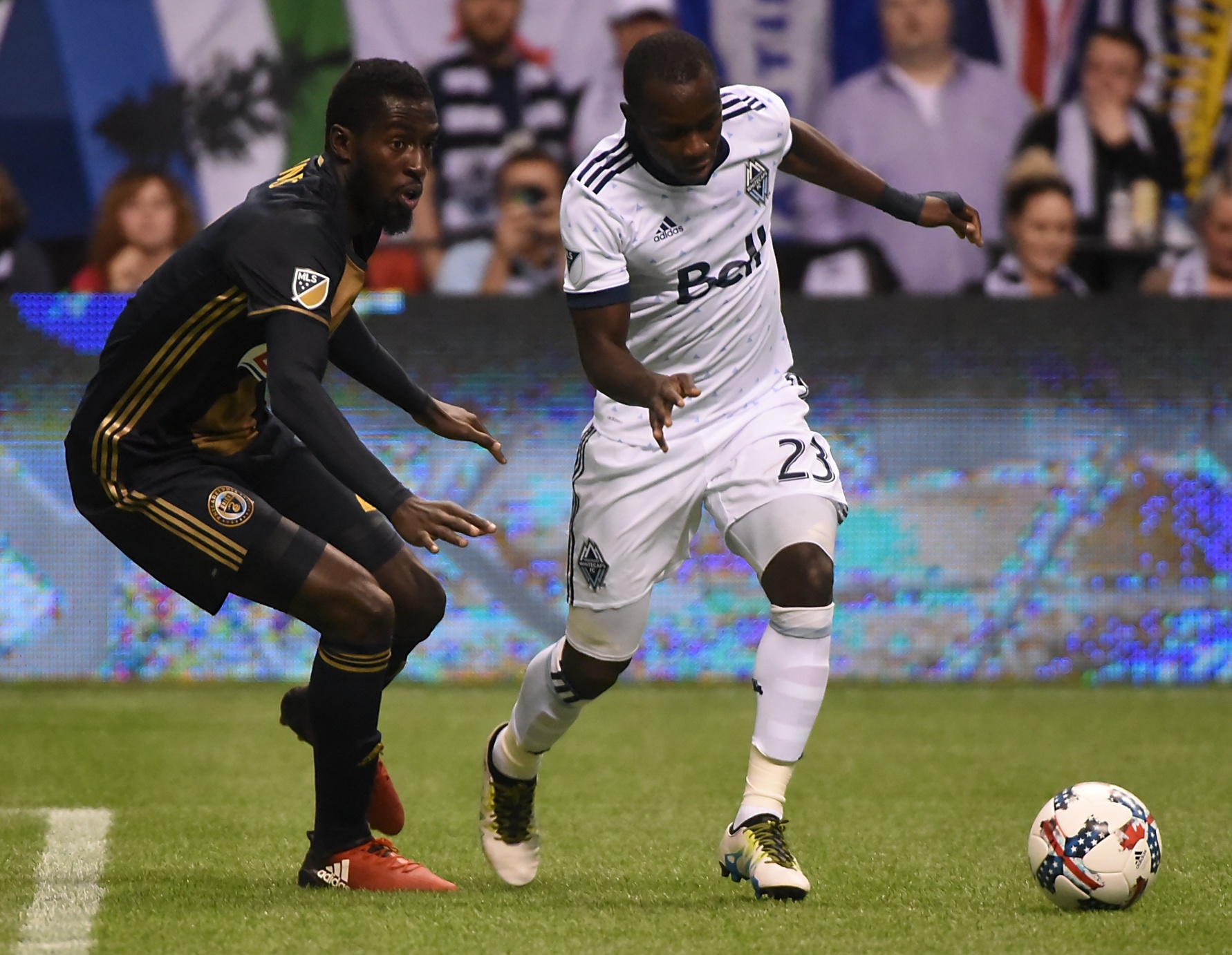 The first 90 minutes of Derrick Jones' Philadelphia Union career couldn't have gone any better. The 20-year-old defensive midfielder churned out an impressive performance in the club's 0-0 draw with the Vancouver Whitecaps in Week 1.
Week 2 presents a different challenge for the homegrown player as Toronto FC comes to Talen Energy Stadium for the Union home opener on Saturday.
"Derrick had a great game against Vancouver," Union head coach Jim Curtin said. "You have to say though all the players around him on the field made his job as easy as they possibly could to protect him and help him out in certain situations and put him on the ball where he didn't have a ton of pressure on himself." 
"This game will be faster," Curtin said. "Toronto puts a little more pressure on you. It'll present new challenges. The midfield will be crowded, they have essentially five midfielders at times and the backs are comfortable coming inside. Derrick's head will be on a swivel and he'll have to be looking around constantly." 
One of the keys the Union defense has to carry over from Week 1 is the communication between Jones and the center back pairing of Oguchi Onyewu and Richie Marquez. Marquez as impressed with how well Jones listened to all the cues from the defensive pairing against a speedy Vancouver side.
"Derrick is a workhorse," Marquez said. "He's never going to stop working for us. He takes information from behind perfect and did everything I told him to do. He's listening to everythintg Gooch and I were saying. He's one of those team players basically that's never going to stop working and you can see that the entire 90 minutes. It's actually fun to watch." 
"It was great," Jones said. "They were talking to me from behind me and just listened to them and they helped me a lot in the game. They just tell me to go out there and have fun, make sure I play hard. I did my best to do that."
Toronto brings a different aspect to the field with the physical presence of Jozy Altidore and the finesse of Sebastian Giovinco running at the defense. Keeping an eye on Giovinco at all times is imperative for success on Saturday.
"Over the course of 90 minutes, you're really trying to limit the amount of touches he gets on the ball," Curtin said. "When he does touch the ball, you want it to be as far away from the goal as possible." 
Curtin hinted throughout preseason that the lineup may change depending on the location of the game, but it appears the starting 11 will be the same, with Ilsinho still recovering from a knock suffered in training in Vancouver. Warren Creavalle will be fit for Saturday, giving Curtin another option in midfield.
"Warren is training full and available for selection," Curtin said. "Ilsinho, today was his first day back. We'll see how he feels after this training session. We're optimistic he can be available for the weekend." 
Curtin also had a strong opinion on the anonymous ESPN player survey released this week that listed Alejandro Bedoya as the third most overrated player in the league behind Mix Diskerud and Michael Bradley.
"Michael Bradley is on the list too," Curtin said. "Again, if you talk to anyone who knows anything about soccer those are two guys every coach and GM wants on their team. What happens is jealousy, I'll just say it. The players who maybe think they're better than they are or should earn this or that, that's what you see there. Those are great in a Skip Bayless kind of way because they incite something and bring whatever the Twitter world wants to bring out of it.
"It's silly stuff I think it becomes a factor where there's for lack of a better word jealousy," Curtin said. "Anyone who does those surveys and won't put their name on something is gutless anyway. If you want to talk about other players, put your name on it. I'd say that to coaches, to players because that's the way it should be. I get why it's done because it sparks interest but I don't like when people talk bad about any players, let alone my own."