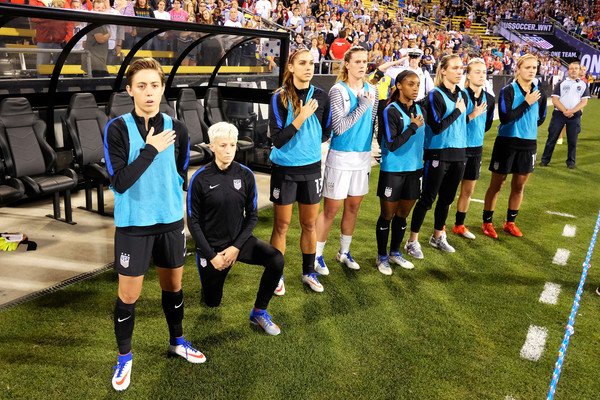 At the U.S. Soccer Federation's Annual General Meeting on Saturday, March 4, a controversial policy was revealed regarding the national anthem.
The policy states that "all persons representing a Federation national team shall stand respectfully during the playing of the national anthems at any event in which the Federation is represented." U.S. Soccer also revealed that the policy was passed by the Board of Directors on Feb. 9. U.S. Soccer has apparently not decided on a punishment should a player break the policy.
The policy appears to be a direct reaction to Megan Rapinoe's protest of the national anthem, in which she kneeled while the national anthem was being played at the USWNT's September 15 friendly against Thailand last year. U.S. Soccer initially denounced Rapinoe's protest.
The news of the policy was broken hours before the USWNT's SheBelieves Cup match against England, and when head coach Jill Ellis, along with the team's captains, Carli Lloyd and Becky Sauerbrunn, were asked about the policy, they were surprised to hear about it.
"I'm sorry, a bylaw was passed today?" Ellis asked before answering the question, in which she backed up previous statements. "I think that should be the expectation … and I think we should represent ourselves and our country, so, yeah, I'm pleased with that."
Lloyd and Sauerbrunn, though, were more uncertain about their feelings regarding the policy.
"I just focused on this game," Lloyd said. "I honestly have no idea. I'll have to read up and see. I mean, it is what it is.
Sauerbrunn said she heard that the policy was "in the making," but "didn't know that it passed." As for her opinion, Sauerbrunn also remained mum, saying, "either you follow the policy or you don't follow the policy."