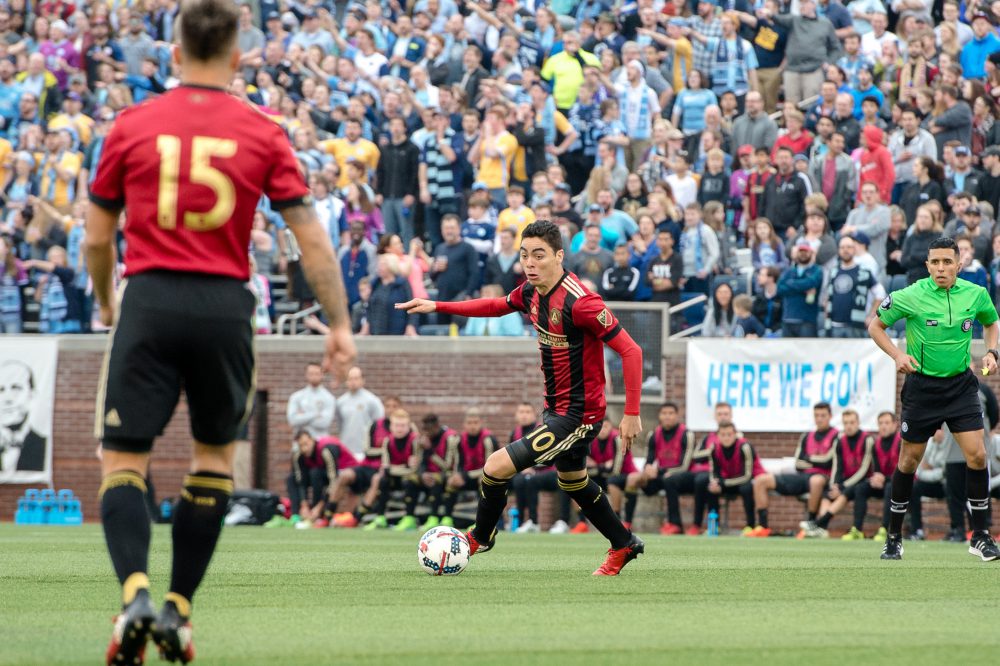 There is always a little bit of added pressure for a player wearing the No. 10 jersey, soccer's traditional symbol for a team's best or most influential player. That pressure is ramped up a bit, however, when you are the very first one to do so for a team.
Such is the case for Miguel Almiron.
Atlanta United will play its first official game this Sunday against the New York Red Bulls, and when it does Almiron is sure to be on the field. The Paraguayan playmaker was one of the expansion club's marquee additions during the offseason, and is expected to deliver plenty this season given his skills and status as a Young Designated Player.
Living up to the billing of being a key figure on any franchise, let alone a brand new one, is a challenge, but the pressure to perform is kicked up a bit when you are the player sporting the No. 10 shirt. It is a special privilege to do so, of course, but not everyone can handle that responsibility.
Almiron sure sounds like he can.
"It's definitely an honor to have the No. 10, but I don't try and think too much about the pressures of wearing the No. 10," Almiron told SBI. "I try to think more about what I have to do on the field and what I have to do to help my teammates try and achieve something important for the club."
Almiron will likely have fulfill his expectations as a talented attacker if Atlanta United is to come anywhere near close to accomplishing something of note in 2017. A versatile lefty, Almiron can play both centrally and out wide. His quality, speed, and aggressiveness on the ball combined with his vision and ability to pick out the final pass make him a threat regardless of where lines up. It is why he has already played for Paraguay's national team in both a Copa America and World Cup Qualifying, and why English heavyweight Arsenal was reportedly interested in signing him from Argentine outfit Lanus.
Still, as much as Almiron is touted and known for his dynamic skills in the final third, he is also more than capable of helping out defensively. In fact, Almiron knows already, despite his young age, how important that facet of the game is. He embraces the challenge of contributing on both sides of the ball, too.
"Miguel comes from playing on a club in Lanus that's very consolidated in that sense, where everyone had to work as a unit," Atlanta United head coach Gerardo 'Tata' Martino told SBI. "They had a commitment from the 11 players on the field when it was time to both attack and defend, and he did the job very well. He's not just a player that can play excellently when he has the ball, but he also works very hard for the team."
Almiron's defensive efforts will be appreciated in Atlanta, but it will ultimately be what he does on the other end of the field that will determine if he has a successful inaugural campaign in MLS. Martino is counting on Almiron to serve as a string-pulling catalyst for the club, similar to the way that Nicolas Lodeiro is for the Seattle Sounders, Diego Valeri is for the Portland Timbers, or that Ignacio Piatti is for the Montreal Impact.
Becoming the latest South American playmaker to make a big mark on the league will not be easy for Almiron in his first year with Atlanta United. One, because he admittedly needs to add more goals to his game after scoring just 10 times in all competitions in his career. Two, because he is playing on an expansion club that has attacking pieces that are very talented but also very unfamiliar with one another.
"Of course, there are a few details that are missing right now, but that's normal on a team that's brand new," said Almiron. "We're getting to know each other pretty well. The friendlies we had were important to get in good condition to the first game. We have very good players, and that helps make things easier for everyone."
If Almiron is anywhere near as good as Atlanta United believe he can be this season, the team should be in decent shape to accomplish the difficult task of reaching the playoffs as an expansion club. Only three other start-up franchises have done so in MLS's 21-year history, but Almiron and Atlanta United think they have what it takes to go against the grain and become the fourth.
It all starts on Sunday against the Red Bulls in a game that will give observers everywhere the first real glimpse of what Atlanta United and its No. 10 are capable of.
"I'm anxious and nervous at the same time, but we're taking things calmly and keeping our feet on the ground," said Almiron. "We're working with lots of humility, which is very important, and we are going to get to that first game in good condition."