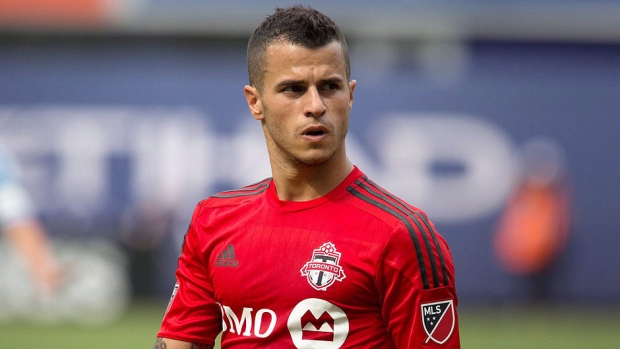 Toronto FC has yet to win a match in 2017, and finding that first win just became significantly more difficult.
According to the Toronto Sun, Sebastian Giovinco has been ruled out of Toronto FC's clash with the Vancouver Whitecaps due to a leg injury, specifically a contusion to his illiotibial band. The Italian forward suffered the injury midway through TFC's 2-2 draw with the Philadelphia Union last time out.
Giovinco has reportedly returned to Italy ahead of the international break to see his personal physician as part of a pre-planned trip home.
"The league talks about protecting players people come to watch," TFC head coach Greg Vanney said of the injury. "I don't know if I can say they've been protected enough.
"If we want to keep the best players on the field, we need to make sure they're getting the proper coverage from the officiating side. I think teams are looking to play very physical with our forwards."
Here's a look at some more of Wednesday's MLS news and notes:
RAPIDS' SJOBERG UNDERGOES SURGERY
Colorado Rapids defender Axel Sjoberg has undergone successful surgery on his left hamstring. The centerback will be reevaluated in six-to-eight weeks.
"We are frustrated for Axel but we will give him our full support during his rehabilitation process," said Rapids Sporting Director Pádraig Smith. "Everyone at the club will be working hard to make sure he is back on the pitch as soon as possible."
A 2015 draft pick, Sjoberg has started 47 matches for the Rapids, including the first two of the 2017 season.
ORLANDO CITY SIGNS BENDIK TO NEW DEAL
Joe Bendik is set to remain in Orlando for the foreseeable future.
Orlando City announced on Tuesday that the club has signed the goalkeeper to a three-year contract extension, which will keep him at the club through the 2019 season.
"We're excited to be able to sign Joe for three more years," Lions General Manager Niki Budalic said. "Joe was among our best players last season and will be a big part of our future. He has been an outstanding professional and earned this extension."
Bendik joined the club in Dec. 2015 and has since played every minute for the Lions.
TWO GOALKEEPERS SET TO MISS TIME FOR MINNESOTA UNITED
Minnesota United has a bit of a crisis at goalkeeper.
According to the Twin Cities Pioneer Press, starting goalkeeper John Alvbage is out of action after suffering a gash on his left leg while third-string Patrick McLain is in the concussion protocol. That leaves the club with just Bobby Shuttleworth, who is expected to start this weekend against the Colorado Rapids.
"It's no problem for Bobby," Adrian Heath said. "He's an experienced keeper. That is one of the reasons we brought him in, for occasions like that."
Aside from Shuttleworth, the Loons have no healthy goalkeepers but could sign someone temporarily by utilizing the league's extreme hardship call-up system.