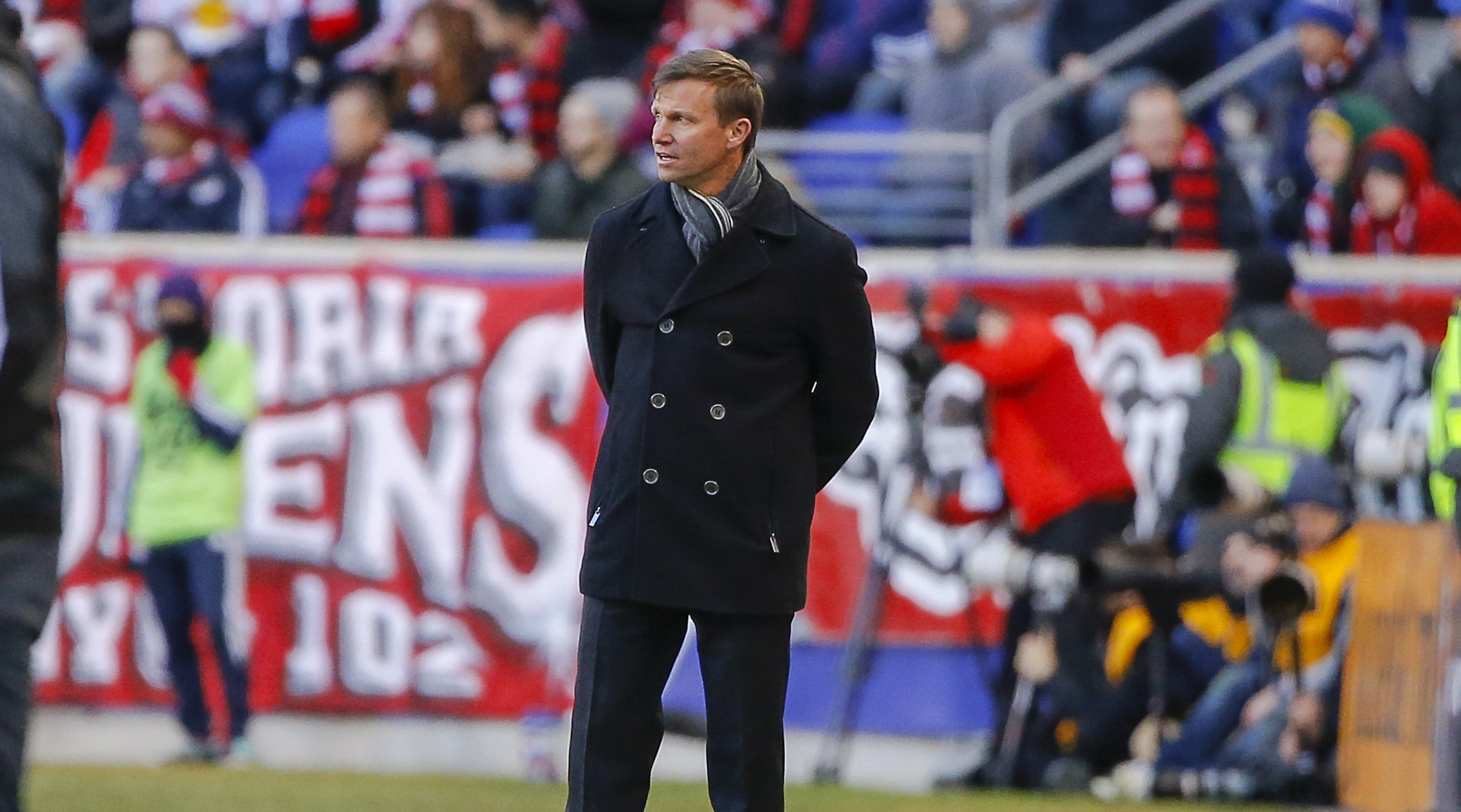 Once again, New York Red Bulls head coach Jesse Marsch has been linked with Europe, but this time it's just for a coaching course.
Marsch will miss the team's training sessions on Wednesday and Thursday this week as he begins a UEFA coaching course, the team announced.  Though Marsch is expected back for this weekend's match against Real Salt Lake at Red Bull Arena, assistant coach Chris Armas will run the training sessions he is expected to miss.
"We fully support Jesse taking these courses. Our staff is fully capable of sharing the workload this week," said Red Bulls Sporting Director Denis Hamlett. "Everyone within our club is aware of what our goals are, how we prepare during the week, and what we need to do to be at our best. It will be business as usual getting ready for Salt Lake."
"I always want to better myself in terms of thinking about the game, and this is an excellent chance to see some of the philosophies being taught in Europe," said Marsch. "I want to continually improve myself as a coach and pick up lessons or a bit of knowledge that I can bring back and implement."
ATLANTA UNITED MAKE MARTINEZ LOAN PERMANENT
It didn't take long for star forward Josef Martinez to convince Atlanta United that he was worth holding on to beyond this season.
After a stellar start to the year that has seen Martinez record five goals in just three matches, and has seen Atlanta win two of its first three, the team opted to make his loan from Torino permanent. The DP forward is now a full member of the roster, though details of the agreement were left unannounced, and has so far scored more goals individually than 16 teams in the league have in total.
"The loan deal had an option to make the transfer permanent which we have now triggered as planned," Atlanta United president Darren Eales said. "Josef has been a fantastic addition to our club and it's clear he has the ability to continuing making an impact in our league."
SIR ALEX FERGUSON PRAISES 'DEFINITELY IMPROVING' MLS
While many have praised the trend in growth seen in MLS over the past few years, there aren't many bigger names to do so than Sir Alex Ferguson.
The Manchester United coaching legend praised the league, which he stated was 'definitely improving', reports ESPNFC. While in New York City for the announcement of the 2017 International Champions Cup, Ferguson spoke on several topics related to the league, from the issue of size, to promotion and relegation, to new Chicago Fire signing Bastian Schweinsteiger.
"I've been watching very carefully over the last few years," Ferguson said. "They've had some major changes. One, they've started some academy systems and that's very, very important. I think that what they probably need is more professional coaches. I think that's something for the future."
MLS COMMISSIONER GARBER VISITS ST. LOUIS
Widely considered one of the leading bids for expansion slots 24 and 25, St. Louis will entertain a visit from MLS commissioner Don Garber on Monday.
Garber will appear in the city and be joined by representatives from SC STL, the ownership group in charge of the bid, as he attempts to help get support for public funding of the group's proposed soccer-specific stadium, reports the St. Louis Post-Dispatch. The group will be joined by several St. Louis sports personalities, as Garber and other MLS executives make the rounds to all 12 expansion candidates during the coming months. The stadium vote will occur on April 4th, and proposes $60 million in public funding for the project.
"MLS executives are visiting all 12 potential expansion markets during the coming months," MLS spokesman Dan Courtemanche said. "We have already visited some markets."
TORONTO FC SIGN DRAFT PICK OYVIND ALSETH
A few weeks after the beginning of the season, Toronto FC have signed their third round Draft pick to a professional contract.
The team announced that it has signed Norwegian defender Oyvind Alseth to its roster, pending receipt of his work permit. Alseth spent four years with the Syracuse Orange, totaling 82 appearances while scoring seven goals and notching 18 assists. The young defender also played his youth soccer with Rosenborg BK in Norway, as well as TFC partner club K-W United, winning the 2015 PDL Championship.
"Oyvind has earned this opportunity after an impressive preseason with the first team," said Toronto FC General Manager Tim Bezbatchenko. "He has worked very hard throughout camp and his ability to play down the flank as a defender or midfielder gives us flexibility. He has fit in nicely with the club and we look forward to his continuing growth as a professional footballer."