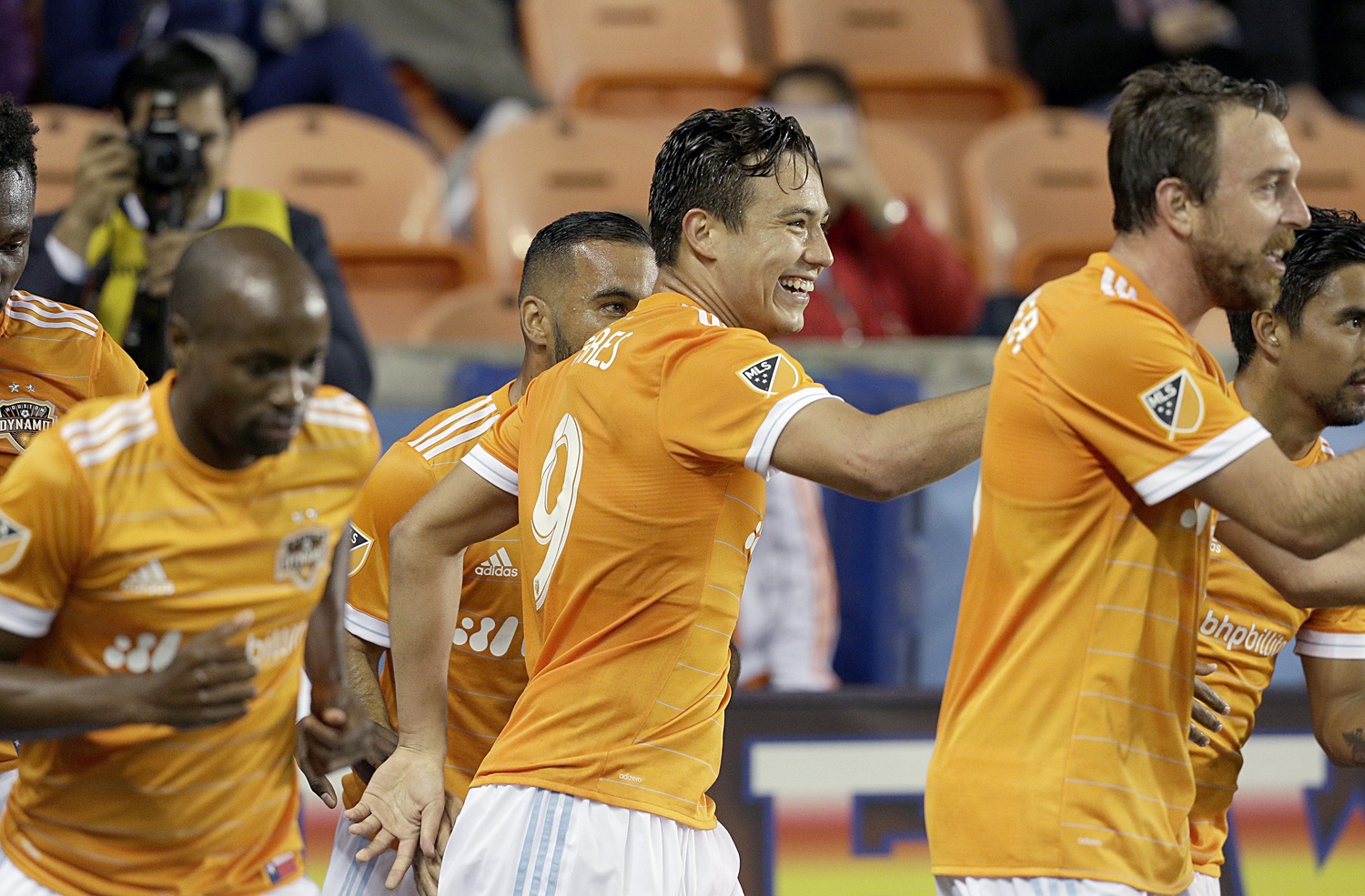 The second week of MLS play was supposed to be headlined by a clash between expansion sides but, while one of them brought the attacking heat, it was quite apparent that it was the cold that would take center stage in the teams' sophomore efforts.
Winter conditions affected several MLS matches, with the most obvious coming in New England as the Revolution canceled their match with Orlando City. Minnesota United, meanwhile, played on, but they'll wish they didn't following a 6-1 drubbing at the hands of Atlanta United.
Away from the snow, several teams stepped up. The Portland Timbers held on for another victory, toppling the LA Galaxy on their home field. New York City FC thumped D.C. United, cruising en route to a 4-0 win. Meanwhile, the San Jose Earthquakes and Houston Dynamo continued to surprise, taking down the Vancouver Whitecaps and Columbus Crew, respectively.
It's still early, and there's plenty of work to be done in the weeks and months to follow, but there was plenty to learn from Week 2 of MLS play.
Here's a look at several of SBI's takeaways:
MINNESOTA UNITED FLOUNDER YET AGAIN
Anything can happen once, especially in this sport. There's so much left to chance and, given the moment, there are few things that remain impossible on a soccer field.
Concerns then come when the same results and actions happen over and over again, making Minnesota United's 6-1 drubbing at the hands of Atlanta United all the more frightening for Adrian Heath and the Loons staff.
Through their first two weeks of MLS existence, Minnesota United has surrendered 11 goals, scoring just two of their own. Defensively, the Loons look, for lack of a better word, horrendous. Vadim Demidov has looked nothing like a defender capable of even seeing the field for an MLS team while fullback remains a major area of concern. Heading into the season, defense was supposed to be a strength, but even Costa Rican international Francisco Calvo is being dragged down into the abyss that is, at least for now, the league's worst defense.
Luckily, there's time to fix things. It's a long season, and Minnesota United still has the flexibility, and DP slots, to bring in reinforcements. Through two weeks, it looks that change is necessary as the club looks to prevent beatdowns like Saturday's from becoming the norm.
REBUILT FIRE MIDFIELD STEPS UP
Every coach will tell you that the spine is the foundation of a successful team. In the offseason, the Fire reinforced their spine with two veterans, and both stepped up over the weekend to provide a glimpse at what could come.
After missing the opening match due to suspension, Juninho stepped into the Fire lineup, and he made quite a difference. Paired with Dax McCarty, the former LA Galaxy midfielder added yet another solid, veteran presence, helping the Fire topple Real Salt Lake, 2-0, to remain unbeaten on the young season.
In McCarty and Juninho, the Fire have two veteran midfielders who bring an evolved skill set. They both have no problem doing dirty work via their defensive duties, but both have shown the ability to contribute while on the ball or, in McCarty's case, while in the box. Their chemistry, naturally, is evolving, but the two present the Fire with a very good base in the heart of the midfield.
Did others deserve credit on Saturday? Absolutely. Nemanja Nikolic did well in firing his first MLS goal, while Arturo Alvarez dusted the RSL defense to seal things with a second goal. Overall, it was an impressive effort from the Fire, whose rebuild is off to a good start.
DYNAMO, QUAKES CONTINUE TO SURPRISE
The Houston Dynamo and San Jose Earthquakes will be forever tied together due to their conjoined history but, as things stand, the two are also tied atop the Western Conference standings.
Everyone knew the Fire would be a bit better because their offseason was too good for them not to be. The Dynamo and Earthquakes, though, were a different story. The two remained a bit of a mystery, especially in the West, but both have started the season on high notes. It's early days, and it's hard to expect either to compete for the long haul, but there are positive signs worth holding on to.
Starting with the Earthquakes, it's hard to look past rookie Nick Lima. The fullback hasn't just been one of the best young players; he's been one of the best performers in all of MLS through the first two matches. Add in strong performances from Anibal Godoy and veteran Chris Wondolowski and the Quakes have exceeded every expectation to start the season. The sending off of David Ousted helped this weekend, but the Earthquakes deserve their props for overcoming a 2-0 deficit against the Vancouver Whitecaps on Saturday.
The Dynamo, meanwhile, start with Erick 'Cubo' Torres, who is finally playing like the player of old. Not since his Chivas USA days had we even seen an MLS goal from the Mexican forward, and he now has two in consecutive weeks. Romell Quioto and Alberth Elis help form a three-headed monster in the attack, one which might be potent enough for the Dynamo to contend for the long haul.
D.C. UNITED FACING BIG QUESTIONS FOLLOWING NYCFC THUMPING
It was hard to find a positive from D.C. United's performance against NYCFC. They were drubbed, 4-0, against a conference rival in a match that saw them muster little effort on either side of the ball. There was plenty of blame to go around and, to be quite honest, plenty of reason to be concerned.
The defensive pairing of Sean Franklin and Steve Birnbaum was, quite frankly, awful. The two were never even close to being on the same page, and NYCFC punished them for it. Even Birnbaum, normally an All-Star-level defender, was caught out several times in one of his more poor performances since joining the league. He's a U.S. Men's National Team defender, and he'll bounce back, but it was still a worrying performance for a defensive unit that was beaten to bits by NYCFC's front four.
Just ahead of them, Marcelo Sarvas looked nowhere near the player he has throughout his MLS tenure. Even on the shrunken NYCFC pitch, Sarvas was always half a step behind the play as he failed to match the speed of the game and protect his backline.
The return of Luciano Acosta will eventually help a team that has yet to score through two games, but there's still reason to be concerned with D.C. heading into Week 3.
WINTER WEATHER TAKES CENTER STAGE
For years, many have clamored for an MLS schedule switch. The summer schedule impacts international tournaments, robbing the league of some of its best players in vital moments. International breaks are routinely ignored, causing chaos while casting MLS as a misfit to FIFA standards.
This past weekend showed that, despite all of its faults, the current schedule is the only way for MLS to work.
Winter conditions hit, and they hit hard. Minnesota, admittedly one of the more prone areas to winter conditions, was hit hard by snowfall, prompting the unveiling of the almighty orange ball. The two New York teams played in frigid conditions, limiting attendance on what should have been a celebratory opening of their home schedules. Meanwhile, the New England Revolution avoided the mess altogether, canceling their match against Orlando City.
There's no right answer because the North American climate is too diverse to have one. There will always be MLS Cups like those held in Toronto this past season, one played in below-freezing weather. There will always be openers like those in Minnesota, headlined by snowfall and ridiculous conditions. However, it's the only way, as this weekend offered a glimpse of how difficult it would be for MLS to operate on a FIFA schedule.