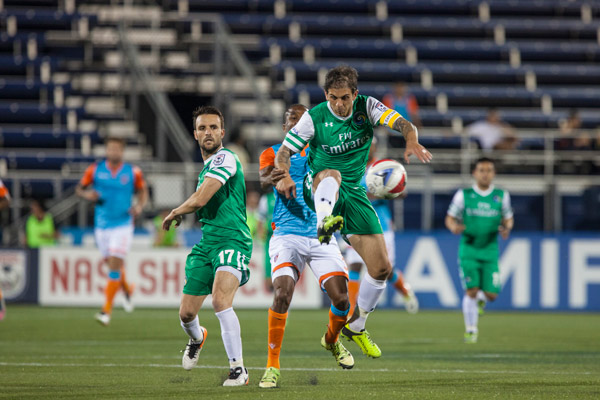 Week 2 is on the agenda for the NASL this weekend, with two teams making their season debuts on Sunday.
The Indy Eleven and Puerto Rico FC return to action after each earned significant draws last weekend. The Eleven return from San Francisco where they battled the Deltas to a valuable road point, while PRFC held off the defending champion New York Cosmos at home for a point of their own.
The Cosmos captured a road point as well in Puerto Rico, and now they'll take on Miami FC, who managed a draw against the rebranded North Carolina FC last weekend. NCFC and the Deltas will enjoy the weekend off.
Finally, on Sunday, the Jacksonville Armada and FC Edmonton kick off their 2017 seasons down in Florida.
Here's a full look at the NASL schedule in Week 2:
INDY ELEVEN VS. PUERTO RICO FC (SATURDAY 3 P.M., ESPN3)
Last weekend, the Eleven played spoilers to the debut of the San Francisco Deltas with a come from behind draw thanks to Tanner Thompson's second-half goal. With all three matches last weekend ending on even ground, lead position remains up for grabs and the Eleven will hope to take advantage of PRFC's significant traveling distance and pick up all three points at home this time around.
PRFC, meanwhile, should be very pleased with their Week 1 draw against the Cosmos. Though the defending champions had to rebuild their roster, they still appear to be one of the strongest teams in the league and so snatching a point away is a big moral victory for the Puerto Rican team. They'll hope to carry that on the road with them to Indianapolis as they aim to pick up an even stronger result in week two against last year's runners-up.
NEW YORK COSMOS VS. MIAMI FC (SATURDAY 7 P.M., BEIN SPORTS)
The Cosmos won't be displeased with a road point in Puerto Rico, but returning in Week 2 to their new home, MCU Park, means they'll want to get things started off on the right foot. The Cosmos outpossessed PRFC a week ago, but didn't have much going in the attack and were heavily outshot and lucky to escape with the scoreless draw. They'll need to be much more effective in the final third against a dangerous attacking Miami FC team.
After earning a valuable road draw against MLS hopefuls North Carolina FC, Miami FC will face an even stiffer test when they continue their northward travels to Coney Island and the Cosmos. Former NYCFC midfielder Kwadwo Poku's 14th-minute strike equalized for the south Florida team last weekend, and the team will hope he and winger Stefano Pinho can continue to combine effectively.
JACKSONVILLE ARMADA VS. FC EDMONTON (SUNDAY 4 P.M., ESPN3)
The third match of the weekend brings together the season debuts of two teams who had wildly contrasting results in 2016. The Jacksonville Armada finished the Spring, Fall, and Combined seasons of 2016 in the same position, second to last. Earning just six wins in 32 matches, they'll hope to begin 2017 in far better style as they open their year at home.
FC Edmonton had a much more successful 2016 to be sure. The Eddies finished third in the Spring, Fall, and Combined standings, earning a spot in the 2016 playoffs before falling to the Indy Eleven in the semifinal match. While the season was overall a success, the Eddies struggled mightily on the road, earning just three wins from 16 matches all year. They'll need to do better if they hope to improve, and that begins Sunday in Jacksonville.