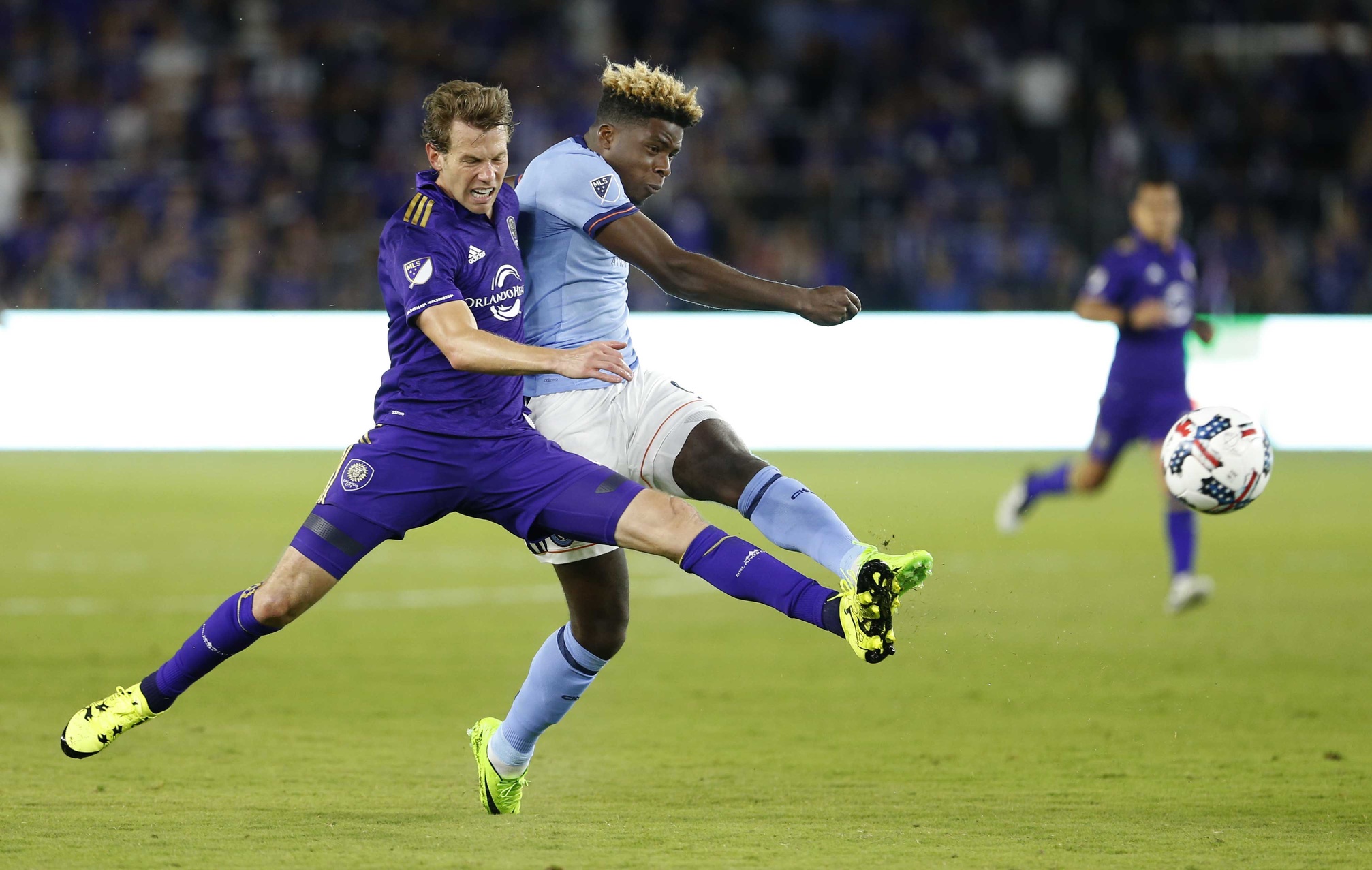 ORLANDO, Fla. — New York City FC was the better side in terms of keeping possession. New York City FC was the better side in terms of creating chances. New York City FC was the better side in terms of keeping its players on the field.
None of that was enough to ruin Orlando City's festive night, though.
Orlando City opened its soccer-specific stadium in memorable fashion on Sunday night by blanking New York City FC, 1-0, in front of a raucous sold-out crowd of 25,527 supporters. The result in the sides' season opener was made possible by an early Cyle Larin goal and gritty defensive performance from the Lions, who were outplayed for most of the match and had to make due without superstar playmaker Kaka after he exited the match in the 11th minute with a left hamstring problem.
There are many things for Orlando City to address and improve on heading into Week 2 of the new campaign, but the club showed resilience in coming together to grind out a shutout victory. On this night, that was all that mattered to its players and fans.
"The only stat that matters is we won, 1-0. It's three points," said midfielder Giles Barnes, who replaced Kaka and delivered the assist on Larin's winner in the 15th minute. "People can dominate possession. It's shown in every single league in the world that at the end of the day it's whoever gets the three points. People can have as much possession as they want against us. As long as we come out with three points, I don't really care."
Everyone would take winning ugly over losing pretty, but Orlando City is aware that it needs to do a better job of keeping the ball if it wants to compete over the long haul this year. The Lions lost the possession battle by an astounding 68.4-31.6 mark yet still prevailed thanks to some stalwart defending from newcomer Jonathan Spector, makeshift right back Will Johnson, and attack-minded midfielder Matias Perez Garcia.
Those were not the only players to make significant contributions off the ball. Orlando City, as a whole, demonstrated the level of commitment, effort, and energy to defend that is needed at times in MLS and that was lacking for much of that failed campaign in 2016.
"I feel like the teams in this league that are really together,' said Orlando City head coach Jason Kreis, 'the teams that are willing to do anything for each other, the teams that are wanting to win more than every other team, are the teams that I think have the most success in this league. I don't think it comes down to talent always. I think it comes down to a lot more than that."
For NYCFC, the night was disappointing one. Patrick Viera's men had enjoyed the lion's share of possession and doubled Orlando City's shot count by a 14-7 total, but never were able to find the breakthrough. The closest NYCFC came to equalizing was on a great look from offseason acquisition Alexander Ring in the 32nd minute, but Orlando City goalkeeper Joe Bendik came up big to deny him.
Johnson and Perez Garcia also had some noteworthy plays down the Lions' right flank, as they kept winger Rodney Wallace and left back Ronald Matarrita largely in check. Wallace was so ineffective that Vieira subbed him off in the 64th minute, inserting Khiry Shelton with the hopes that the move could change the proceedings.
It did not.
"I think that we deserved to get something from that game," said Vieira. "We created a few chances, we played some good football, and losing the game the way we did tonight is really frustrating."
While NYCFC left for the flight back to the Big Apple unsatisfied with the result, Orlando City partied into the night. The Lions and their rambunctious fanbase had introduced their brand new home to rest of MLS with a shutout victory. Sure, the performance they put forth in the match may have been gritty and far from pretty, but it was effective all the same.
"Pleased to get a result and I'm happy to give the fans something to be excited about," said Kreis. "The crowd was absolutely fantastic, the stadium is fantastic, it was great, and the level of work and commitment and togetherness by our team was off the charts, but we've got a lot of work to do. We know that."