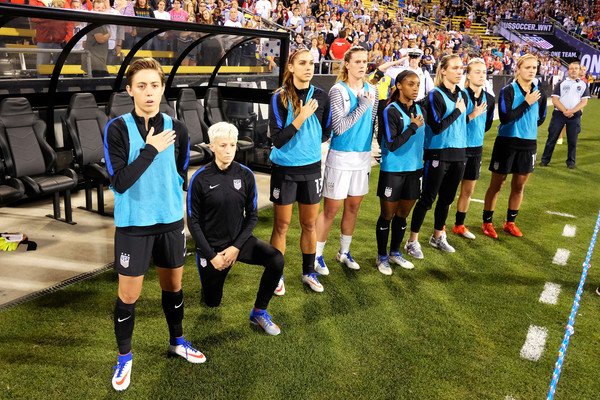 Megan Rapinoe made waves last fall as she opted to kneel during the national anthem before matches for both club and country. However, with a new U.S. Soccer policy in place, the U.S. Women's National Team midfielder says she will respect the federation's decision.
"It is an honor to represent the USA and all that we stand for — to be able to pull on the red, white and blue to play a game that I love," Rapinoe said in a statement. "I will respect the new bylaw the leadership at USSF has put forward. That said, I believe we should always value the use of our voice and platform to fight for equality of every kind."
Following NFL quarterback Colin Kaepernick's decision to kneel during the anthem to raise awareness for racial inequality, Rapinoe showed solidarity by kneeling prior to an NWSL match with the Seattle Reign. The protest continues for several games, not without controversy, including a pair of USWNT matches.
Rapinoe is currently rehabbing following knee surgery while the USWNT continues through the SheBelieves Cup.