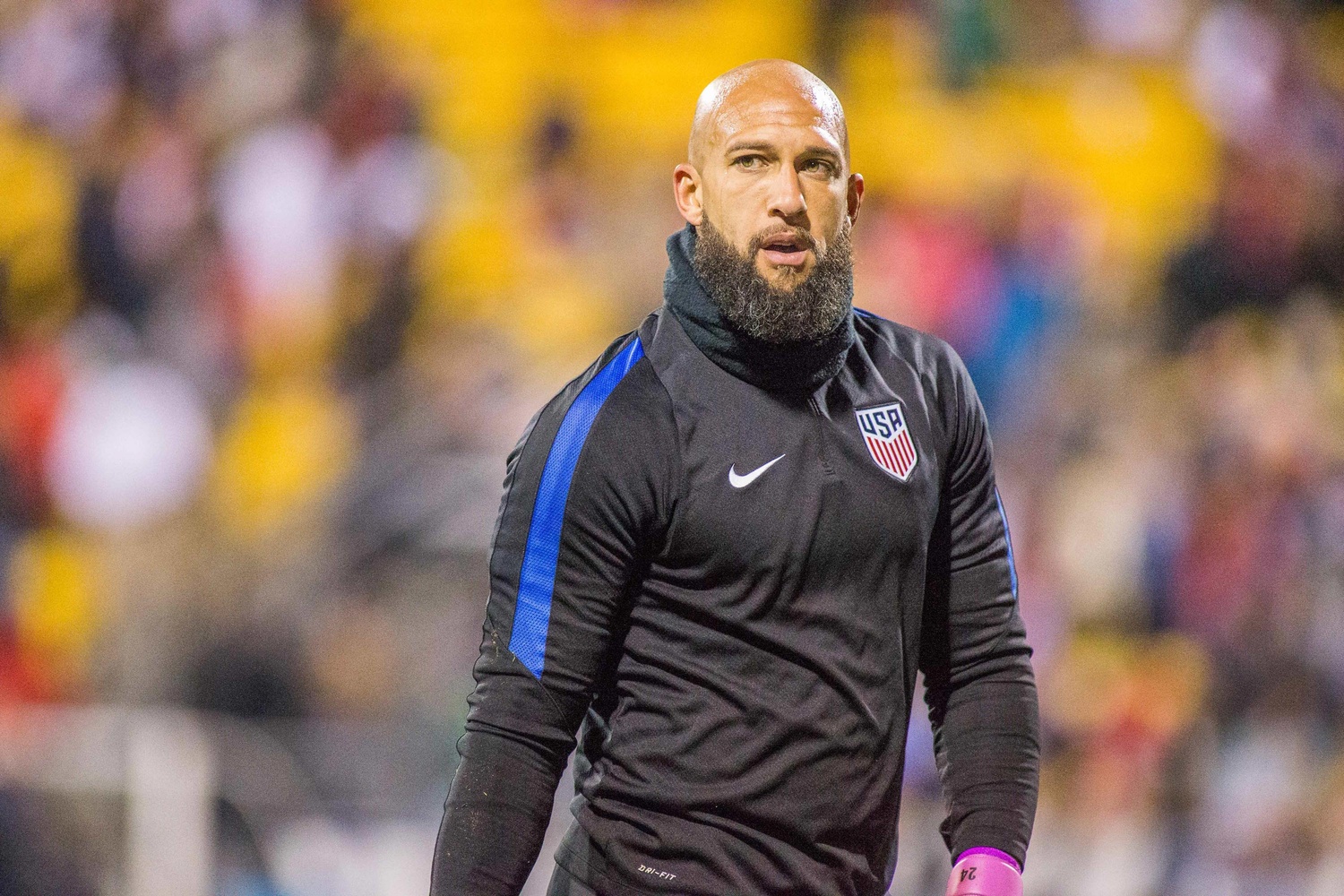 As Tim Howard hobbled off the field, you could see the disappointment on his face. There was a notable agony as he left the field with the U.S. Men's National Team down a goal to rival Mexico in a match that would set the tone for the Hexagonal round of CONCACAF World Cup qualifying. He gave it a go, tried to play on, but there was nothing he could do about an adductor issue that would require surgery in the days to come. You could see the pain, the frustration, the anger on the face of a veteran that fully grasped how big that moment was.
In the months since, Howard watched from afar. In the ensuing game, the U.S. was thumped by Costa Rica, casting the team's World Cup hopes into doubt. He watched as the team moved towards a new era as Jurgen Klinsmann was dismissed and Bruce Arena joined the fold for a second stint. He watched as a new group of faces joined the program in January, making their impressions for a March call-up.
Now, Howard is back, and he's the unquestioned starter heading into a pair of World Cup qualifying matches that will go a long way towards the USMNT's hopes of Russia in 2018. His task? Helping pull it all together for a team that's so similar but so different to the one that remained on field as he departed that Mexico match.
"I felt that I'd be ready, but I didn't want to get ahead of myself," Howard said at USMNT training in San Jose ahead of Friday's clash with Honduras. "It was a long rehab and a lot can happen between January and now. People have setbacks all the time. I was on the right path. I was always going to be March 11 or there about. I didn't want to put a time frame on it and have a setback so, for me, that was personal."
The process back to the field was a long one. Howard underwent surgery on Nov. 17 before beginning the rehab process. As his push back continued, the goalkeeper stopped by the USMNT's January camp, surveying the new squad while getting a look at several new faces.
When the club season eventually came, Howard wasn't ready, as Zac MacMath took charge for the Colorado Rapids in the club's season opener. Week 2, though, Howard's time came, as the goalkeeper turned in a marvelous performance against the New York Red Bulls. Another start against Minnesota United came after, showing Howard was more than healthy and more than ready to rejoin the national team picture.
He enters that picture as the unquestioned leader in goal, especially due to a notable absence. Brad Guzan was left at home for the birth of his daughter, ending any goalkeeper controversy before it even began.
"In these situations, family comes first, despite what we all like to think otherwise on the sporting side," Arena said. "The baby actually came a little early, but he needs to be with his family this week. The decision for him to stay makes sense.
"I think the goalkeepers we have here are going to be fine and they'll help us win."
Alongside Howard, the USMNT has several familiar faces. Nick Rimando is the definition of a veteran, a player that has seen plenty on the club and international level. David Bingham is significantly younger, but has shown well during his brief moments with the USMNT. The fact that the upcoming match is set for San Jose didn't hurt either, as the San Jose Earthquakes goalkeeper joined the fold to learn from the two veterans.
The likely starter, Howard, is a player that Arena is extremely familiar with. He previously managed the then-23-year-old goalkeeper as he made his international debut in 2002. Howard served as a backup goalkeeper on Arena's 2006 World Cup roster, his last before being succeeded by Bob Bradley.
He's one of several call-ups familiar with Arena's style. Like Howard, DaMarcus Beasley also made his debut during the first Arena era, rapidly becoming one of the coach's favorite wide options. Sebastian Lletget recently played under Arena with the LA Galaxy while defender Omar Gonzalez was a focal point of the Galaxy defense that claimed three MLS Cup crowns under Arena's watch.
"I was young when I first played under Bruce in 2001-2006," Howard said. "It's good that we've had that longstanding relationship. It's nice to be back in and working under him again, particularly as both of our careers have evolved.
"I think it's always helpful when you have guys that understand the manager and know what he's like. We have a few guys that have worked with before at various levels. It's always important to have a clear understanding of what the manager wants."
He's certainly grown since the last time he played under Arena. Howard says that his skill set has evolved thanks to the experiences he's encountered in the decade since Arena last coached him. He takes less risks, takes better angles and, for now, he feels his reflexes haven't slowed at all.
Arena will be banking on that on Friday when the U.S. takes on Honduras, a match that is all but a must-win for a USMNT team with their backs against the wall. After a disastrous start, the USMNT is looking forward to Howard's return and, perhaps, the return to the World Cup qualifying picture as the Hex continues.
"It's a big game. You don't need experience to know that. It's a huge game for us," Howard said. "It's helpful that we have guys that have been through the Hex before and understand what that takes and the pressure that are on it but, yeah, it's a big game.
"It's upbeat. There's been a lot of talk since Costa Rica and obviously some of the guys had that January camp, which I wasn't a part of, so there's some excitement to get back in there, but now is where we really earn our money. I think everyone has come in very excited."