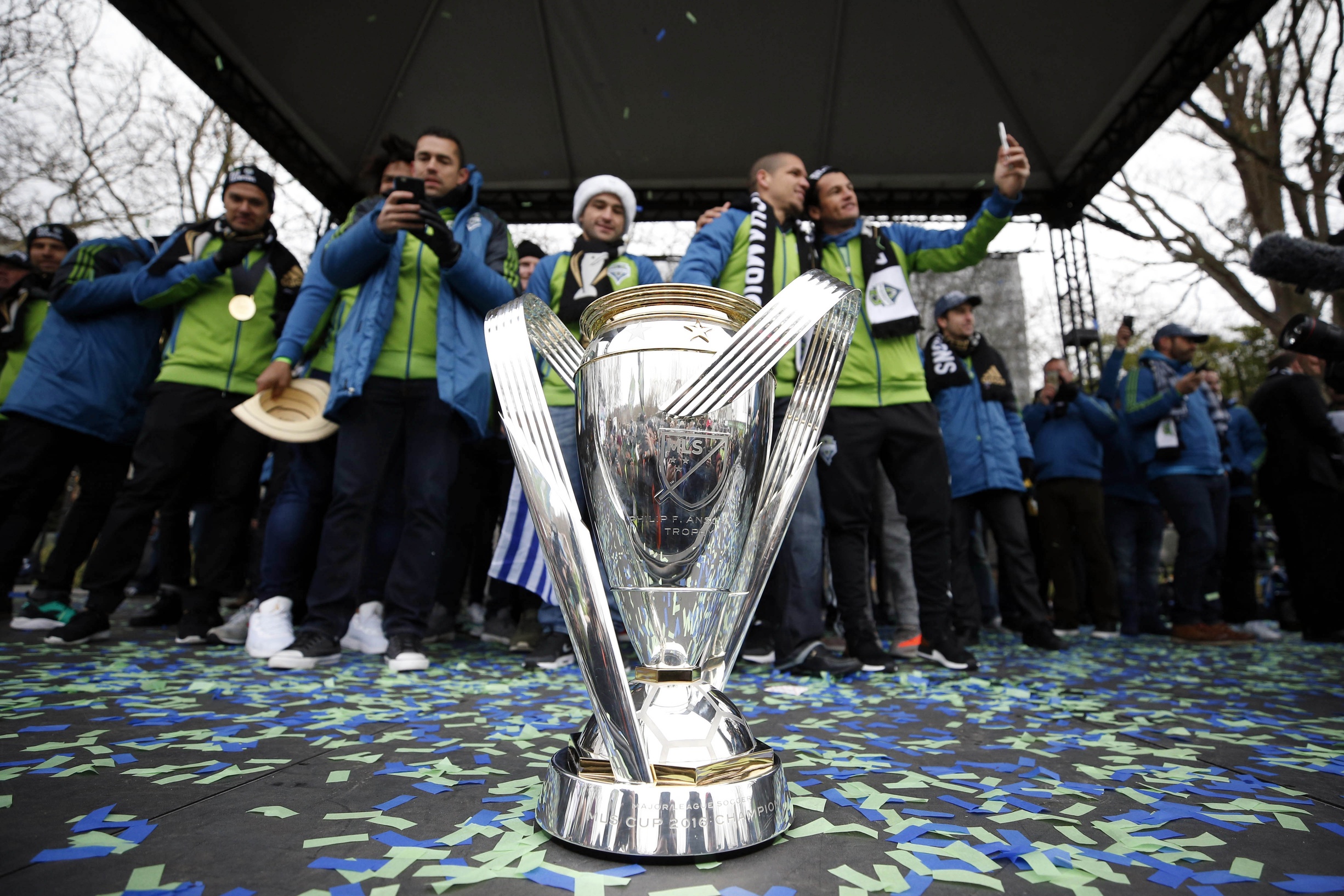 It's almost impossible to predict the twists and turns that will come with an MLS season, but the SBI staff took their best crack to lay down some predictions ahead of the 2017 campaign.
Editor-in-Chief Ives Galarcep joined Managing Editor Ryan Tolmich, Assistant Managing Editor Joe Tansey and Assistant Editors Colton Coreschi and Peter Galindo to forecast the 2017 MLS season. It's a season that should feature plenty of intriguing storylines and developments in a season that features new teams and a slew of new talented players.
As expected, opinions were divided as the SBI staff broke down their picks for a number of MLS topics, even if the voting panel proved pretty consistent in selecting their choice for Most Valuable Player. In addition to award picks, the SBI staff compiled a trio of MLS Best XIs, providing a look at players to watch as the 2017 kicks off.
Let us know your picks for the upcoming season in the comments section below, but here are SBI's staff predictions for the 2017 MLS season:
LEAGUE MVP
IVES GALARCEP (Editor in Chief): Sebastian Giovinco, Toronto FC
RYAN TOLMICH (Managing Editor): Sebastian Giovinco, Toronto FC
COLTON CORESCHI (Assistant Editor): Sebastian Giovinco, Toronto FC
PETER GALINDO (Assistant Editor): Sebastian Giovinco, Toronto FC
JOE TANSEY (Assistant Managing Editor): Nicolas Lodeiro, Seattle Sounders
GOALKEEPER OF THE YEAR
IVES GALARCEP: Andre Blake, Philadelphia Union
RYAN TOLMICH: Tim Howard, Colorado Rapids
COLTON CORESCHI: Andre Blake, Philadelphia Union
PETER GALINDO: Stefan Frei, Seattle Sounders
JOE TANSEY: Bill Hamid, D.C. United
DEFENDER OF THE YEAR
IVES GALARCEP: Walker Zimmerman, FC Dallas
RYAN TOLMICH: Matt Hedges, FC Dallas
COLTON CORESCHI: Jelle van Damme, LA Galaxy
PETER GALINDO: Matt Hedges, FC Dallas
JOE TANSEY: Jelle van Damme, LA Galaxy
ROOKIE OF THE YEAR
IVES GALARCEP: Abu Danladi, Minnesota United
RYAN TOLMICH: Ian Harkes, D.C. United
COLTON CORESCHI: Abu Danladi, Minnesota United
PETER GALINDO: Abu Danladi, Minnesota United
JOE TANSEY: Abu Danladi, Minnesota United
COACH OF THE YEAR:
IVES GALARCEP: Greg Vanney, Toronto FC
RYAN TOLMICH: Oscar Pareja, FC Dallas
COLTON CORESCHI: Jesse Marsch, New York Red Bulls
PETER GALINDO: Gerardo 'Tata' Martino, Atlanta United
JOE TANSEY: Jim Curtin, Philadelphia Union
NEWCOMER OF THE YEAR
IVES GALARCEP: Cristian Colman, FC Dallas
RYAN TOLMICH: Cristian Colman, FC Dallas
COLTON CORESCHI: Josef Martinez, Atlanta United
PETER GALINDO: Miguel Almiron, Atlanta United
JOE TANSEY: Nemanja Nikolic, Chicago Fire
GOLDEN BOOT
IVES GALARCEP: David Villa, NYCFC
RYAN TOLMICH: Sebastian Giovinco, Toronto FC
COLTON CORESCHI: David Villa, NYCFC
PETER GALINDO: Bradley Wright-Phillips, New York Red Bulls
JOE TANSEY: Cyle Larin, Orlando City
MOST IMPROVED
IVES GALARCEP: Kellyn Acosta, FC Dallas
RYAN TOLMICH: Kellyn Acosta, FC Dallas
COLTON CORESCHI: Patrick Mullins, D.C. United
PETER GALINDO: Kei Kamara, New England Revolution
JOE TANSEY: Harry Shipp, Seattle Sounders
SBI CONSENSUS BEST XI
FIRST TEAM
———————–Blake————————–
Afful——–Hedges———van Damme——–Matarrita
———————-Bradley————————-
—-Lodeiro———Valeri———Piatti—-
—————Villa——-Giovinco—————
SECOND TEAM
———————–Howard———————-
Rosenberry—Ciman——–Zimmerman—Morrow
————————Alonso————————-
—-Blanco————Kljestan———–Nagbe—-
——–Wright-Phillips————Adi———
THIRD TEAM
———————–Robles———————-
Powell——-Sjoberg——–Collin——-Garza
————————McCarty————————-
—-Harrison——–Dos Santos——–Gashi—-
————–Altidore————Montero————-