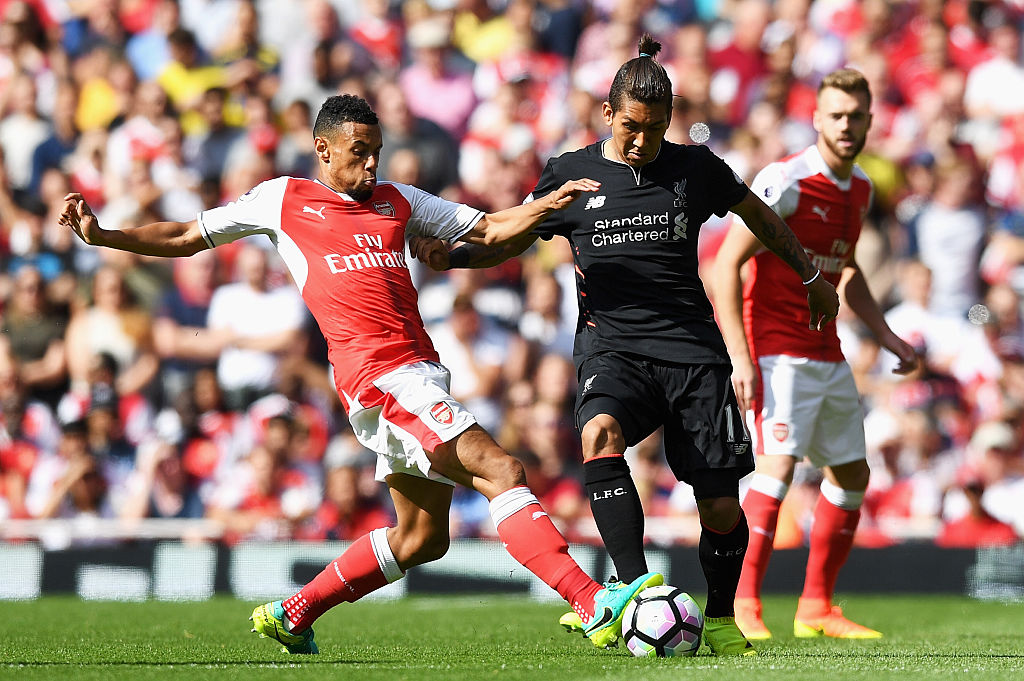 With dreams of an English Premier League title now dashed for both Liverpool and Arsenal, the goal for both squads is securing a place in the UEFA Champions League. As things stand, the Gunners and Reds are both battling to secure a place in the top four.
Only one of them will be in the top four after today's showdown at Anfield, with Arsenal looking to hold onto its place ahead of Liverpool. Manchester United's disappointing draw with Bournemouth has eased some of the pressure off the Gunners and Reds, but both teams are looking for a win after each dropping two of three matches.
In Spain, Barcelona will look to retake first place in La Liga with a win against Celta Vigo. Real Madrid's win earlier on Saturday allowed los Merengues to jump back ahead of Barca, but Lionel Messi and Co. will be heavily favored to run their winning streak in La Liga to six matches.
The U.S. Women's National Team will be in action on Saturday, facing England in the SheBelieves Cup at Red Bull Arena. The USWNT opened the tournament with a 1-0 win against Germany.
If you will be watching Saturday's action, or want to discuss some of the day's earlier action, feel free to share your thoughts, opinions and some play-by-play in the comments section below.
Enjoy the action (Here is a rundown of Saturday's soccer on TV):
ENGLISH PREMIER LEAGUE
7:30 a.m. — NBCSN/NBC Sports Live Extra — Manchester United vs. Bournemouth
10 a.m. — NBCSN/NBC Sports Live Extra — Leicester City vs. Hull City
10 a.m. — NBC/NBC Sports Live Extra — West Bromwich Albion vs. Crystal Palace
10 a.m. — NBC Sports Live Extra — Stoke City vs. Middlesbrough
10 a.m. — NBC Sports Live Extra — Swansea City vs. Burnley
10 a.m. — NBC Sports Live Extra — Watford vs. Southampton
12:30 p.m. — NBCSN/NBC Sports Live Extra — Liverpool vs. Arsenal
GERMAN BUNDESLIGA
9:30 a.m. — Fox Sports 2/Fox Sports Go/Fox Deportes/Fox Soccer 2Go — Borussia Dortmund vs. Bayer Leverkusen
9:30 a.m. — Fox Sports Go/Fox Soccer Plus/Fox Soccer 2Go — Cologne vs. Bayern Munich
9:30 a.m. — Fox Soccer 2Go — Mainz vs. VfL Wolfsburg
9:30 a.m. — Fox Soccer 2Go — Werder Bremen vs. Darmstadt 98
9:30 a.m. — Fox Soccer 2Go — Hoffenheim vs. FC Ingolstadt
12:30 p.m. — Fox Sports Go/Fox Deportes/Fox Soccer Plus/Fox Soccer 2Go — Borussia Mönchengladbach vs. Schalke 04
SPANISH LA LIGA
7 a.m. — beIN Sports Connect — Leganés vs. Granada
10:15 a.m. — beIN Sports USA/beIN Sports en Español/beIN Sports Connect — Eibar vs. Real Madrid
12:30 p.m. — beIN Sports en Español/beIN Sports Connect — Villarreal vs. Espanyol
2:45 p.m. — beIN Sports USA/beIN Sports en Español/beIN Sports Connect — Barcelona vs. Celta Vigo
ITALIAN SERIE A
9 a.m. — beIN Sports Connect — AS Roma vs. Napoli
Noon — beIN Sports Connect — Sampdoria vs. Pescara
2:45 p.m. — beIN Sports Connect — AC Milan vs. Chievo Verona
FRENCH LIGUE 1
11 a.m. — beIN Sports Connect — Paris Saint-Germain vs. Nancy
2 p.m. — beIN Sports Connect — Montpellier vs. Guingamp
2 p.m. — beIN Sports Connect — Bastia vs. Saint-Étienne
2 p.m. — beIN Sports Connect — Dijon vs. Nice
2 p.m. — beIN Sports Connect — Caen vs. Angers
2 p.m. — beIN Sports Connect — Metz vs. Stade Rennes
MEXICAN LIGA MX
6 p.m. — Univision Deportes — Cruz Azul vs. Chiapas
8 p.m. — Azteca America — Morelia vs. Veracruz
8 p.m. — Galavision/Univision NOW — Monterrey vs. Querétaro
8:06 p.m. — Univision/Univision Deportes/Univision NOW — Club León vs. Club América
10 p.m. — ESPN Deportes — Necaxa vs. Atlas
10:06 p.m. — Univision/Univision Deportes/Univision NOW — Guadalajara vs. Toluca
MAJOR LEAGUE SOCCER
2 p.m. — CSN Chicago/MLS Live — Columbus Crew vs. Chicago Fire
4 p.m. — Univision/Univision Deportes/Univision NOW/MLS Live — LA Galaxy vs. FC Dallas
4:30 p.m. — KMYU Utah/MLS Live — Real Salt Lake vs. Toronto FC
6 p.m. — Altitude Sports/MLS Live — Colorado Rapids vs. New England Revolution
7 p.m. — Fox Sports Midwest/MLS Live — D.C. United vs. Sporting Kansas City
8:30 p.m. — KUBE/MLS Live — Houston Dynamo vs. Seattle Sounders
10 p.m. — CSN Bay Area/MLS Live — San Jose Earthquakes vs. Montreal Impact
SHEBELIEVES CUP
5 p.m. — Fox/Fox Sports Go/Fox Soccer 2Go — United States vs. England
AFRICA U-20 CUP OF NATIONS
8 a.m. — beIN Sports Connect — Zambia vs. Egypt
8 a.m. — beIN Sports Connect — Guinea vs. Mali