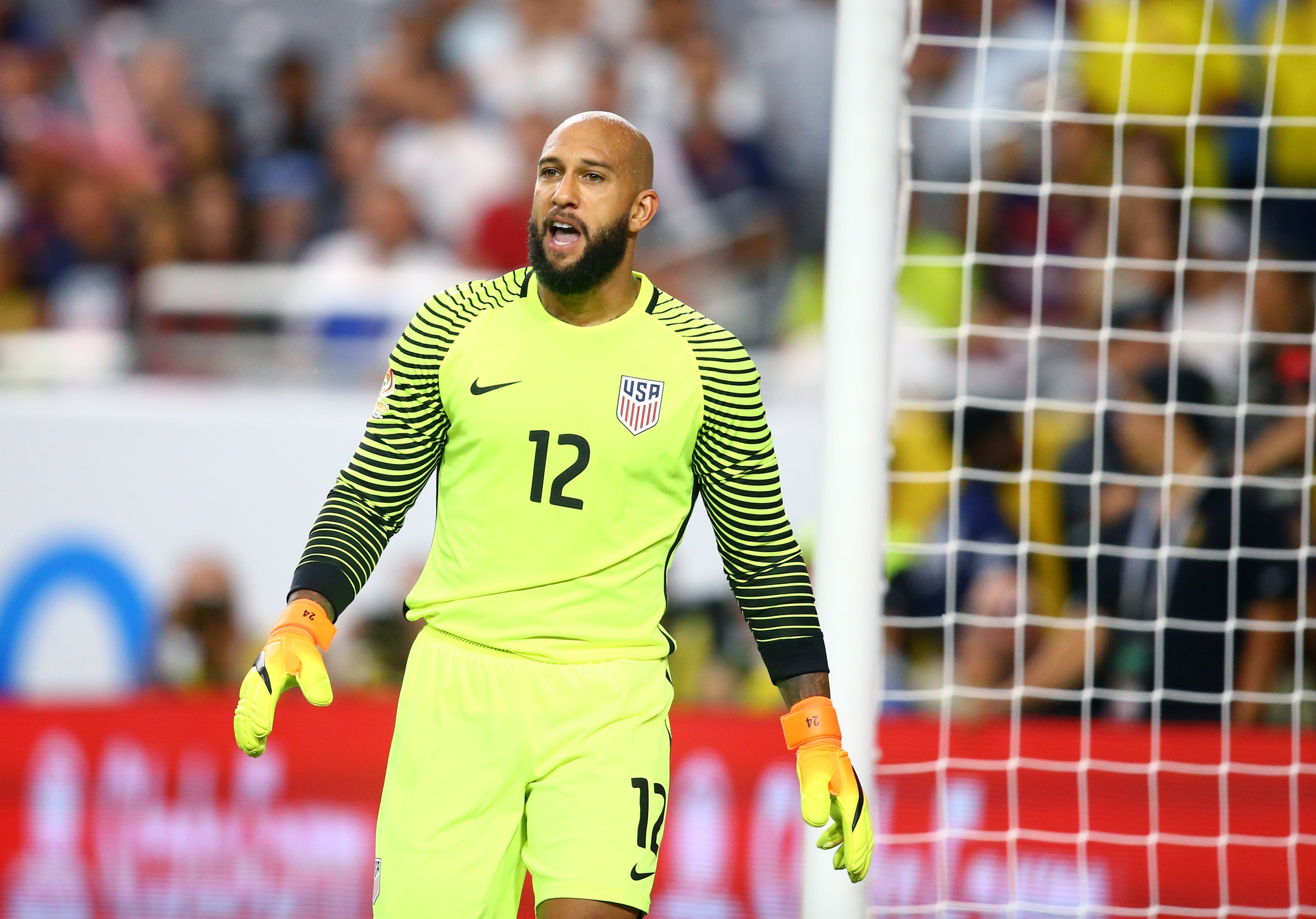 When Tim Howard was named to the U.S. Men's National Team roster for the impending World Cup qualifiers, he placed a phone call to the man who convinced Howard at the age of 11 that he had extraordinary potential as a goalkeeper – Tim Mulqueen.
While Howard may have surprised some observers, including USMNT head coach Bruce Arena, Mulqueen never doubted that his 38-year-old pupil would be physically fortified following a long term injury.
"What I have learned over the years about Tim Howard is never bet against him," said Mulqueen. "Every time someone counts him out, he finds another gear."
Mulqueen, the current goalkeeper coach at Orlando City SC, was operating a weekly camp to supplement his wages as an assistant coach at Rutgers University when he met Howard in 1990.
"His mom brought him to a session and told me she thought he was a pretty good goalkeeper," Mulqueen said. "He was lights out even though he had never trained. Athletically, he was off the charts and he had that certain something that you look for in a goalkeeper."
"Here was this guy with long red hair in a mullet, a crazy guy having us jump over trash cans and diving to the corners," said Howard. "I was attracted to his brashness – something that would put most people off. And he instantly took a liking to me."
Howard lived in North Brunswick, New Jersey, just a short distance from the Rutgers campus where Mulqueen was directing his sessions. Regardless, the formula was not simple.
"Tim had created his own academy but my family couldn't afford the tuition," said Howard. "It may have not sounded like a lot of money but it was tough for us. Tim said, 'To heck with the money, you know nothing, you have so much to work on'."
"I told his mom, feel free to bring him any time," said Mulqueen.
She brought her son to every session. Mulqueen and Howard have been communicating weekly ever since.
"We still talk three, four, five times every week," said Mulqueen. "We both love it so much and study the position so much. We're still learning from each other. He might tell me he did something in training but it didn't feel right and what do I think. He has a good keeper coach in Colorado (Chris Sharpe) and the three of us will talk about things sometimes."
When Manuel Neuer was beaten by Arsenal's Theo Walcott at the near post in the Champions League recently, Mulqueen used that as a teaching moment for Howard, noticing that the Bayern Munich keeper had a low, crouched position and Walcott's shot beat him high.
"We talked about how his (Neuer's) hands were real low," said Mulqueen. "So, when you're down tight like that you should let your feet save the shots down low because you're not going to get your hands there anyway. Use your hands to save the ball above your waist."
Howard knows a bit about kick saves. Five of his World Cup single-game record 16 stops against Belgium in 2014 were with the lower extremities.
"He is my mentor and we share," said Howard. "For me, he's the voice of reason and a steadying voice, particularly when I went over to Manchester."
It was 2002 and Howard was dejected after Arena had left him off the World Cup roster. Not long thereafter, he was signed by Sir Alex Ferguson at Manchester United.
"Ironically, it was Tony Meola, who I was coaching at Kansas City at the time, who was picked for the national team ahead of Tim," Mulqueen said.  "It was a short depression when Manchester United comes calling."
Howard had a run of 14 seasons in the English Premier League (four at United and ten at Everton) before returning to Major League Soccer with the Colorado Rapids last season. Howard had begun his professional career in MLS with his hometown MetroStars in 1998.
Mulqueen commenced his MLS coaching chores with the MetroStars in 1996 and was able to train Howard for one season before moving on to the Kansas City Wizards – providing a stark reminder of how the league has evolved from its primitive stages.
"At Kansas City, in addition to being an assistant coach, I was the team administrator, the video guy – I did hotel check-ins," Mulqueen said. "You wore a lot of hats but now you have a full support staff. The level of professionalism is so much better."
And at every professional echelon, Mulqueen and Howard always connected for their weekly chats.
"He is one of my dearest friends," Howard said of Mulqeeen. "He's a goalkeeping savant. We dissect my games, the different angles and strategies. It's one of the ways I keep getting better. But most of all, he helped me develop my leadership qualities from an early age. He was always drilling the leadership side. I'd be 12 years old training with 18 year olds and he never treated me differently."
Howard claims that the intangible quality that separates him from from most of his peers, is an attribute sorely missing in today's U.S keeper world.
"We've really gone down in the goalkeeper position," said Howard. "You look at the goalkeepers now – they are not natural born leaders."
Meanwhile, at Orlando City Mulqueen is thriving with a familiar student, Joe Bendik. He coached the Lions' No. 1 keeper with the U-17 National Team and suggests that Bendik could one day fill Howard's boots with the USMNT.
"For Joe to get to the national team level he just needs to be consistent in back-to-back years," said Mulqueen. "And he needs to put those performances together with a team that is doing well and getting to the playoffs."
Bendik's keeper coach had been absent from the professional ranks since 2012 – a personal sabbatical to spend more time at home with his wife and children. Mulqueen was the Athletic Director at St. Stephens Episcopal School in Bradenton and his kids rode to school with their father each day.
Mulqueen kept sharp coaching the Clearwater U-13 and U-14 boys and remained in contact with another MetroStars mate, Miles Joseph, now the top assistant coach at Orlando City.
"Miles knew I was in the area and reached out to me to see if I would have an interest,"said the 51-year old Mulqueen. "It was a chance to get back in MLS without having to move."
Although his commute is an hour and 45 minutes each way, Mulqueen still gets the chance to coach and, hopefully, just maybe, help develop the next Tim Howard.
"My kids are in a great school so I'll keep commuting till they graduate," said Mulqueen. "I don't mind the drive because the coaching at this level is still boiled in the blood – the passion of it."