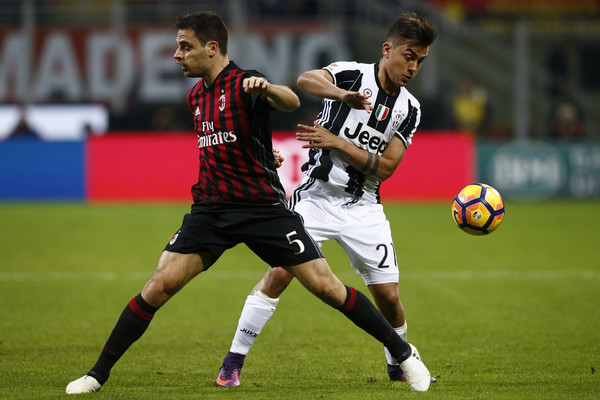 Juventus may be running away with the Italian Serie A title this season, but they will have a chance for a little payback this weekend against the only club that has handed them multiple losses this season.
Massimiliano Allegri's men have been defeated just four times this season in league play, and one of them came last October at the hands of AC Milan. Two months after that, they dropped the Italian Super Cup after I Rossoneri edged them on penalties kicks.
On Friday, these two sides will meet at Juventus Stadium, where the hosts are a perfect 14-0-0 with a plus-29 goal differential in Serie A action this season.
Meanwhile in England, the weekend action will be split between Premier League play and FA Cup tilts.
Liverpool has a chance to climb the league table provisionally with a win against Burnley while clubs like Manchester City, Arsenal and Tottenham all look to advance to the semifinals of the FA Cup with Manchester United and Chelsea set to do battle on Monday.
Barcelona, fresh off their stunning comeback in UEFA Champions League action on Wednesday against Paris Saint-Germain, will look to extend its La Liga lead with a win on the road against Deportivo La Coruña, while the French Ligue 1 leader, AS Monaco, will take on Bordeaux.
Domestically, MLS heads into Week 2 action, highlighted by a match between the two newest members in the league, Minnesota United and Atlanta United, in Minneapolis.
Here is a rundown of all the soccer action on TV this weekend:
FRIDAY
SPANISH LA LIGA
2:45 p.m. — beIN Sports en Español/beIN Sports Connect — Espanyol vs. Las Palmas
GERMAN BUNDESLIGA
2:30 p.m. — Fox Sports 2/Fox Sports Go/Fox Deportes/Fox Soccer 2Go — Bayer Leverkusen vs. Werder Bremen
ITALIAN SERIE A
2:45 p.m. — beIN Sports USA/beIN Sports Connect — Juventus vs. AC Milan
FRENCH LIGUE 1
1 p.m. — beIN Sports Connect — Nice vs. Caen
2:45 p.m. — beIN Sports Connect — Marseille vs. Angers
MEXICAN LIGA MX
10 p.m. — Azteca America — Veracruz vs. Puebla
PORTUGUESE PRIMEIRA LIGA
3:30 p.m. — Univision Deportes — Arouca vs. FC Porto
SCOTTISH CHAMPIONSHIP
2:45 p.m. — Fox Sports Go/Fox Soccer Plus/Fox Soccer 2Go — Dundee United vs. Hibernian
SATURDAY
ENGLISH PREMIER LEAGUE
10 a.m. — NBCSN/NBC Sports Live Extra/NBC Universo/NBC Universo NOW/Telemundo Deportes en Vivo — Everton vs. West Bromwich Albion
10 a.m. — NBC/NBC Sports Live Extra/NBC Universo/NBC Universo NOW/Telemundo Deportes en Vivo — Hull City vs. Swansea City
10 a.m. – NBC Sports Live Extra — Bournemouth vs. West Ham United
ENGLISH FA CUP
7:15 a.m. — Fox Sports 1/Fox Sports Go/Fox Deportes/Fox Soccer 2Go — Middlesbrough vs. Manchester City
12:30 p.m. — Fox Sports 2/Fox Sports Go/Fox Deportes/Fox Soccer 2Go — Arsenal vs. Lincoln City
SPANISH LA LIGA
7 a.m. — beIN Sports Connect — Valencia vs. Sporting Gijón
10:15 a.m. — beIN Sports en Español/beIN Sports Connect — Sevilla vs. Leganés
12:30 p.m. — beIN Sports en Español/beIN Sports Connect — Málaga vs. Deportivo Alavés
2:45 p.m. — beIN Sports en Español/beIN Sports Connect — Granada vs. Atlético Madrid
GERMAN BUNDESLIGA
9:30 a.m. — Fox Sports 1/Fox Sports Go/Fox Soccer 2Go — Bayern Munich vs. Eintracht Frankfurt
9:30 a.m. — Fox Sports 2/Fox Sports Go/Fox Soccer 2Go — Hertha Berlin vs. Borussia Dortmund
9:30 a.m. — Fox Soccer 2Go — Darmstadt 98 vs. Mainz 05
9:30 a.m. — Fox Soccer 2Go — Freiburg vs. Hoffenheim
9:30 a.m. — Fox Soccer Plus/Fox Soccer 2Go — RB Leipzig vs. VfL Wolfsburg
12:30 p.m. — Fox Soccer Plus/Fox Soccer 2Go — FC Ingolstadt vs. Cologne
ITALIAN SERIE A
2:45 p.m. — beIN Sports USA/beIN Sports Connect — Genoa vs. Sampdoria
FRENCH LIGUE 1
10:45 a.m. — beIN Sports USA/beIN Sports Connect — AS Monaco vs. Bordeaux
2 p.m. — beIN Sports Connect — Nancy vs. Lille
2 p.m. — beIN Sports Connect — Montpellier vs. Nantes
2 p.m. — beIN Sports Connect — Stade Rennes vs. Dijon
2 p.m. — beIN Sports Connect — Guingamp vs. Bastia
MEXICAN LIGA MX
6 p.m. — Univision Deportes — Querétaro vs. Tijuana
8 p.m. — Univision/Univision Deportes/Univision NOW — Tigres UANL vs. Guadalajara
8 p.m. — Azteca America — Atlas vs. Pumas UNAM
8:06 p.m. – NBC Universo/NBC Universo NOW/Telemundo Deportes en Vivo — Pachuca vs. Morelia
MAJOR LEAGUE SOCCER
2 p.m. — CSN Chicago/KMYU Utah/MLS Live/DirecTV — Chicago Fire vs. Real Salt Lake
2 p.m. — WRDQ/MLS Live/DirecTV — New England Revolution vs. Orlando City SC
4 p.m. — UniMás/Univision Deportes/Univision NOW/MLS Live — New York Red Bulls vs. Colorado Rapids
4:30 p.m. — MLS Live — Philadelphia Union vs. Toronto FC
7 p.m. — MLS Live — Montreal Impact vs. Seattle Sounders
8 p.m. — KTXA Dallas/MLS Live — Sporting Kansas City vs. FC Dallas
8:30 p.m. – KUBE/MLS Live — Houston Dynamo vs. Columbus Crew SC
10 p.m. — CSN California/MLS Live/DirecTV — San Jose Earthquakes vs. Vancouver Whitecaps
AUSTRALIAN A-LEAGUE
3:50 a.m. — ESPN3/WatchESPN — Melbourne City vs. Perth Glory
SUNDAY
ENGLISH PREMIER LEAGUE
Noon — NBCSN/NBC Sports Live Extra/Telemundo — Liverpool vs. Burnley
ENGLISH FA CUP
10 a.m. — Fox Sports 1/Fox Sports Go/Fox Deportes/Fox Soccer 2Go — Tottenham vs. Millwall
SPANISH LA LIGA
7 a.m. — beIN Sports Connect — Real Sociedad vs. Athletic Bilbao
11:15 a.m. — beIN Sports USA/beIN Sports en Español/beIN Sports Connect — Deportivo La Coruña vs. Barcelona
1:30 p.m. — beIN Sports en Español/beIN Sports Connect — Celta Vigo vs. Villarreal
3:45 p.m. — beIN Sports USA/beIN Sports en Español/beIN Sports Connect — Real Madrid vs. Real Betis
GERMAN BUNDESLIGA
10:30 a.m. — Fox Sports 2/Fox Sports Go/Fox Soccer 2Go — Schalke 04 vs. FC Augsburg
12:30 p.m. — Fox Sports 2/Fox Sports Go/Fox Deportes/Fox Soccer 2Go — Hamburg SV vs. Borussia Mönchengladbach
ITALIAN SERIE A
7:30 a.m. — beIN Sports Connect — Sassuolo vs. Bologna
10 a.m. — beIN Sports Connect — Inter Milan vs. Atalanta
10 a.m. — beIN Sports Connect — Fiorentina vs. Cagliari
10 a.m. — beIN Sports Connect — Napoli vs. Crotone
10 a.m. — beIN Sports Connect — Chievo Verona vs. Empoli
10 a.m. — beIN Sports Connect — Pescara vs. Udinese
3:45 p.m. — beIN Sports Connect — Palermo vs. AS Roma
FRENCH LIGUE 1
10 a.m. — beIN Sports Connect — Saint-Étienne vs. Metz
Noon — beIN Sports Connect — Lyon vs. Toulouse
4 p.m. — beIN Sports Connect — Lorient vs. Paris Saint-Germain
MEXICAN LIGA MX
2 p.m. — Univision/Univision Deportes/Univision NOW — Toluca vs. Cruz Azul
7 p.m. — Univision Deportes — Santos Laguna vs. Monterrey
MAJOR LEAGUE SOCCER
2 p.m. — YES Network/MLS Live — New York City FC vs. D.C. United
5 p.m. — ESPN2/WatchESPN/MLS Live — Minnesota United vs. Atlanta United
7 p.m. — Fox Sports 1/Fox Sports Go/Fox Deportes/Fox Soccer 2Go — LA Galaxy vs. Portland Timbers
SCOTTISH PREMIERSHIP
8 a.m. — Fox Sports 1/Fox Sports Go/Fox Soccer 2Go — Celtic vs. Rangers