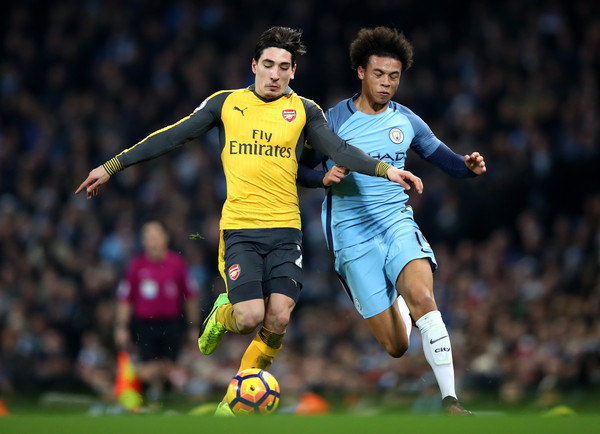 Arsene Wegner's Arsenal will venture to set their woes aside in a massive match against Pep Guardiola's fierce Manchester City, who battle to persist at a top-four position.
The Gunners strive to crack back into a spot for Champions League play after suffering defeats in their past two Premier League bouts, while Guardiola's men try to inch their way closer to Tottenham, who are second in the table. Both sides last met in December in a match in which City came out victorious via a Raheem Sterling finish.
Much focus will be placed in Liverpool as well as the Merseyside Derby returns to Anfield for what is an expected physical affair with more than bragging implications.
Across the English Channel, Ligue 1's leader and Champions League quarterfinalist AS Monaco will face French champions Paris Saint-Germain in the Coupe de Ligue Final at a neutral venue in Lyon.
Italy's Seria A, will feature a clash of top-three sides when Napoli takes on leader Juventus. Both teams endeavor to dodge their fifth loss of the current season in this Italian derby.
Here's what the weekend action will look like:
FRIDAY
MLS
7:30 p.m. – Fox Sports 1 – Toronto vs. Sporting KC
10 p.m. – Fox Sports 1 – Seattle Sounders vs. Atlanta United
La Liga
2:45 p.m. – beIN SPORTS – Espanyol vs. Real Betis
Bundesliga
11:30 a.m. – Fox Sports 2 –  Hertha BSC vs. Hoffenheim
Ligue 1
1 p.m. – beIn SPORTS – Guingamp vs. Nancy
Friendly
10 p.m. – beIn SPORTS – Mexico Legends vs La Liga Legends
Liga MX
11 p.m. – Azteca America – Veracruz vs. Cruz Azul
SATURDAY
MLS
2 p.m – Yes Network/MLS Live – New York City FC vs. San Jose Earthquakes
3 p.m. – TSN Go/TSN4/MLS Live – Chicago Fire vs. Montreal Impact
4 p.m. – Univision Deportes/UniMas/MLS Live – Columbus Crew vs. Orlando City
7 p.m. – MLS Live – DC United vs. Philadelphia Union
8 p.m. – MLS Live/KMYU Utah – Minnesota United vs. Real Salt Lake
8:30 p.m. – MSG/MLS Live – Houston Dynamo vs. New York Red Bulls
10 p.m – MLS Live – Vancouver Whitecaps vs. LA Galaxy
English Premier League
7:30 a.m. – NBSCN/NBC Sports Live – Liverpool vs. Everton
10 a.m. – NBC Sports Live – Burnley vs. Tottenham Hotspur
10 a.m. – NBCSN/NBC Sports Live – Chelsea vs. Crystal Palace
10 a.m. – NBC Sports Live – Hull City vs. West Ham United
10 a.m. – NBC Sports Live – Leicester City vs. Stoke City
10 a.m. – CNBC/NBC Sports Live – Manchester United vs. West Bromwich Albion
10 a.m. – NBC Sports Live – Watford vs. Sunderland
12:30 p.m. – NBC/NBC Sports Live – Southhampton vs. AFC Bournemouth
La Liga
7 a.m. – beIn SPORTS CONNECT – Villareal vs. Eibar
10:15 a.m. – beIn SPORTS en Español – Osasuna vs. Athletic Club
12:30 p.m.  – beIn SPORTS en Español – Real Sociedad vs. Leganes
2:45 p.m.  – beIn SPORTS en Español – Malaga vs. Atletico Madrid
Serie A
12 p.m. –  beIn SPORTS – Sassuolo vs. Lazio
2:45 a.m. – beIn SPORTS CONNECT – Roma vs Empoli
Bundesliga
9:30 a.m. – Fox Sports 2Go/Fox Soccer Plus – Bayern Munich vs. Augsburg
9:30 a.m. – Fox Sports 2Go/Fox Sports 2 – Schalke 04 vs. Borussia Dortmund
9:30 a.m. – Fox Sports 2Go – Hamburg SV vs Köln
9:30 a.m. – Fox Sports 2Go – Freiburg vs. Werder Bremen
9:30 a.m. – Fox Sports 2Go/FOX Deportes – RB Leipzig vs. Darmstadt 98
12:30 p.m. – Fox Sports 2Go/Fox Sports 2 – Eintracht Frankfurt vs. Borussia M'gladbach
Ligue 1
11 a.m.  – beIn SPORTS CONNECT- Olympique Marseille vs. Dijon
1 p.m.  – beIn SPORTS CONNECT- Bastia vs. Lille
Liga MX
7 p.m. – ESPN Deportes/Univision Deportes – Chiapas vs. Pumas UNAM
9 p.m. – Sky HD/Sky Planeta Futbol – Atlas vs. Tijuana
9 p.m. – Univision Deportes/Univision – Tigres UANL vs. Leon
9 p.m. – Azteca America/Sky HD – Morelia vs. Guadalajara
9 p.m. – NBC UNIVERSO – Pachuca vs. Puebla
11 p.m. – Univision Deportes/Univision – America vs. Monterey
Coupe de la Ligue
3 p.m. – beIn SPORTS – Monaco vs. PSG
SUNDAY
MLS
9 p.m. – ESPN2/MLS Live – Portland vs. New England
English Premier League
8:30 a.m. – NBCSN/NBC Sports Live – Swansea City vs. Middlesbrough
11 a.m. – NBCSN/Telemundo/NBC Sports Live – Arsenal vs. Manchester City
La Liga
6 a.m. – beIn SPORTS CONNECT – Sevilla vs. Sporting Gijon
10:15 a.m. – beIn SPORTS CONNECT /beIn SPORTS – Real Madrid vs. Deportivo Alaves
12:30 p.m. – beIN Sports en Español – Valencia vs. Deportivo La Coruña
2:45 p.m. – beIn SPORTS CONNECT/beIn SPORTS – Granada vs. Barcelona
Seria A
6:30 a.m. – beIn SPORTS CONNECT – Tornio vs. Udinese
9 a.m. – beIn SPORTS CONNECT – Genoa vs. Atalanta
9 a.m. – beIn SPORTS CONNECT – Fiorentina vs. Bologna
9 a.m. – beIn SPORTS CONNECT – Palermo vs. Cagliari
9 a.m. – beIn SPORTS CONNECT – Chievo vs. Crotone
9 a.m. – beIn SPORTS CONNECT – Pescara vs. Milan
2:45 p.m. – beIn SPORTS CONNECT – Napoli vs. Juventus
Bundesliga
9:30 a.m. – Fox Sports 1/Fox Soccer 2Go – Ingolstadt vs. Mainz 05
11:30 a.m. – Fox Sports 2/Fox Soccer 2Go – Bayer Leverkusen vs. Wolfsburg
Ligue 1
9 a.m. – beIn SPORTS CONNECT – Rennes vs. Olympique Lyonnais
11 a.m. – beIn SPORTS CONNECT – Lorient vs. Caen
11 a.m. – beIn SPORTS CONNECT – Montpellier vs. Toulouse
11 a.m. – beIn SPORTS CONNECT – Nantes vs. Angers SCO
2 p.m. – beIn SPORTS CONNECT – Monaco vs. Saint- Ètienne
3 p.m. – beIn SPORTS CONNECT – Nice vs. Bordeaux
Liga MX
1 p.m. – Univision Deportes/Univision – Toluca vs. Necaxa
7 p.m. – Univision Deportes/Sky HD – Santos Laguna vs. Queretaro
Scottish Premiership
7:30 a.m. – Fox Soccer Plus – Hearts vs. Celtic