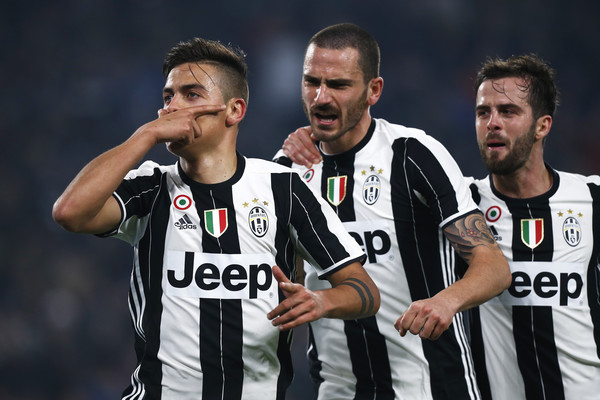 Juventus took a huge first step to advancing to the Coppa Italia final with a 3-1 first leg home victory over Napoli.
Gonzalo Higuain's 64th-minute strike gave Juve the 2-1 lead and doomed Higuain's former club to a first-leg defeat.
Paulo Dybala's 47th minute penalty drew the hosts level, after Jose Callejon's 11th goal in all competitions had Maurizio Sarri's side up 1-0 before halftime. Dybala netted his second goal of the evening, also from the penalty spot in the 69th minute to seal the victory for the hosts.
Juventus travels to the San Paolo for the return leg on April 5th.
Elsewhere, Eintracht Frankfurt advanced into the German DFB Pokal semifinals, while Borussia Dortmund saw their quarterfinal postponed. In Spain, Real Betis and Valencia earned important league wins, while Eibar got a late equalizer at Real Sociedad.
Here is a rundown on Tuesday's action in Europe:
GERMAN DFB POKAL 
Eintracht Frankfurt advanced to the German Cup semifinals after a 1-0 home victory Tuesday against Arminia Bielefeld.
Midfielder Danny Blum's first goal of the season in all competitions proved to be the winner after just six minutes. The German slotted home from a left-footed effort inside the box. Bielefeld had multiple chances to equalize late in the match, but it was to no avail as Eintracht held on for a 1-0 win. Lukas Hradecky made five saves in the Frankfurt goal, while Wolfgang Hesl made two saves for the visitors.
Borussia Dortmund's third-round showdown at Sportfreunde Lotte was postponed on Tuesday after heavy snowfall deemed the pitch to be unplayable. No new date has been confirmed for the replay.
Eintracht Frankfurt 1 – Arminia Bielefeld 0
Sportfreunde Lotte – Borussia Dortmund PP
SPANISH LA LIGA 
Matchday #25 of La Liga got underway on Tuesday with three matches kicking off in Spain. Eibar earned a late 2-2 road draw at Real Sociedad thanks to a 93rd minute equalizer from midfielder Leon. The Spaniard's ninth goal in all competitions leveled it for the visitors who came-from-behind twice against the hosts. Carlos Vela's 67th minute penalty looked to have given the hosts a 2-1 win after Yoel Rodriguez gave up the spot-kick.
Gonzalo Escalante's 26th minute header leveled the match at 1-1, thanks to a superb cross from Leon. Juanmi had opened the scoring after 14 minutes, heading home his 11th goal in all competitions. Both sides were reduced to 10-men in the second half due to second yellow card offenses. Eibar remains in seventh after their first league draw since December 18th. Real Sociedad sits two places higher, unbeaten in back-to-back fixtures.
Elsewhere, Real Betis got a 2-1 road win at Malaga, thanks to a 74th minute winner from Antonio Sanabria. The Paraguayan striker netted his third goal in all competitions, to give Betis their first lead of the match and a huge three points. Jonas Martin leveled it for Betis in the 48th minute after Pablo Fornais' long-range effort put the hosts up 1-0 before halftime.
Despite having 61% of the possession, Malaga had four efforts on-goal. Betis keeper Antonio Adan made three saves, while Carlos Kameni made three as well. The victory for Betis, their first since January 8th, sees them leapfrog Malaga into 14th place. Malaga sit one point behind their opponents after suffering back-to-back defeats.
Valencia bounced back from a 2-1 loss at Alaves on Saturday by defeating Leganes, 1-0, at the Mestalla on Tuesday afternoon. Eliaquim Mangala's first goal for the club since joining on loan from Manchester City was all the hosts needed. The 26-year-old tapped home from close range, after his previous header was saved by Leganes keeper Iago Herrerin.
Leganes failed to offer much offensively, not having a single shot-on-target. Herrerin by far was their best performer, making five saves in a defeat. Valencia move up to 12th with their second win out of their last three matches. Leganes fell for the fourth time this month in league-play, only sitting four points from safety.
Here are the scores from Tuesday's La Liga action:
Real Sociedad 2 – Eibar 2
Malaga 1 – Real Betis 2
Valencia 1 – Leganes 0