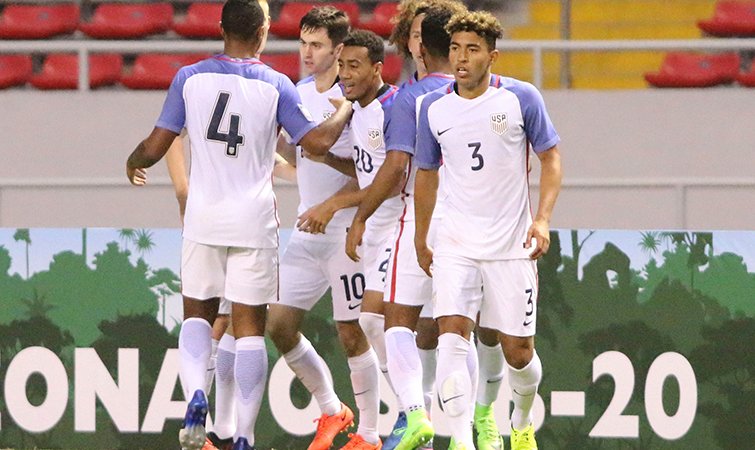 After sealing the title of CONCACAF champions, U.S. Under-20 Men's National Team is bound for South Korea and the Under-20 World Cup. On Wednesday, their road through that World Cup became a bit clearer as they learned their group opponents.
In Wednesday's World Cup draw, the U.S. was paired with Ecuador, Senegal and Saudi Arabia in Group F of this summer's tournament. The U.S. will open play on May 22 before facing Senegal and Saudi Arabia on May 25 and 28, respectively.
"We are proud to have earned a group top seed for the 2017 U-20 World Cup," U.S. U-20 Men's National Team head coach Tab Ramos said. "As CONCACAF Champions and 2015 U-20 World Cup Quarterfinalists, we have put ourselves in a great position for this tournament.
"Our Youth National Team Program has been on an upward trend and we need to continue to push forward in Korea Republic. This was a difficult draw, but we are ready for the challenge. Our plan is to treat each game like a final, so our preparation now shifts to Ecuador."
Ecuador is a part of the U-20 World Cup field for the first time since 2011, which saw the team reach the Round of 16. In total, Ecuador has posted a 2-4-2 record in their two prior appearances.
Senegal enters their second-straight U-20 World Cup after reaching the semifinal last time out. The African nation defeated Ukraine in penalty kicks to reach the quarterfinals before earning a 1-0 win over Uzbekistan to reach the final four. Their journey ended there, though, as Senegal fell to eventual runners-up Brazil.
Saudi Arabia joins the competition for the eighth time, although it's the nations first appearance since the 2011 tournament. The team's best finish came that year: a Round of 16 run that ended with a loss to Brazil. In total, Saudi Arabia has posted a 4-12-6 overall record across 22 matches played.
The U-20 World Cup runs May 20-June 11 and features 24 countries. The top two teams in each group will be joined by the four best third-place teams in advancing past the group stage and into the Round of 16.
Here's a closer look at the U.S. schedule as well as the rest of the U-20 World Cup groupings:
U.S. U-20 Group F Schedule:
May 22, 4 a.m.: Ecuador vs. U.S.; Incheon Stadium, Incheon
May 25, 7 a.m.: Senegal vs. U.S.; Incheon Stadium, Incheon
May 28, 5 a.m.: U.S. vs.  Saudi Arabia; Daejeon World Cup Stadium, Daejeon
2017 FIFA U-20 World Cup
Group A: Korea Republic (host), Guinea, Argentina, England
Group B: Venezuela, Germany, Vanuatu, Mexico
Group C: Zambia, Portugal, Iran, Costa Rica
Group D: South Africa, Japan, Italy, Uruguay
Group E: France, Honduras, Vietnam, New Zealand
Group F: Ecuador, U.S., Saudi Arabia, Senegal