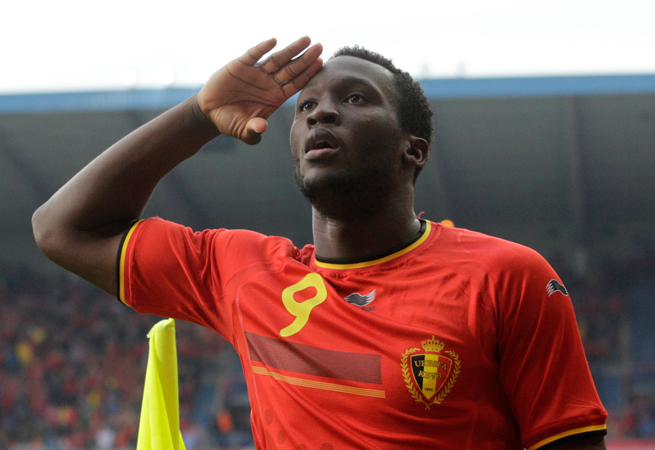 Matchday 5 of UEFA World Cup Qualifying takes place Friday through Sunday, and should provide some intriguing matches featuring some top competition.
Group D leader, the Republic of Ireland, will host Euro 2016 surprise side Wales at Aviva Stadium on Friday. Martin O'Neill's side is coming off three consecutive victories in World Cup qualifying and would like to take another step towards winning its group. After steamrolling Moldova in its opener, Wales has drawn its last three qualifiers and will look to pull an upset on the road.
Saturday's premier match comes from Group H as group leader Belgium entertains Greece who sits two points back in the standings. Roberto Martinez's side has tallied the most goals in qualifying so far with 21, while only allowing one goal in its first four matches. Greece is coming off a 1-1 draw vs. Bosnia-Herzegovina back in November, after three straight wins to kick off its qualifiers.
Elsewhere, Spain hosts Israel on Friday, looking to extend its lead at the top of Group G, while Ukraine travels to Croatia knowing a win could see it jump up to first in Group I.
Here's a closer look at all of the UEFA World Cup Qualifiers:
GROUP A
Bulgaria versus the Netherlands looks to be the most entertaining match in this group, with the hosts sitting only a point behind their visiting opponents.
Group leaders France travels to last-place Luxembourg, while third-place Sweden entertains fifth-place Belarus at home.
Sweden vs. Belarus – March 25th, 1:00 P.M.
Bulgaria vs. Netherlands – March 25th, 3:45 P.M .
Luxembourg vs. France – March 25th, 3:45 P.M.
GROUP B
The mouth-watering match this weekend in Group B takes place in Lisbon as Portugal hosts Hungary on Saturday. These two played a thrilling match in Euro 2016 with the sides each gaining a point in a 3-3 draw. A win for Hungary would see it leapfrog Portugal into second place.
Also on Saturday, Latvia travels to first-place Switzerland, who is a perfect 4-0-0 so far in qualifying. Latvia has lost its last three fixtures after winning its opener at Andorra.
Switzerland vs. Latvia – March 25th, 1:00 P.M.
Andorra vs. Faroe Islands – March 25th, 1:00 P.M.
Portugal vs. Hungary – March 25th, 3:45 P.M.
GROUP C
In Group C, top of the table Germany faces a trip to third-place Azerbaijan, as it looks to continue its undefeated run. Joachim Low's men are also one of two teams along with England to keep a clean sheet in each of their opening four matches of qualifying.
In Sunday's late group match, second-place Northern Ireland welcomes Norway to Windsor Park. The visitors have only won once in qualifying so far, while the hosts have only lost once.
Azerbaijan vs. Germany – March 26th, 12:00 P.M.
San Marino vs. Czech Republic – March 26th, 12:00 P.M.
Northern Ireland vs. Norway – March 26th, 2:45 P.M.
GROUP D
In Group D's opening match on Friday, second-place Serbia faces a trip to Georgia, with an unbeaten record in qualifying on the line. The Serbs sit two points behind the Republic of Ireland for first place, and are coming off a 1-1 road draw against Wales in November. Georgia is looking for its first victory in qualifying.
Fourth-place Austria hosts Moldova, looking for its first victory since the opening round back in September. Moldova's only point came in a 1-1 road draw against Georgia.
Georgia vs. Serbia – March 24th, 1:00 P.M.
Austria vs. Moldova – March 24th, 3:45 P.M.
Republic of Ireland vs. Wales – March 24th, 3:45 P.M.
GROUP E
The two top matches in Group E on Sunday will take place simultaneously, with Romania hosting Denmark, and Montenegro hosting Poland. Denmark sits a point ahead of Romania in third place, and it will try for its second consecutive qualifying victory. Romania is coming off a 3-0 home defeat against Poland.
In a battle of first versus second, group-leader Poland faces Montenegro in Podgorica. Poland leads its opponent by three points in the standings, and is still without a loss in qualifying. Montenegro's only defeat was on Matchday 4 at Armenia.
Armenia vs. Kazakhstan – March 26th, 12:00 P.M.
Romania vs. Denmark – March 26th, 2:45 P.M.
Montenegro vs. Poland – March 26th, 2:45 P.M.
GROUP F
Gareth Southgate's England squad will attempt to remain on top of Group F with a win over visiting Lithuania on Sunday. England is 3-1-0 in qualifying, and has yet to allow a goal. Lithuania sits in fourth place, but a victory could put it right back into things.
Second place Slovenia travels to fifth place Scotland in one of Sunday's late matches. The visitors are 2-2-0 in qualifying, and are coming off a 1-0 victory at Malta in November. Scotland is coming off consecutive 3-0 road defeats against Slovakia and England respectively.
England vs. Lithuania – March 26th, 12:00 P.M.
Scotland vs. Slovenia – March 26th, 2:45 P.M.
Malta vs. Slovakia – March 26th, 2:45 P.M.
GROUP G
The top two sides in Group G are both at home on Matchday 5 as Spain hosts third-place Israel, while Italy hosts fourth-place Albania. Both Spain and Italy have a record of 3-1-0 with the draw coming against one another. This will be Israel's toughest test since an opening round defeat vs. Italy back in September.
Albania has slipped to consecutive defeats after starting out 2-0-0 in qualifying. The third contest sees Liechtenstein hosting Macedonia in Vaduz, with both sides looking for their first point.
Spain vs. Israel – March 24th, 3:45 P.M.
Italy vs. Albania – March 24th, 3:45 P.M.
Liechtenstein vs. Macedonia – March 24th, 3:45 P.M.
GROUP H
Group H's top match of the round takes place in Brussels on Saturday as group leader Belgium hosts second-place Greece. Belgium has found the back of the net 21 times in qualifying, the most of any European side so far, and a +20 goal-differential. A victory will put Greece in top spot of the group.
Third-place Bosnia-Herzegovina hosts bottom-place Gibraltar who is still looking for its first point. Fifth-place Estonia travels to fourth-place Cyprus, knowing a victory would separate the two sides in the table.
Cyprus vs. Estonia – March 25th, 1:00 P.M.
Bosnia-Herzegovina vs. Gibraltar – March 25th, 1:00 P.M.
Belgium vs. Greece – March 25th, 3:45 P.M.
GROUP I
Group I's action opens on Friday as Turkey hosts Finland in a battle of fourth versu fifth. Finland is looking for its first victory in qualifying, while Turkey has only lost once so far. Last-place Kosovo, also looking for its first win, entertains third-place Iceland who is coming off a 2-0 road loss in Croatia.
In a top-two battle, group-leader Croatia welcomes Ukraine to Zagreb in one of Friday's late matches. After a 1-1 draw against Turkey to open qualifying, Croatia has rolled off three consecutive wins. Ukraine is looking to win its third in a row after victories over Kosovo and Finland.
Turkey vs. Finland – March 24th, 1:00 P.M.
Croatia vs. Ukraine – March 24th, 3:45 P.M.
Kosovo vs. Iceland – March 24th, 3:45 P.M.