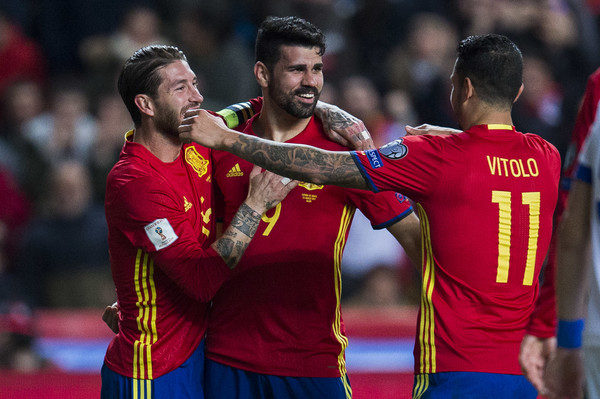 With domestic leagues off this weekend, the fifth round of UEFA World Cup Qualifiers kicked off on Friday with nine matches across Europe.
Group D, H, and I all took center-stage on Friday while the remaining six groups kicked off their fifth round qualifiers on Saturday and Sunday. Plenty of countries were looking for important results this weekend, while others were looking to hold on their leads at the top of their respective groups.
Here is a rundown of all the weekend's action from UEFA's World Cup Qualifiers:
Group A
Group-leaders France remained unbeaten in Group A after a 3-1 road win at Luxembourg. Sweden jumped up to second after a 4-0 home success against Belarus, while the Netherlands fell to fourth after a disappointing road defeat against Bulgaria. Bulgaria jump to third, while Belarus and Luxembourg look out of it in fifth and sixth respectively. The top-two sides, also level on points will duke it out on match-day six as Sweden hosts France.
Group B
Switzerland remained perfect in Group B after a 1-0 home victory against Latvia. A Josip Drmic goal was all the Swiss needed to remain in top spot. Portugal eased past Hungary, 3-0, in Lisbon thanks to a brace from Cristiano Ronaldo. Andorra and the Faroe Islands shared the points in a scoreless draw in the third fixture. The top three sides in Group B all face road matches on match-day six of qualifying.
Group C
Germany used a three goal first-half to defeat Azerbaijan, 4-1, in Baku on Sunday. Andre Schurrle's brace sparked Germany to their fifth win in qualifying. Northern Ireland remained in second-place after a 2-0 home success over Norway, while the Czech Republic rolled past San Marino, 6-0.
Group D
Serbia jumped to top-spot in Group D after a 3-1 road win against Georgia on Friday. Despite being down early, the Serbs fought back for an important result. The Republic of Ireland and Wales shared the points in a scoreless draw in Dublin on Friday. Welsh star Gareth Bale will miss his side's sixth qualifying fixture after yellow-card accumulation. Austria's first victory in qualifying came also on Friday thanks to a 2-0 win over Moldova. Serbia hosts Wales on match-day six in June, knowing another win could see them inch closer to a top-two finish.
Group E
Poland remained atop of Group E after a 2-1 road victory against Montenegro on Sunday. Lukas Piszczek netted the game-winner in the 82nd minute after the hosts looked to have earned a point. Romania and Denmark shared the points in a scoreless draw in Cluj-Napoca, while Armenia eased past Kazakhstan, 2-0, at home. On match-day six in June, leaders Poland welcome Romania while Armenia travels to Montenegro.
Group F
England remained a top Group F after a 2-0 home win at Wembley against Lithuania on Sunday. Goals from Jermain Defoe and Jamie Vardy sealed Gareth Southgate's side their fourth qualifying victory. Slovakia defeated Malta, 3-1, on the road on Sunday to jump to second place in Group F, while Scotland got a late winner from Chris Martin to defeated Slovenia, 1-0, at Hampden Park. Scotland hosts England on match-day five which should be an energetic contest between two rivals.
Group G
Group leaders Spain remained in top spot after a convincing 4-1 victory over Israel on Friday.  David Silva and Diego Costa both chipped in goals for the Spaniards, while Israel suffered their second defeat in qualifying. Italy remain level on points with Spain thanks to a 2-0 victory over Albania. Daniele De Rossi and Ciro Immobile netted the goals for the hosts, who also remain unbeaten. In a battle of fifth vs. sixth, Macedonia defeated Liechtenstein 3-0 for their first victory in qualifying. Israel host Albania in the must-see Group D fixture on match-day six.
Group H
Group H leaders Belgium were held to a 1-1 home draw in Brussels against Greece on Saturday. The Greeks saw two red cards in the match, but were able to hold the deadly Belgium attack to only one goal. Bosnia-Herzegovina thumped Gibraltar, 5-0, in Zenica on Saturday thanks to four different goalscorers chipping in offensively. In a match-up of fourth vs. fifth, Cyprus and Estonia played out a 0-0 draw in Nicosia. Greece travel to Bosnia-Herzegovina on match-day six in June, looking to remain in the top-two chase of Group H.
Group I
Croatia remained unbeaten in qualifying thanks to a slim 1-0 home success over Ukraine on Friday. A Nikola Kalinic strike was all the Croats needed to remain top of the group. Iceland jumped into second place thanks to a 2-1 road win at Kosovo, while Turkey defeated Finland 2-0 in Friday's early contest. In a top-two showdown on match-day six, Iceland host Croatia in Reykjavik knowing a lopsided win could see them jump to top-spot.
The sixth match-day of UEFA World Cup Qualifiers will take place through the weekend of June 9th-11th, 2017.
Here is a closer look at the standings from each group after five games.
Group A
1. France (11 points | 4-1-0 | 10 Goals For | 3 Goals Against)
2. Sweden (11 points | 3-1-1 | 10 Goals For | 3 Goals Against)
3. Bulgaria (7 points | 3-0-2 | 8 Goals For | 10 Goals Against)
4. Netherlands (5 points | 2-1-2 | 8 Goals For | 6 Goals Against)
5. Belarus (2 points | 0-2-3 | 2 Goals For | 10 Goals Against)
6. Luxembourg (1 points | 0-1-4 | 6 Goals For | 12 Goals Against)
Group B
1. Switzerland (15 points | 5-0-0 | 10 Goals For | 3 Goals Against)
2. Portugal (12 points | 4-0-1 | 19 Goals For | 3 Goals Against)
3. Hungary (7 points | 2-1-2 | 8 Goals For | 6 Goals Against)
4. Faroe Islands (5 points | 1-2-2 | 2 Goals For | 8 Goals Against)
5. Latvia (3 points | 1-0-4 | 2 Goals For | 9 Goals Against)
6. Andorra (1 points | 0-1-4 | 1 Goal For | 13 Goals Against)
Group C
1. Germany (15 points | 5-0-0 | 20 Goals For | 1 Goal Against)
2. Northern Ireland (10 points |3-1-1| 10 Goals For | 2 Goals Against)
3. Czech Republic (8 points | 2-2-1 | 8 Goals For | 4 Goals Against)
4. Azerbaijan (7 points | 2-1-2 | 3 Goals For | 8 Goals Against)
5. Norway (3 points | 1-0-4| 5 Goals For | 9 Goals Against)
6. San Marino (0 points | 0-0-5 | 1 Goal For | 23 Goals Against)
Group D
1. Serbia (11 points | 3-2-0 | 12 Goals For | 6 Goals Against)
2. Republic of Ireland (11 points | 3-2-0| 7 Goals For | 3 Goals Against)
3. Wales (7 points | 1-4-0 | 8 Goals For | 4 Goals Against)
4. Austria (5 points | 1-2-2 | 6 Goals For | 7 Goals Against)
5. Georgia (2 points | 0-2-3 | 4 Goals For | 8 Goals Against)
6. Moldova (2 points | 0-2-3 | 2 Goal For | 11 Goals Against)
Group E
1. Poland (13 points | 4-1-0 | 12 Goals For | 6 Goals Against)
2. Montenegro (7 points| 2-1-2 | 10 Goals For | 6 Goals Against)
3. Denmark (7 points | 2-1-2 | 7 Goals For | 5 Goals Against)
4. Romania (6 points | 1-3-1 | 6 Goals For | 4 Goals Against)
5. Armenia (6 points | 2-0-3 | 6 Goals For | 10 Goals Against)
6. Kazakhstan (2 points | 0-2-3 | 3 Goal For | 13 Goals Against)
Group F
1. England (13 points | 4-1-0 | 8 Goals For | 0 Goals Against)
2. Slovakia (9 points | 3-0-2 | 10 Goals For | 3 Goals Against)
3. Slovenia (8 points | 2-2-1 | 4 Goals For | 3 Goals Against)
4. Scotland (7 points | 2-1-2 | 7 Goals For | 8 Goals Against)
5. Lithuania (5 points | 1-2-2 | 5 Goals For | 9 Goals Against)
6.Malta (0 points | 0-0-5 | 2 Goal For | 13 Goals Against)
Group G
1. Spain (13 points | 4-1-0 | 17 Goals For | 1 Goal Against)
2. Italy (13 points | 4-1-0 | 12 Goals For | 4 Goals Against)
3. Israel (9 points | 3-0-2 | 8 Goals For | 7 Goals Against)
4. Albania (6 points | 2-0-3 | 4 Goals For | 7 Goals Against)
5. Macedonia (3 points | 1-0-4| 5 Goals For | 11 Goals Against)
6. Liechtenstein (0 points | 0-0-5 | 1 Goal For | 17 Goals Against)
Group H
1. Belgium (13 points | 4-1-0 | 22 Goals For | 2 Goals Against)
2.Greece (11 points | 3-2-0| 10 Goals For | 3 Goals Against)
3. Bosnia-Herzegovina (10 points | 3-1-1 | 13 Goals For | 5 Goals Against)
4. Cyprus (4 points | 1-1-3 | 3 Goals For | 8 Goals Against)
5. Estonia (4 points | 1-1-3 | 5 Goals For | 15 Goals Against)
6. Gibraltar (0 points | 0-0-5 | 2 Goal For | 22 Goals Against)
Group I
1. Croatia (13 points | 4-1-0 | 11 Goals For | 1 Goal Against)
2. Iceland (10 points| 3-1-1 | 8 Goals For | 5 Goals Against)
3. Ukraine (8 points | 2-2-1 | 7 Goals For | 4 Goals Against)
4. Turkey (8 points | 2-2-1 | 7 Goals For | 5 Goals Against)
5. Finland (1 points |0-1-4 | 3 Goals For | 8 Goals Against)
6. Kosovo (1 points | 0-1-4 | 1 Goal For | 14 Goals Against)