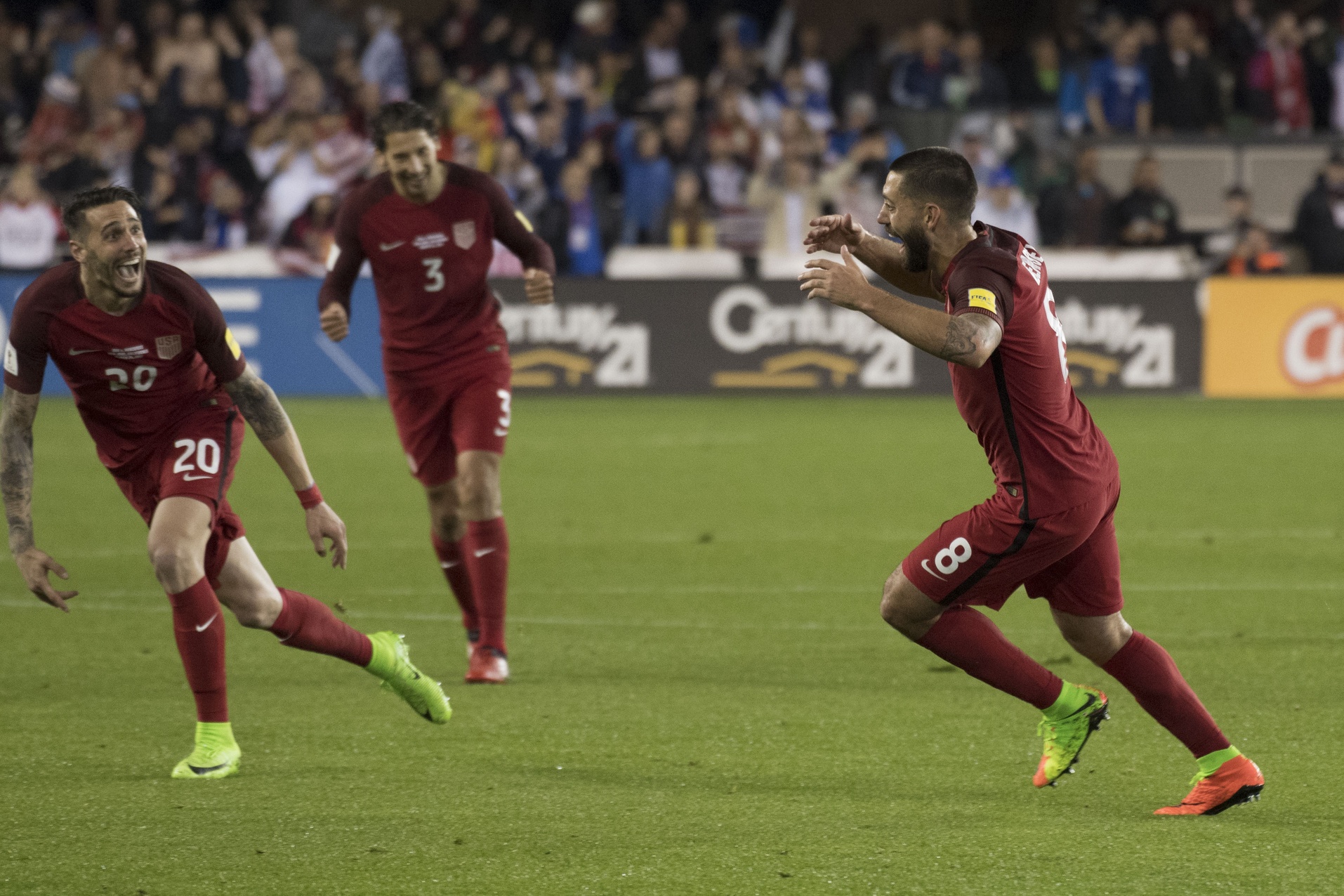 Bruce Arena probably couldn't have drawn it up any better. The U.S. Men's National Team scored early and often on Friday night, thumping Honduras, 6-0, to leap back into the World Cup qualifying race.
From the opening moments of Friday's clash at Avaya Stadium, the U.S. were superior in every way. They were quick, decisive, vicious, ripping apart the Honduras defense again and again. Christian Pulisic and Clint Dempsey did whatever they wanted on the ball as the U.S. controlled the game to seize control of their World Cup destiny.
There's a lot of work to be done, as a trip to Panama looms. But, after a less-than-ideal start to the qualifying campaign, the U.S. are back on their feet.
Here's a look at several takeaways from Friday's match:
CONFIDENCE RESTORED
As the Jurgen Klinsmann era crept to a close, it was clear that U.S. was a team in need of a spark. The confidence appeared gone. There was no self-belief, no spunk, and the results showed it.
On Friday, that confidence returned, at least for 90 minutes, and, once again, the result showed it.
The U.S. played free on Friday night, even without several star contributors. The players inserted into the lineup stepped up in a big way. The returning regulars were massive, creating goal after goal while limiting Honduras to next to nothing on the attacking end. It was a dream performance in every way, one that should restore all of the goodwill lost back in November.
At this point, the sample size is too small to make any sweeping assumptions or declarations, but it's impossible to deny the difference. The first two matches of Arena's tenure started with a bit of a whimper, but quickly pushed into a major crescendo on Friday night. It was an ideal performance on an ideal night, one that kickstarted U.S. hopes while serving as a momentous start to a new era.
PULISIC UNLEASHED
Before Friday's match, I made the point to say that the USMNT needed to unleash Christian Pulisic, give him the reins to create, attack and disrupt however his heart desires.
Well, there you go.
Pulisic earned SBI USMNT Man of the Match honors for his efforts in Friday's demolition. It started early, as his shot rebounded to Sebastian Lletget for the USMNT's first. A goal and two assists soon followed as Pulisic played maestro, goalscorer and artist as he tormented the Honduras defense again and again.
Still, Pulisic's game was so much more than that. At one point, with a defender closing in, Pulisic took a magnificent touch past him and straight down the line, leaving his man helpless as he darted. The referee ruled the ball out of play, much to Pulisic's chagrin, but it was a sign. It was a display of confidence, skill, technique all but unmatched in the USMNT pool.
Friday night was a display of just what Pulisic is now, not just what he could be. His Borussia Dortmund form is no fluke and his game is more than prepared for the international level. It's time to give him the keys and let him run.
RETURN OF DEMPSEY
In the lead up to Friday's match, much was made of Clint Dempsey's return. Questions continued throughout the week, much like they have throughout the past several months. He'd made his return to the game on the club level, but was he ready to assume the responsibility of 90 minutes of World Cup qualifying?
He was, in a big way, as Dempsey fired his second ever international hat-trick. Ho hum.
Playing as a second forward to Jozy Altidore, Dempsey drifted in and out of the Honduras defense, who was clearly overmatched for all 90 minutes of Friday's match. His first was a sublime display of touch and power as he outmuscled and outhustled his defender to fire home a Pulisic chip. His second was a display of speed and intelligence as he darted past the Honduras centerbacks and onto Altidore.
Then came his third, a stunning free kick to cap off a memorable return to the national team. Dempsey still needs time as he pushes back towards 100 percent health and fitness, but Friday night's match was certainly a heck of a start.
BAD BREAK FOR DA BOY
Sebastian Lletget's start was simply a continuation of January camp. He was crisp, dynamic in the attack, as he fired an early goal to ignite the USMNT attack.
Thrown into the fire for his first real USMNT match, Lletget looked up to the task. Unfortunately for the LA Galaxy midfielder, though, his strong impression didn't last long.
Lletget was taken out just 18 minutes in, cutting his World Cup debut short in a big way. It was an unfortunate end to what looked to be a spectacular start as Lletget seamlessly replaced Jermaine Jones in the center of the field.
In those 18 minute, though, Lletget showed he belonged. His run to the backpost resulted in a simple tap-in, but it showed confidence and awareness in what was likely one of the biggest games of his life. The ensuing 10 minutes or so, Lletget was a noted bright spot on a night that was cut too short due to injury.