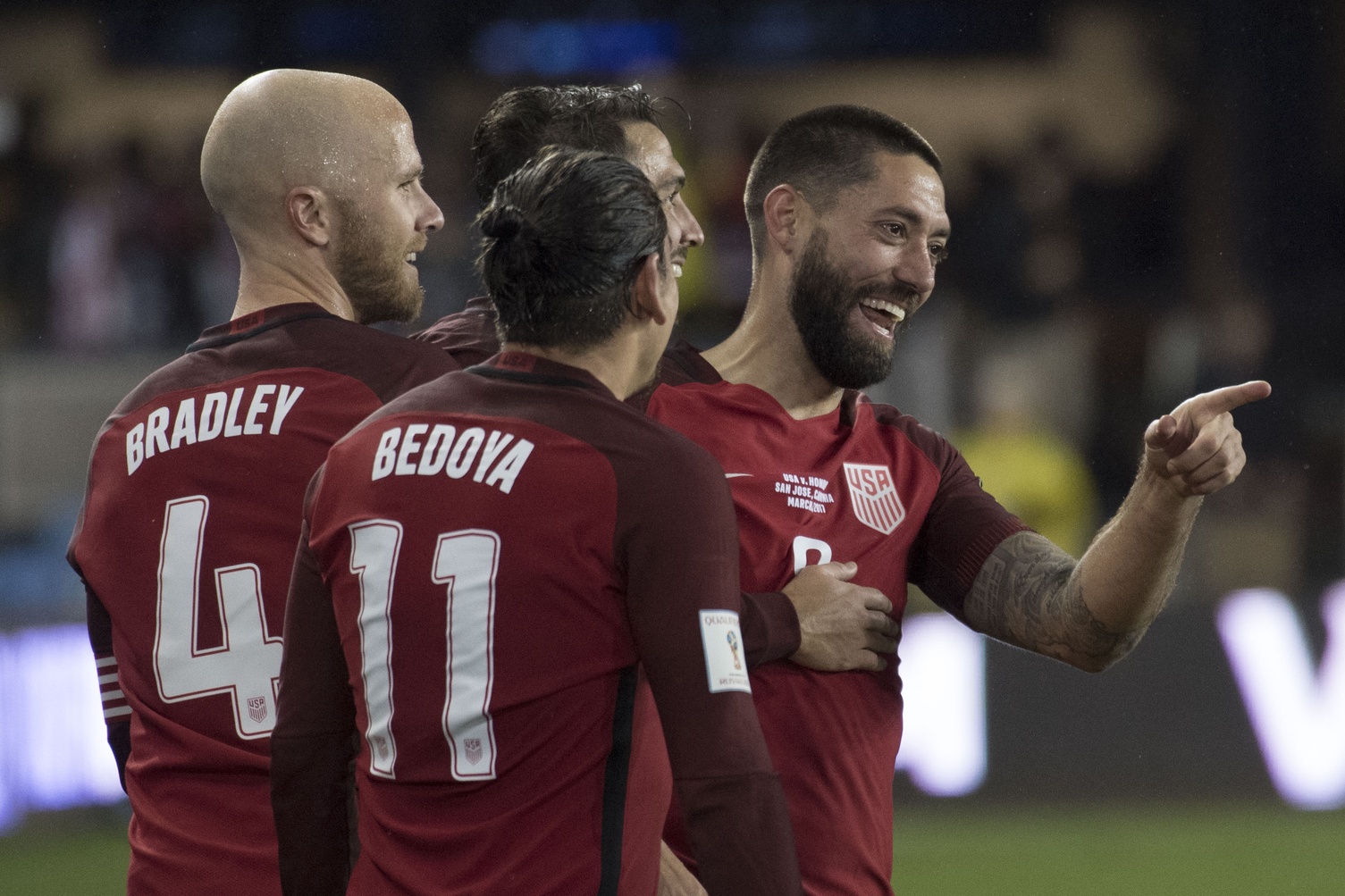 The U.S. Men's National Team's win over Honduras was, for lack of a better word, easy. The U.S. were dominant throughout Friday's World Cup qualifying rebound as they tortured Honduras through 90 minutes with goal after goal.
Tuesday's World Cup qualifier won't be as simple. The stakes may be a bit different from Friday's must-win affair, but the challenge is certainly greater. The U.S. salvaged their World Cup hopes on Friday night. On Tuesday, they'll look to push back into the driver's seat.
Doing so in Panama is anything but a certainty. Fresh off a qualifying loss, Panama will be determined to right their own ship with a win on home soil. Panama currently maintains a one-point lead over the USMNT, and maintaining that advantage will be vital to their own World Cup hopes. The infamous Graham Zusi goal last cycle still stings in a big way, and Panama will be feeling the pressure.
USMNT captain Michael Bradley says the U.S. enters confident, but the key will be being wary of overconfidence. Friday's win was important, in both the standings and the minds of the USMNT, but Tuesday is just as vital for ensuring the international break is as successful as possible.
"Obviously we all understand that just because we've had one good result doesn't mean that we're out of the woods yet," Bradley said. "We have to understand that it's going to be a very difficult game here on Tuesday night and we have the mentality that we need more points.
"We want three, and we're going to play in a way where we give ourselves a real chance to win the game. If, in the end, it means that we take one then so be it, but we've got to follow up the good performance on Friday with another one here on Tuesday night."
To the USMNT's credit, the team has historically handled clashes with Panama pretty well. Entering Tuesday, the U.S. has a  5-0-1 record against Panama in World Cup qualifying play as well as a 2-0-1 record in qualifiers played in Panama City.
Zusi's game-winner in the last Hexagonal match rings strong, showing that the U.S. can go down to Panama and emerge victorious. Among the madness of that last qualifier, though, the U.S. needed two stoppage time goals to come out on top. The second, a finish from Aron Johannsson, simply dug Panama's grave further, sealing their World Cup qualifying elimination.
Panama has had their share of success against the USMNT, though, with their biggest triumphs coming in Gold Cup play. Los Canaleros toppled the U.S. in penalty kicks to seal third place in the 2015 Gold Cup, while Bruce Arena will remember Panama's 2005 run through the Gold Cup that saw his USMNT fall in penalty kicks in the tournament finale.
The group has several familiar faces to the USMNT as MLS has long been a home of several of Panama's top players. Players like Roman Torres, Armando Cooper and Anibal Godoy currently ply their trade in MLS, while others like Jaime Penedo and Blas Perez forged long, successful careers in the U.S.
"We know them pretty well," Bradley said, "Both in terms of playing against them as a national team many over the years, and obviously the other part to it now is a lot of their players play in MLS, and are teammates and opponents of ours on a weekly basis. We have a lot of respect for them. They have a unique and interesting blend of skill and athleticism that always challenges us in a big way."
"The away games are always tougher than the home games," Jermaine Jones added, "especially with the conditions. It will be hot, the field may be a little bit bumpy, but if we go out and play our own game, we showed it already in 2013, that we can come here and win again."
Bradley added that he expects Panama to come out hot on Tuesday night as Friday's loss to Trinidad & Tobago "won't sit well" with Los Canaleros. Like the USMNT, Panama are battling to push into the upper portion of the table in an effort to earn a little wiggle room as the second half of the Hexagonal starts.
For the USMNT, a win on Tuesday would go a long way towards easing any doubts still lingering from November's misstep. Friday night started the process of beginning a new, but it was just that: a beginning. Now, the U.S. must ride the momentum through Tuesday and the rest of World Cup qualifying as they look to get back on track towards the ultimate goal: Russia 2018.
"It was an important win," Bradley said. "The points were obviously very valuable, we were able to put our goal differential back in a good place, and for our confidence and for the spirit in the team it was important. We feel good about things. It's been a good week.
"I think we're all really excited, especially after the win at home," Jones added. "We want to finish this camp and go home with all three points."