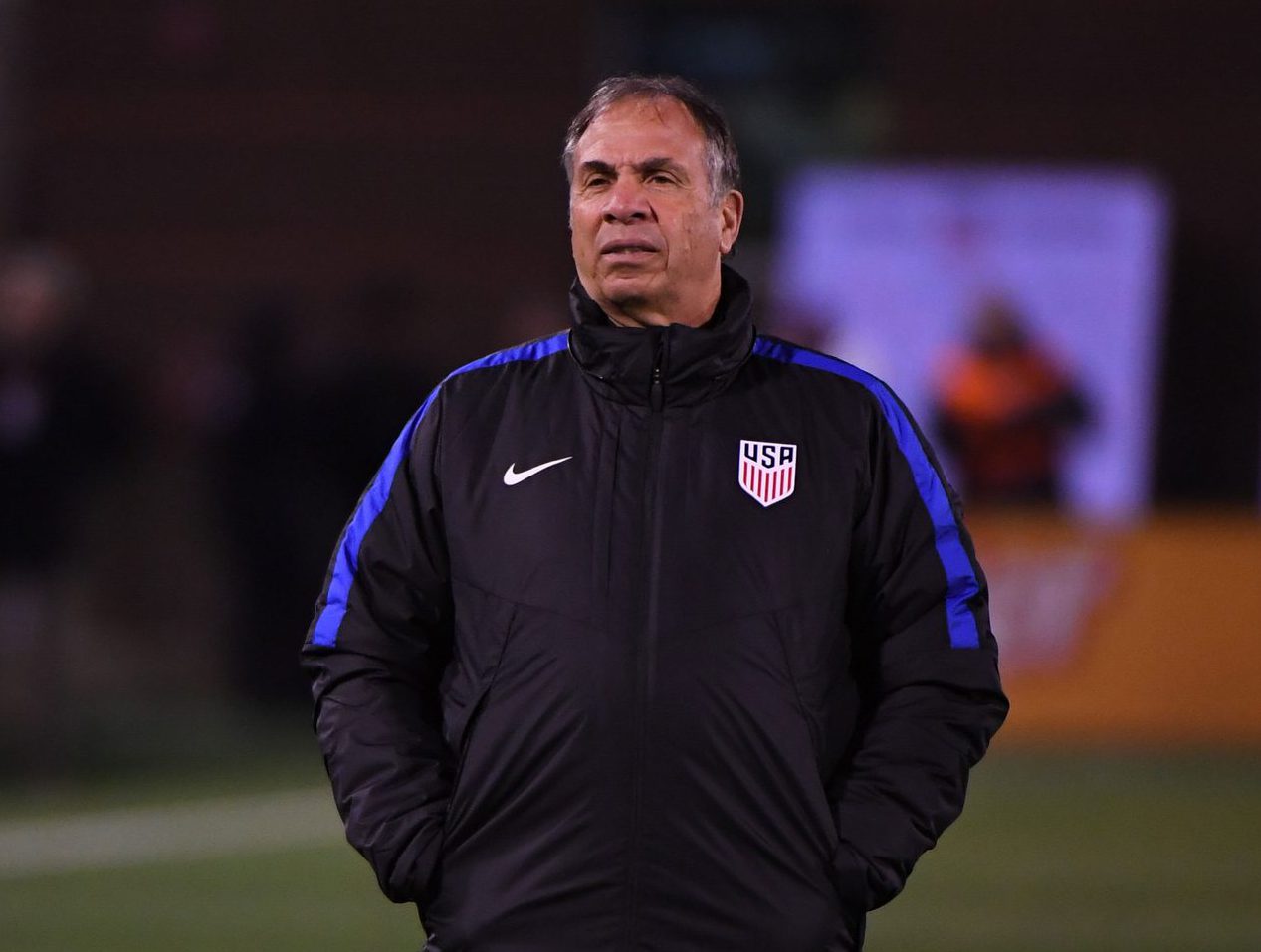 World Cup qualifiers are looming for the U.S. Men's National Team and, for Bruce Arena, that means a roster is beginning to take shape.
According to Arena, the upcoming weekend will be vital for players both domestic and abroad to stake their claim to a potential roster spot. Arena is expected to announce a roster of 23-25 players some time around March 15 with players reporting at some point between March 18-20. Before that, though, there's a lot to prove as Arena looks to nail down the first competitive roster of his tenure.
"2017 is an important year, and we think a great year for U.S. Soccer is qualifying for the World Cup in Russia in 2018 and positioning ourselves to win the Gold Cup," Arena said on a Facebook live chat on Wednesday. "Those are certainly going to be our goals. However, we have to look in the short-term. The short-term is preparing a roster for qualifiers March 24 and 28. As you know, we open with Honduras and we're working real hard to finalize our roster."
That process began, in earnest, in January as Arena got a look at a group of the top players in MLS. Several less familiar faces were called in, such as Dax McCarty, who Arena says will receive "strong consideration" going forward. Arena kept a close eye on MLS' opening week and plans to be in attendance for this coming weekend's clash between Sporting Kansas City and FC Dallas.
The focus then turns abroad. The return of Geoff Cameron is promising and Arena says the coaching staff hopes to have the Stoke City defender in for March qualifiers.  DeAndre Yedlin's status is a slight concern following a thigh injury, but Arena says that, if healthy, Yedlin will be on the squad.
However, Arena says that Germany is the "starting point" of the squad and a contingent of Bundesliga players is expected to build the core of his team.
"We've seen in recent weeks that Fabian Johnson, Christian Pulisic, John Brooks, Tim Chandler, Bobby Wood are playing on a consistent basis and doing well," said Arena, who also added that Julian Green could be under consideration. "Timmy Chandler's not eligible to play against Honduras because of suspension, but the other players are doing well and we anticipate that there's a good chance that they're part of our roster for the World Cup qualifying matches."
CAUTION REMAINS WITH RETURNING DEMPSEY
Arena was as happy as anyone to see Clint Dempsey return to goalscoring form this past weekend. After months on the sideline, the Seattle Sounders forward fired home a goal in his return to the field, helping reignite the debate on whether or not he is ready to return to the international game.
Just last week, Arena said he plans to take it slow with the Sounders star, and he reiterated that idea on Wednesday despite Dempsey's strong start.
"I think with Clint, we need to be cautious in our approach," Arena said. "It was great to see him play that opening game in Houston for Seattle and we want to follow him closely again this week to see where he is physically, if he's getting a little bit sharper, if he's increasing his workload on the field. We know, obviously, that he's a very good player and he has a great history with the national team, but we want to be smart about Clint and make sure he's ready to play international soccer and the next two weekends will be important.
"I'm confident he will be part of the national team at some point in 2017. "
ARENA AIMS TO PUSH JOHNSON INTO MIDFIELD IN 2017
For years, Fabian Johnson has been an international utility man. He's filled in at both fullback positions throughout his USMNT career while also thriving as a wide midfielder on the club level.
In 2017, Arena is hoping to see more of the latter as Johnson shifts into a more consistent role in the midfield.
"My thoughts on Fabian are simply this: he plays on a regular basis as a left-sided midfielder at Monchengladbach," Arena said. "If we can, we want to play Fabian in the midfield. That's one our goals in 2017: find a position for him and allow him to play it on a consistent basis."
If and when Johnson moves up the field, the U.S. will have a wide gap at the left back position. Arena says there are a variety of contenders that could step in and hold the position down, ranging from new faces to experienced veterans. Johnson himself, at least for the time being, remains an option, even if the goal is to move on at some point in the near future.
"Jorge Villafana and Greg Garza had good showings in January with us in camp," Arena said. "Also DaMarcus Beasley showed well in the game with Houston over the weekend. Those are four candidates. Additionally, Tim Ream is a possibility although he plays centrally with Fulham as well as Matt Besler, who plays centerback as well. The last possibility to play that position is Eric Lichaj, who has played both sides at Nottingham Forest.
"We have plans A, B, C, D, E and F at that position and we're hopeful that we can arrive at the right plan."
ARENA LOOKING TOWARDS HOWARD, GUZAN, RIMANDO FOR MARCH
Arena didn't outright say which goalkeepers would be included for March's qualifiers, but he did hint at three veterans that could be brought in to lead the U.S. from the back.
The USMNT boss said that Nick Rimando, Tim Howard and Brad Guzan would all be under consideration for March's qualifiers depending on a number of factors. The biggest remains Howard's health, as the goalkeeper continues to battle back from a hip injury suffered last fall.
"As we came out of our domestic camp in January, Nick Rimando, David Bingham and Luis Robles were a part of that. I think Nick had a little bit of an edge," Arena said. "He's a possibility for our roster in March. Tim Howard, as you know is coming off an injury and didn't play last weekend. We're waiting to see if he plays this weekend. If continues to remain healthy and make progress, he's obviously going to get strong consideration for a call-up in March.
"We've followed (Guzan's) progress. If he continues to stay healthy, I think he's going to be included on our roster as well."
USMNT NOT LOOKING TOO FAR AHEAD AS GOLD CUP LOOMS
The U.S. learned on Tuesday that they would take on Panama, Martinique and either Haiti or Nicaragua in this summer's Gold Cup, but Arena insisted that it's important that the U.S. focus on the task at hand for the time being.
Arena says the Gold Cup roster could feature a number of new faces depending on how things shake out in the months to come. With qualifiers coming in March and June, the U.S. has plenty on their plate before the Gold Cup kicks off in July.
Still, the U.S. enters knowing plenty about Panama, their opponents in the second game of March qualifying and likely their toughest group stage adversary in March. Martinique, Haiti and Nicaragua, meanwhile, are a bit more of a mystery to Arena who will shift focuses to this summer's tournament when the time comes.
"In a perfect world, we'll win our next four World Cup qualifying games and we relax a little and say maybe we test some young players," Arena said. "However, it's an important year for the men's national team. We want to qualify for Russia in 2018 and we want to win the Gold Cup. In order to do both, we have to take it one game at a time. After the qualifying games in March, we'll start thinking about how we piece together a roster for the June qualifiers and have a team ready for July as well. Right now, it's too early to decide, but one would think we would have some newer faces for the Gold Cup."