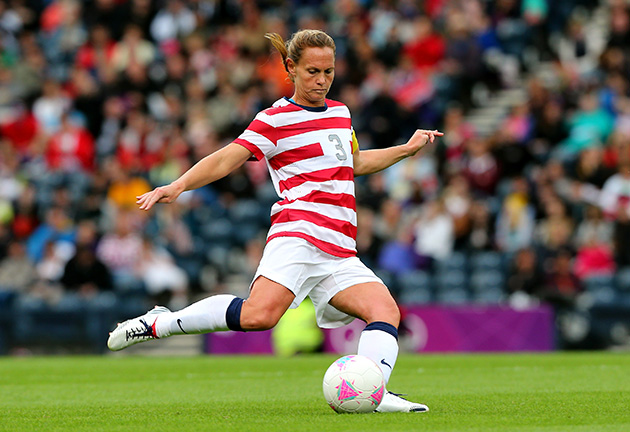 Before the U.S. Women's National Team lost 1-0 to England on Saturday, they said goodbye to former captain Christie Rampone, who was honored with a ceremony at Red Bull Arena.
Following the ceremony, which included Abby Wambach bringing her former teammate flowers, Rampone spoke to the media about her career and her future. "Going through college on a basketball scholarship, soccer just came out of nowhere," Rampone said. "I was this young, bright-eyed girl who had no idea what she was doing, [a] forward converted into a defender. I think being a defender was my true calling."
Rampone, who was the USWNT captain from 2008 to 2015, attributed her success in that role to finding the right balance between her professional and personal life. "I think, obviously growing up playing multiple sports [and] being a mom, I think all of that helped me become a better player … [I] became more confident, became that leader that would be able to talk and have that open door policy with the girls."
Following the match, Rampone's former teammate Carli Lloyd commended Rampone on her leadership. "She's a legend. She's the best," said Lloyd. "Christie was more of a low-key leader. That's sort of how I am, but she always got the job done on the field and you could always believe in her, and you could always turn to her and know that she was going to be right there, having your back,"
Becky Sauerbrunn also spoke about Rampone's quiet leadership, saying, "she, on a team of extroverts, was just very introverted, but everything she said carried such weight."
On her relationship with her former partner in the center of defense, Sauerbrunn said, "I got my first cap next to her, and it was like we had been playing for years, and that's kind of what Christie was all about. She was just so steady."
On Rampone's nickname, Captain America, Sauerbrunn said, "it's the perfect name for her and I don't think there's ever going to be another one."
Rampone also revealed plans for her future. Immediately, she will be with her NWSL team, Sky Blue FC, for the 2017 season, but she does have her eye on coaching.
"I think there'll be more discussions with U.S. Soccer in seeing what level they want me to come in on the coaching side," Rampone said. "Obviously I'm doing it on the youth side right now, and hopefully breaking in, but I do understand that I need to start somewhere," Rampone said. "I just don't want to start at the top."
Speaking of her own qualities as a coach, she cited her experience at center back, saying, "seeing the game in front of you and having to communicate so much and organize … I think center backs prove to be good coaches, so we'll see that next step."