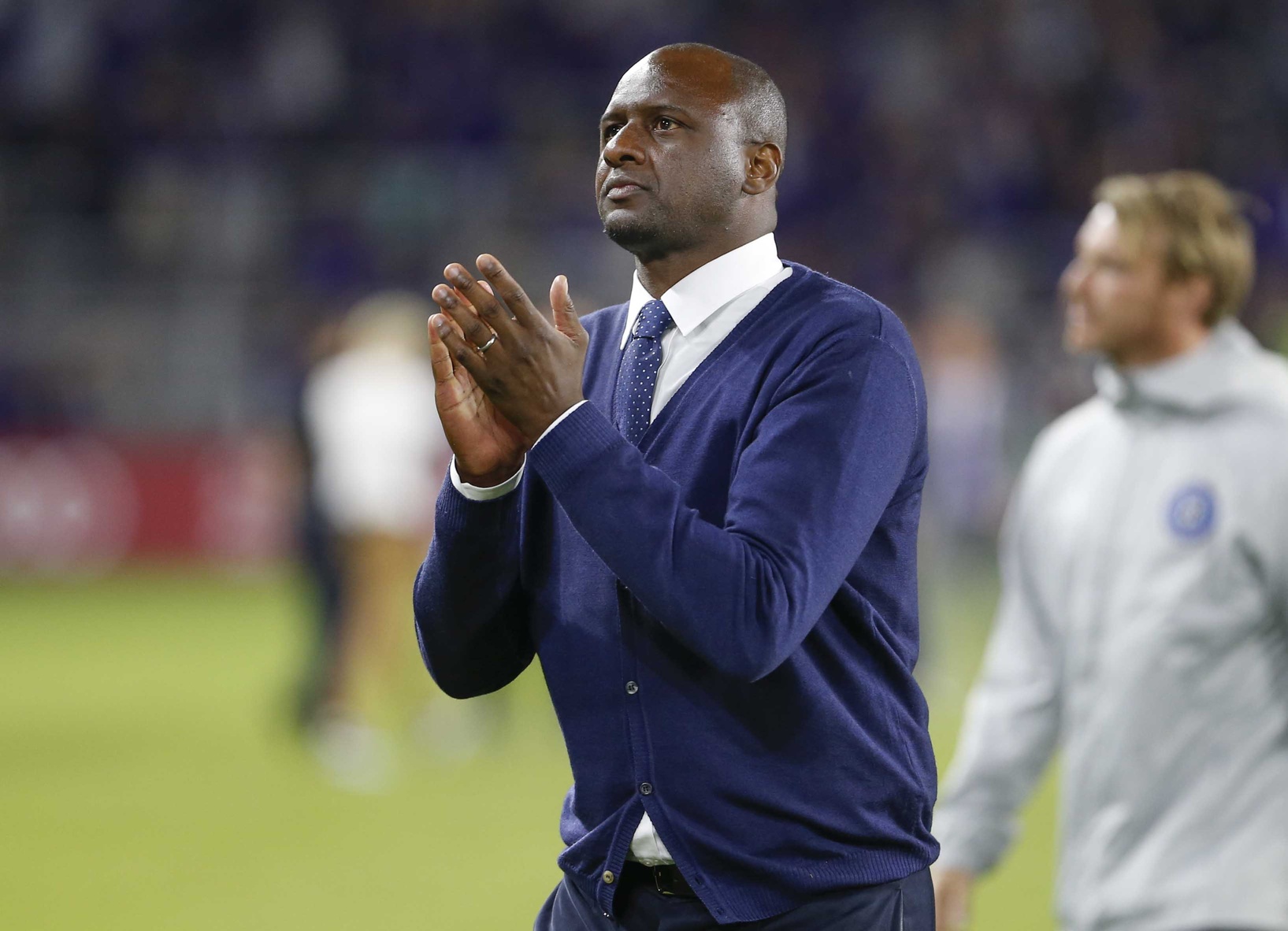 New York City FC center back, Maxime Chanot, was on the edge of the box in position to build out of the back and received a firm pass from his new goalkeeper, Sean Johnson. His teammates had created a large attacking shape on either side and in front of him. With Orlando City's Carlos Rivas bearing down, Chanot elected to deliver a right-footed ball far up the pitch hoping that striker, David Villa, would be able to latch on to it.
Although subtle in its application during a 1-0 season opening loss to the Lions on Sunday, Chanot's tactical decision provided a glimpse of how head coach Patrick Vieira has modified his strict principles from 2016.
"Building up from the back is not going to change," said the second-year coach. "It's just for players and myself to analyze when there is a time to play short or when there is a time for us to jump the pressure line and find one of our three players up front who can hold the ball and wait for support."
Vieira's build-out-the-back mantra from a season ago did not permit players to consider the option of going long. Their task was to solve the pressure around them with precise ball and player movement. Still vivid is center back Frederic Brillant's turnover to Chicago Fire forward David Accam resulting in the Fire's first goal of 2016 or keeper Josh Saunders' blunder versus the Vancouver Whitecaps resulting in an Octavio Rivero's startling finish just 36 seconds into the match.
"I strongly believe that last year we conceded a lot of goals because we did not make the right decision and this is, of course, my responsibility," said Vieira. "It is important for me to make players understand that you have short passes and also long passes."
The current Vieira script out of the back is a deviation from the refrain in his initial season as a first team manager. Even after losing to the New York Red Bulls, 7-0 at Yankee Stadium, his intonation reflected a man who was unwilling to stray from his doctrine.
"We are not going to change," said Vieira.
However, after conceding 57 goals in 34 regular season matches plus an additional seven in a pair of playoff games, Vieira has altered his approach.
"I was stubborn," he admitted. "Last year we were a little naïve trying to play and putting ourselves into really difficult situations. It was a mistake."
Similar issues have befallen NYCFC sister club, Manchester City, under Pep Guardiola and at White Hart Lane with Tottenham manger, Mauricio Pochettino.  Both have been criticized for their inflexible means of triggering the attack with calculated ball movement that starts with the goalkeeper.  This remains Vieira's preferred methodology.
"This is not an escape from our principles," said Vieira. "It is a better understanding of the kind of players we have and to make them understand that going long with a target is not just kicking the ball for the sake of kicking it long. It can be the best option."