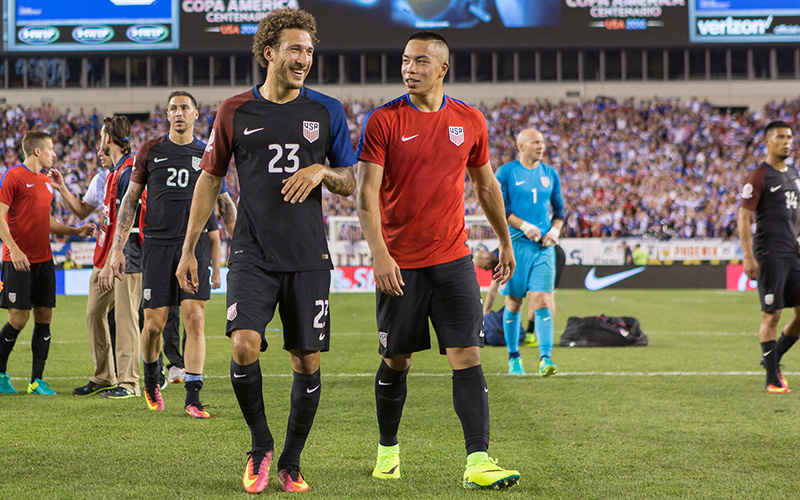 Bruce Arena is still getting used to his second stint in charge of the U.S. Men's National Team. Even after his first round of World Cup qualifying, there's still so much going on for the longtime head coach.
Qualifiers against Trinidad & Tobago and Mexico loom, and the U.S. find themselves sitting in a much better place than they did when Arena first took charge. The matches are still important to the U.S. cause, but the team's backs have certainly been removed from the wall.
The U.S. amassed four points against Honduras and Panama, jumping right back into the race for the 2018 World Cup. However, they did so without some key faces. Players like DeAndre Yedlin, Bobby Wood and Fabian Johnson are almost certainly starters for the current USMNT, and Arena is looking forward to reintegrating them to his system when the time comes.
"In some ways, everyone's a new face to me right now," Arena joked on a conference call Thursday. "The last camp, I'll give you examples of players. we didn't have Brad Guzan. Hopefully he can be back. DeAndre Yedlin, Tim Chandler, Bobby Wood, Fabian Johnson. There's all of those players, plus any other new faces I'd want to bring in. I think the general principle we're working on is not making too many changes. We can't afford to do that.
"The names I mentioned to you we lost in the last camp," Arena said. "We'd like to see if any of those players are available. We're not going to be experimenting a whole lot. We have to get results in these two games. We're going to stick to the group of players we had in the last camp and, add a couple more, but I don't think you're going to see any new faces just pop up and you're going to be surprised by it."
Even with a full-strength roster, in theory, Arena is keeping expectations in check. Trinidad & Tobago may be among the weakest teams in the Hex, but the Soca Warriors can create problems on their day. Then there's the trip to Mexico, one which brings up harsh memories from Arena's first tenure.
For the next few months, Arena will be assessing his options. MLS play will be in full swing as European players look to build off the end of their domestic campaign. Until then, Arena has a message: be ready.
"We're doing the same preparation as we did for the last camp," Arena said. "We have a little bit more knowledge of players this time around, but it's still challenging in trying to analyze the roster.
"There's no loss of urgency. We're far from out of the woods here. I think we have very little margin for error, so there's a lot of urgency in these two games. I am making that clear. I'm working every day so we must think there's an importance here."