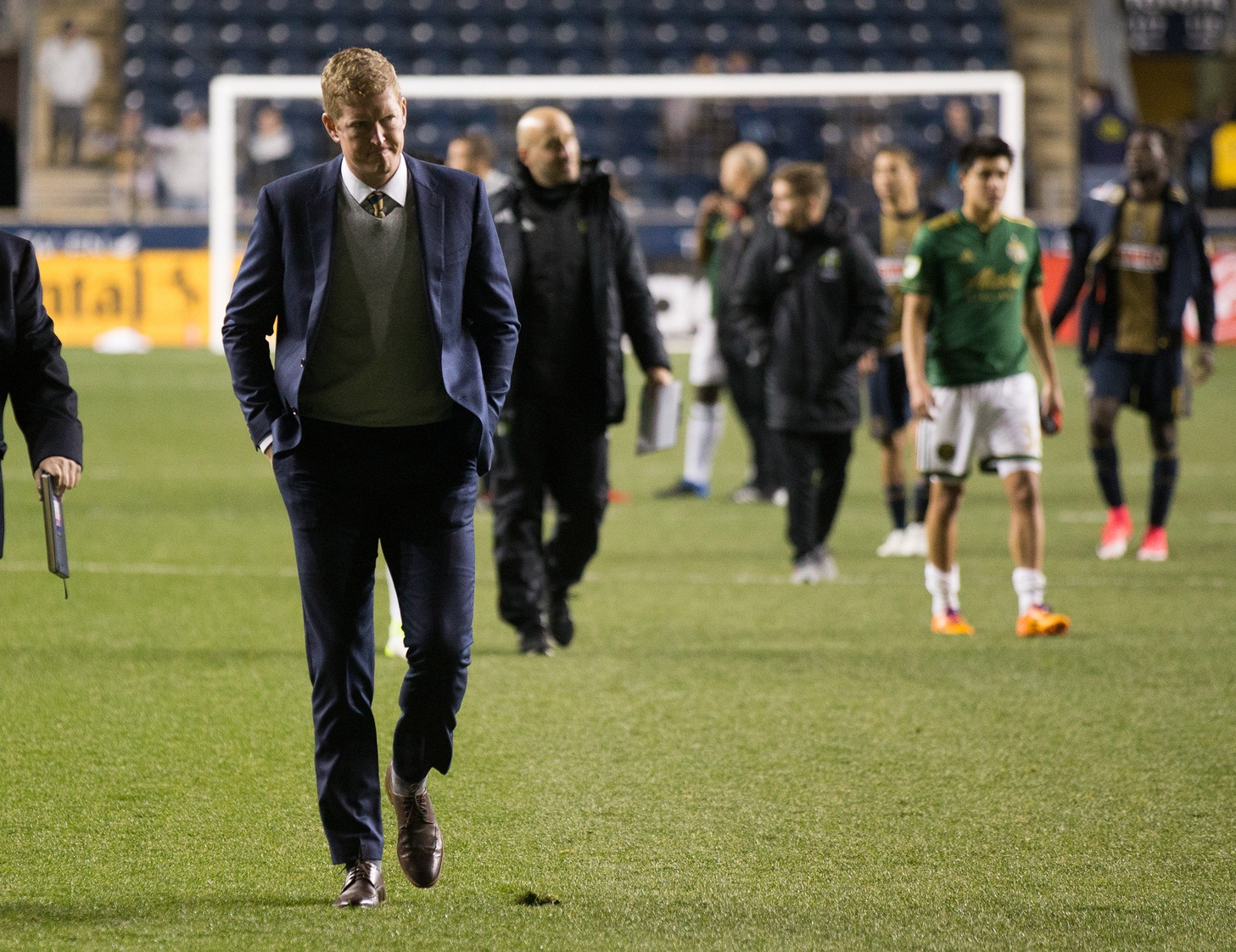 It's hard to even believe Philadelphia Union manager Jim Curtin had the word positive left in his vocabulary after his team lost its fourth consecutive game and its winless run jumped to 14 games.
However, that's the word Curtin used to describe a few of the performances put in by his players in the 2-0 loss to New York City FC.
"You try to focus on the positives because there were some positives in the game," Curtin said. "It's challenging because we haven't had a complete 90 minutes yet this year. We're still in search of that. We've had good spurts. You work hard, you watch tape, you try to get better each week and try to put together a complete 90 minutes."
It's hard to believe the Union manager for his comments, but he did get decent showings out of center back Jack Elliott and some players in attack showed well during the first half of the contest.
Curtin heaped praise on Elliott, a rookie center back who was selected 77th overall in the 2017 MLS Draft. The 21-year-old Englishman, who went to West Virginia, turned in a solid 90 minutes next to Richie Marquez in the middle of the back line.
"He's a confident young player we believe and he stepped into a tough spot and did a good job," Curtin said. "I thought his performance was a good one."
As bad as the criticism has been around midfield playmaker Roland Alberg, the Dutchman produced a solid opening half. Alberg has been working on his fitness, and he impressed Curtin connecting with C.J. Sapong at the top of the attack.
"Roland was active. He's worked really hard on his fitness and was rewarded with a start and he worked hard," Curtin said. "Would you like him to get more on the ball in the attacking third? Absolutely. But it's not just him, that's a product of our team putting him in a good position."
"I think for every player it's hard," Alberg said. "Even for me. The only thing I can do is work hard every training, every game. When he put me on the field, I have to show myself."
Despite pointing out some positives on an otherwise dreadful night, Curtin was faced with the reality of some poor performances, with Keegan Rosenberry receiving a strong amount of criticism for his performance on Friday, and to start the season. Rosenberry was at fault for a turnover that led to the first NYCFC goal, and he was caught out of position on a few occasions by Rodney Wallace.
"It's his second year and I still think he has really good moments in the game," Curtin said. "It's a second time around, people are aware of him, what his strengths are and they try to limit them the best they can. It's part of an evolution. Last year was last year, so now we have to move on to year two and hopefully as a group, we can do a better job so everybody's strengths get seen. It's a challenge right now but we'll continue to work hard and stick with what we believe in."
Haris Medunjanin, who has been solid in his debut season in MLS, looked a step off the pace next to Alejandro Bedoya, who was moved out of the No. 10 role to the No. 8 position. The attacking changes for the Union didn't spur a comeback in the second half, as the Union failed to put an attempt on target in the final 45 minutes.
"We have enough guys who are capable of making a play and getting on the end of a goal," Curtin said. "It's tough for everybody in the attacking third, but I do believe we have the group to score goals in the team."
Although everything appears to be going wrong with the worst team in MLS, Curtin and the players have to hold on to positives from Friday's match in order to keep driving toward breaking through their slump. Hopefully for the club's sake, it parlays the positive aspects of Friday's match into next Saturday's bottom of the table clash with the Montreal Impact.