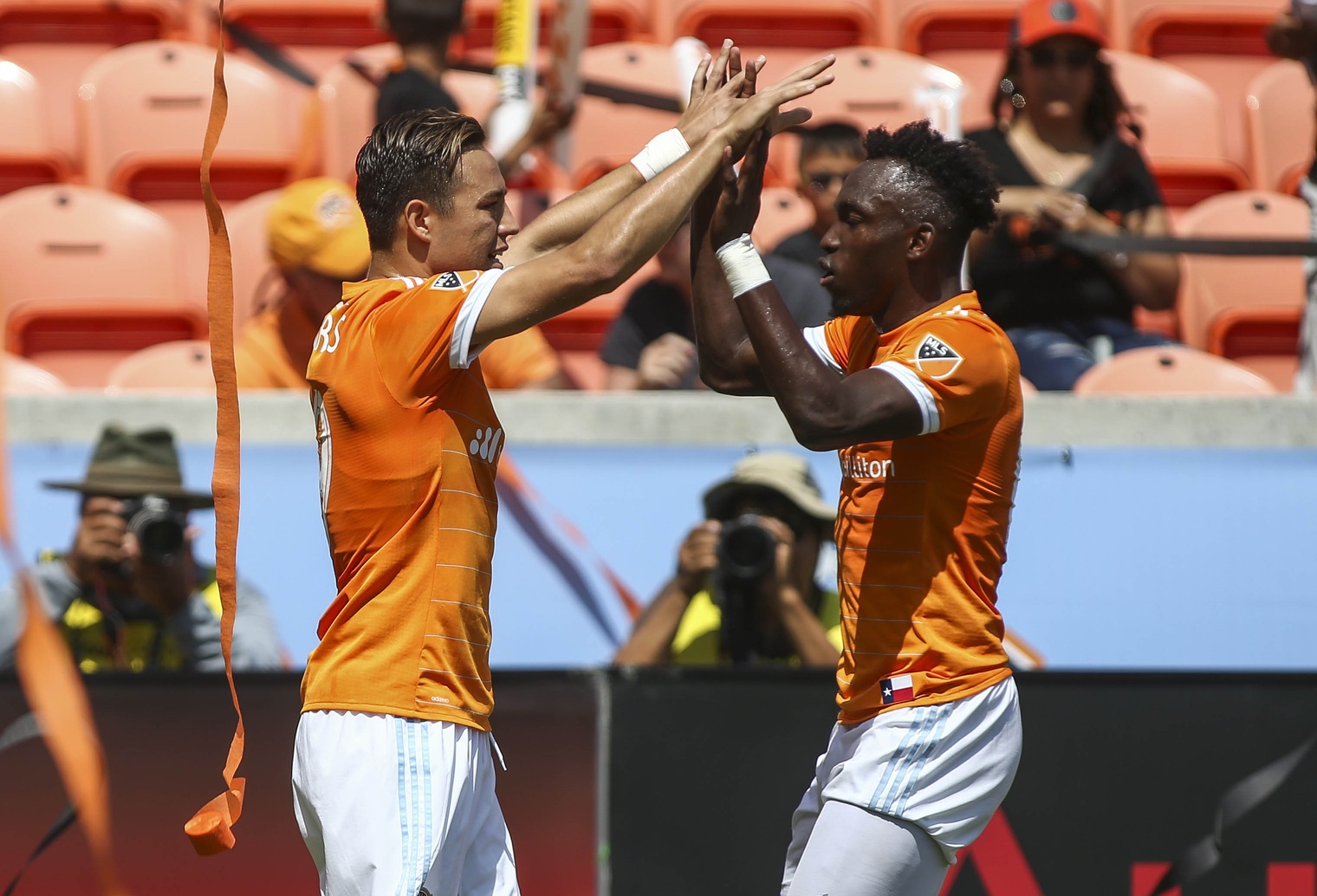 After five matches at home, Houston Dynamo have yet settle for defeat, and a pair of goals from the club's stars made sure that would remain the case on Saturday afternoon.
The Dynamo's 2-0 victory over the San Jose Earthquakes at a humid BBVA Compass Stadium showcased the home sides forceful attack. Erick 'Cubo' Torres continued to shine, as he recorded his seventh goal of the season while winter signing Alberth Ellis notched his third of the season.
Early on, the Dynamo came out firing with aggressive pressure which earned them a penalty only seven minutes into the match. Alex was downed by a careless Fatai Alashe tackle, which granted Torres the opportunity to display his composure from the spot. The Mexican, opened the scoring in the ninth minute, finishing the penalty kick.
A combination of Torres and Ellis would appear in the 54th minute, as Ellis' header inside the box via Torres' cross would go wide right of the post after beating a mis-positioned David Bingham.
Ellis would then seal the deal for the home side in the 71st minute after David Bingham's mishandling of a corner-kick. The Honduran's gentle tap-in into the back of the net, marked his third goal of the tender season and sealed a third home victory for the Dynamo.
The Quakes (2-3-3, 9 points) will travel back to San Jose prior to their trip to Minnesota for their match against the Loons on April 29. The Houston Dynamo (4-1-2, 13 points) will look to earn their first three away points against Toronto FC on April 28.
MAN OF THE MATCH
The Dynamo's Alex earned the Houston side a penalty early on and was a headache for the Quakes defense for all 85 minutes he played.
MOMENT OF THE MATCH
David Bingham's mistiming of Eric Alexander's whipping cross led to Alberth Ellis' tap-in goal, costing the Quakes all three points.
MATCH TO FORGET
Quakes' Fatai Alashe will regret his tackle inside the box on Alex early on which led to Torres' scoring from the spot, and later was bullied off by Ellis in the corner-kick set piece for the Dynamo's second goal.