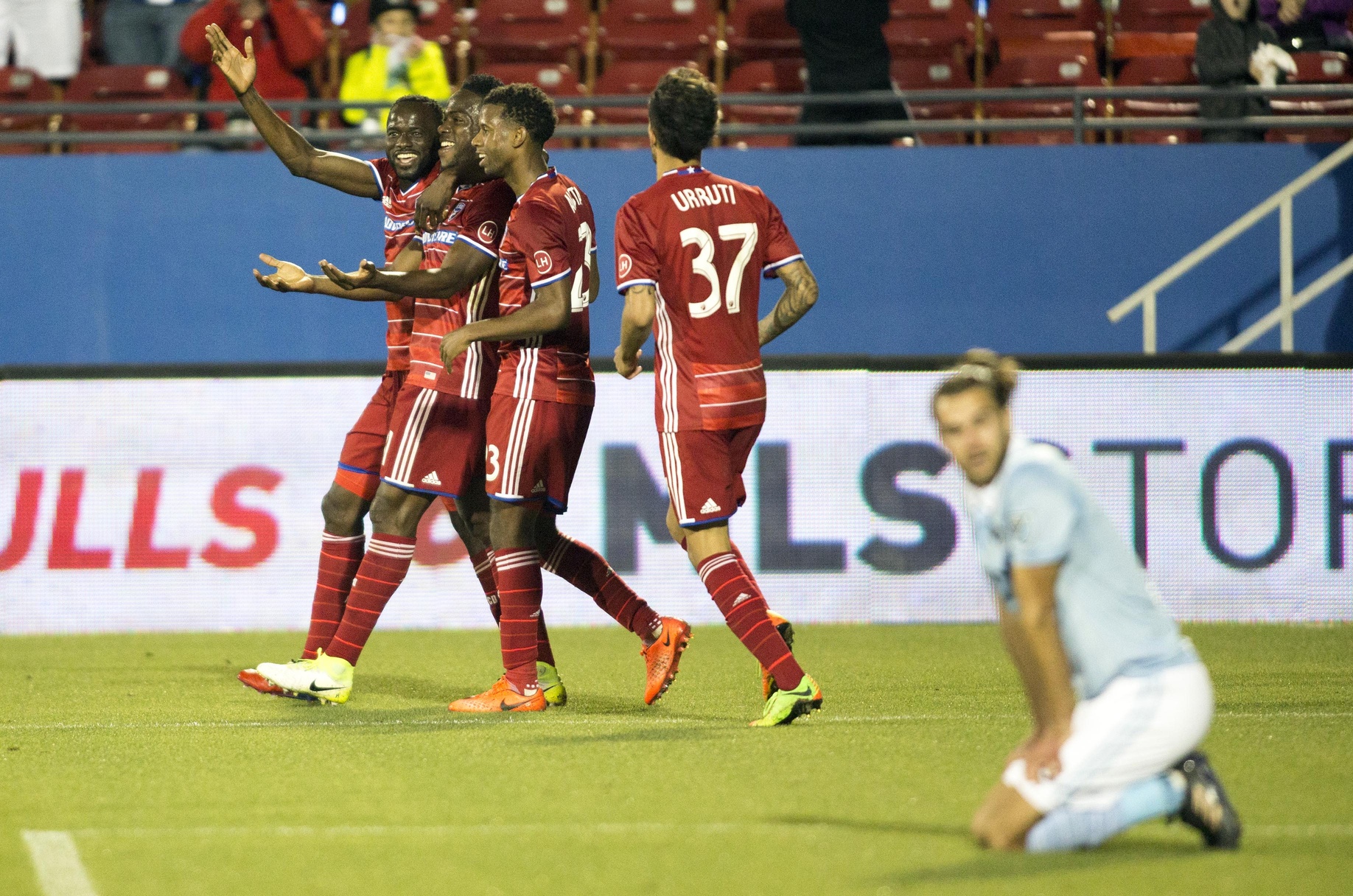 It took plenty of time to break through a solid Sporting KC defense, but, in the end, FC Dallas found the goal and remained the only undefeated team in MLS.
FC Dallas finished off an onslaught late to defeat previously-unbeaten Sporting KC at Toyota Stadium in Frisco, Texas. Maynor Figueroa's 77th-minute header earned the 1-0 win for Dallas, and dispatched an excellent performance from Sporting KC goalkeeper Tim Melia. The win for FCD raises them to second in the Western Conference. Sporting KC dropped to fourth in the conference with the loss.
The FC Dallas goal came in the 77th minute, and it made the score 1-0 in a game that saw FC Dallas create plenty of chances. An emphatic header from Maynor Figueroa punished the inattentiveness of defender Seth Sinovic, giving FCD what turned out to be the game-winner.
FC Dallas ruled the first half, forcing poor turnovers from Sporting in the midfield. Sporting KC goalkeeper Tim Melia turned in another outstanding performance with five saves. The second half proved a little less threatening for Sporting, but Dom Dwyer and the Sporting attack hardly managed a chance to score.
Benny Feilhaber returned to the field for Sporting in the match. Feilhaber missed the last two games for Sporting due to a thigh injury.
FC Dallas moves on to take on Western Conference leaders Portland Timbers at home next Saturday. Sporting KC returns home to face Real Salt Lake next Saturday.
MAN OF THE MATCH
Crosses went unanswered all night for FC Dallas. Then, Maynor Figueroa finally put the final punch on a good offensive performance from FC Dallas.
MOMENT OF THE MATCH
A scoreless draw looked likely for long stretches, but Maynor Figueroa's 77th-minute goal changed everything. The win is FCD's fourth of the season.
MATCH TO FORGET
Sporting KC winger Gerso Fernandes turned in one of his most forgettable performances of the season. His contribution to Sporting's right wing produced few chances to score.