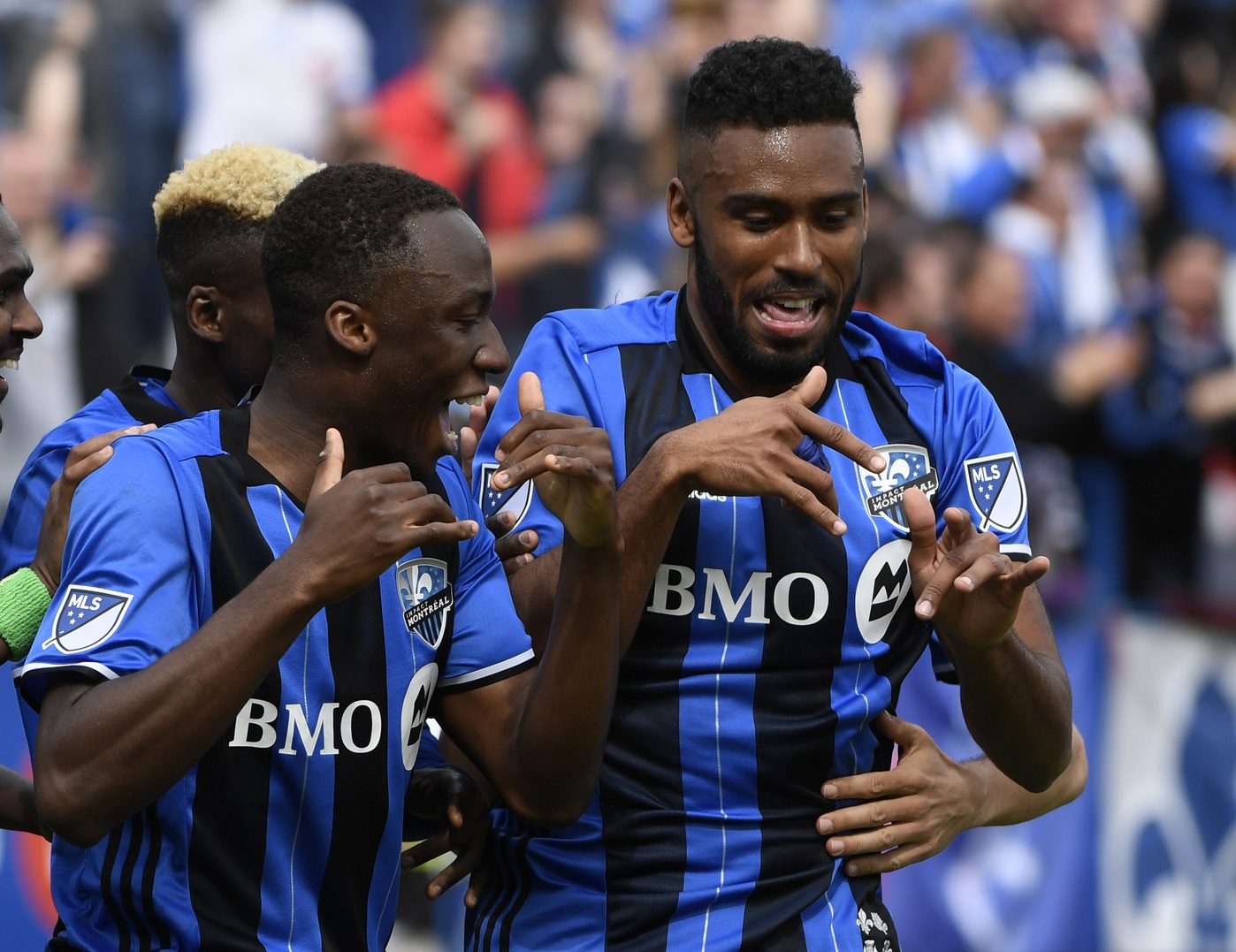 The Montreal Impact had its goal scoring leader in Ignacio Piatti back from injury to take on Atlanta United on Saturday afternoon. Piatti did score from the penalty spot but the winning goal and last minute push came from two Homegrown players: Anthony Jackson-Hamel and Ballou Jean-Yves Tabla.
Tabla came on at the 62nd minute and instantly got his team going forward and Jackson-Hamel came on at the 83rd minute and score the goal that put put his team up front en route to a 2-1 win on Saturday.
"I think that this is our philosophy in terms of now we have an academy and that's why we need an academy for: to develop players" said Impact head coach Mauro Biello. "Not just to be 27 and 28 but [to have] guys that are coming in and have real minutes and are able to help this team win."
Biello seemed to have faith in his young players to help getting the team's first win of the season against a 10-man Atlanta and he was not let down. The coach as well as captain Patrice Bernier acknowledged the two youngsters' poise to make the Impact win and gave Jackson-Hamel a comparison to very recognizable figure in Montreal.
"For [Jackson-Hamel], it isn't always easy when you're a striker there isn't always opportunities coming in like this," said Bernier. "Scoring a goal like this is very important for the team and very important for his morale. We're very happy that he scored a nice little goal à la Didier Drogba."
If you ask Jackson-Hamel, the Quebec City native will say that he was simply doing his job, nothing more nothing less. However, he appreciates the comparison with the former Impact designated player.
"Didier was always a model for me. Now it's great to be able to recreate his moves," he said.
Teammates with the Impact's now-defunct USL affiliate FC Montreal in 2016, Jackson-Hamel and Tabla had already formed a partnership. Despite only being loaned down to the USL side for a total of 15 games while Tabla was a full time USL player, the two players found themselves on the field. Jackson-Hamel finished the season as FC Montreal's top scorer with nine goals while Tabla was the team's assist leader with five assists in the season.
"Last year with the USL, we proved that we had a good chemistry together," said Jackson-Hamel. "Now that we can prove this with the first team, it's great."
As for Tabla, the youngster has plenty of promise. His name is already well known throughout Montreal and there was sheer excitement from everyone in the stands when he stepped on Stade Saputo's natural grass. Everyone except for Biello who has been watching the reigning Canadian U-20 player of the year every day in training.
"To be able to perform like that on the field, it's because in training, he feels this ability, this confidence to do stuff and that translates on the field," said Biello. "I'm not surprised because I see we he can do. It's a young talent that we have and we're bringing him along now he's part of the success of the team going forward."
Starting the game from the bench after having started the last two replacing the previously-injured Piatti, Tabla got praise from his peers after repeating on his good performance but in a different role.
"He brings a lot, for sure he's young so he will learn but it's good to see that in the two games that he started gave him confidence," said Bernier. "Now this time when he got on he brought a breath of fresh air and dynamism that lifted the team into pushing forward and that's great."
With Canadian national team head coach Octavio Zambrano in attendance, the two young Canadian homegrown players have shown what they could do in the time they were allotted.
Zambrano will want to get Tabla to play a game with Les Rouges at the senior level as the youngster was born in Abidjan, Ivory Coast. But for now, the 17 year old can sit back and enjoy the good words from his teammates.
"He has the potential and the offensive assets, we saw it," said Bernier. "We will see more of him I'm sure as the games and the years go by."