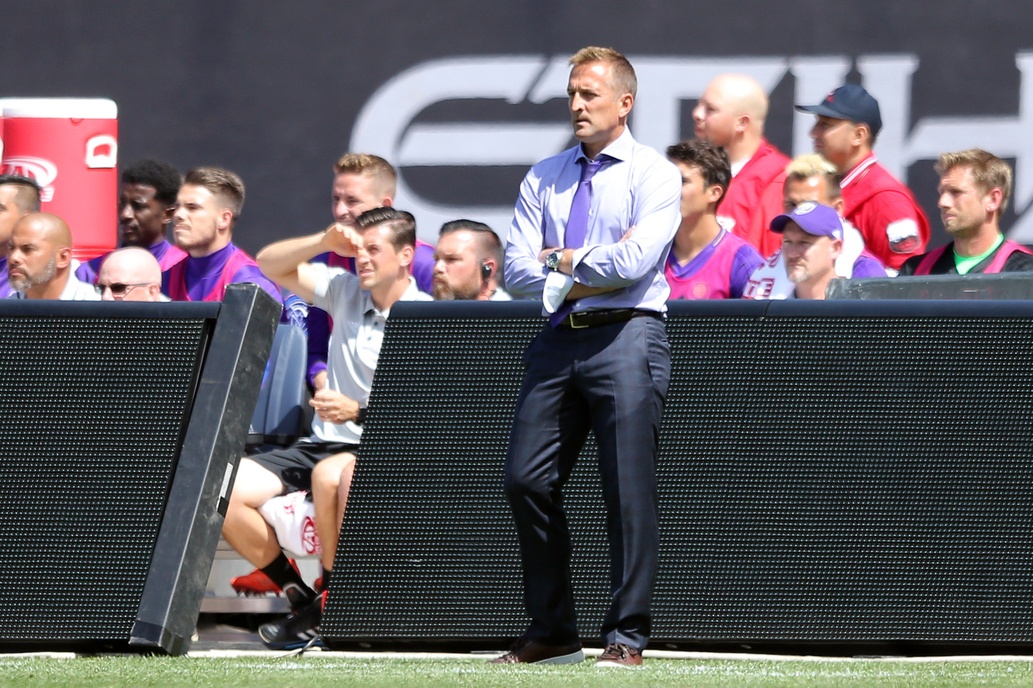 NEW YORK —  Jason Kreis sat in a familiar spot on the podium on Sunday afternoon. He fielded questions from the New York media following a statement win at Yankee Stadium, sitting in front of an NYCFC logo felt like his own just over a year-and-a-half ago.
But, in that moment, Kreis never felt further from his time at NYCFC as he continues to lead Orlando City towards the top at the Eastern Conference.
Sure, he'd coached against NYCFC before, including in Orlando City's season-opening win, but there's something different about returning to the scene of it all. Kreis returned to Yankee Stadium for the first time as an opposing coach on Sunday afternoon as he saw his Lions top NYCFC, 2-1. It was a memorable return for a coach that was discarded after just one season, the club's first in existence.
It would be understandable, even after all of this time, for Kreis to harbor some resentment, some left over emotions. He was, after all, fired before he could properly put his stamp on an expansion team that was very much not ready to succeed Now in charge of NYCFC's expansion partner, though, Kreis has fully embraced his new club, and the win that came with his return to his former home.
"I think each game that we play against New York City, the emotions for me are less and less," Kreis said after the win on Sunday. "The attachment is less and less, to the point where this week I didn't really have any extra motivation.
"For me, it's about trying to get our team to have a solid road performance. It's only our second road game, and to show that we are a team that can win away. A lot of the hype or the word around town is that we only had four wins because they're all at home. Nobody can say that anymore."
Kreis wasn't willing to embrace the narrative that surrounded his return to Yankee Stadium, but he was willing to embrace the experiences that he developed during his time in charge of NYCFC. He knew many of the players, was familiar with everything that goes on around the club, even if much has changed in the time since his 2015 firing.
His gameplan, he says, wasn't the part that led Orlando City to the win on Sunday. It was largely the defense and contributions from forward Cyle Larin, a player that Kreis not-too-fondly remembers torturing NYCFC during his tenure in charge. The players earned the result, but Kreis' familiarity sure did help.
"I think that you won't find a coach more familiar with this field than me," Kreis said. "There's something about the dimensions and the size of it that we try to play to our strengths. I'm very, very familiar with how Patrick (Vieira) wants to play after watching him for four or five months coaching his team there. We did go into the game with a very clear gameplan."
"We just wanted to come out here and make sure we got a good result," Larin added. "That was the most important thing. Jason was the coach here, but we came down here as a team. We went out there with that mentality and got the win."
Kreis admits that there's still a ways to go. Orlando City is atop the East, sure, and the defense is rolling, but there's still more to be done in the attacking end. The head coach feels that with each and every game, the group gets a better understanding of his attacking mindset and the passing style he made his own during his highly successful stint at Real Salt Lake.
It was a style that never quite took shape at NYCFC, but one still developing with Orlando City. As time goes on and the wins pile up, Kreis is taking more and more pride in his current group and the type of soccer they can play when they're at their best.
"I was pleased with my team's performance and their effort," Kreis said. "It continues to astound me what they're willing to put in and what they're willing to give for this club and themselves. I'm really, really pleased with their efforts against a team that's a very good team. I couldn't be happier at the moment."