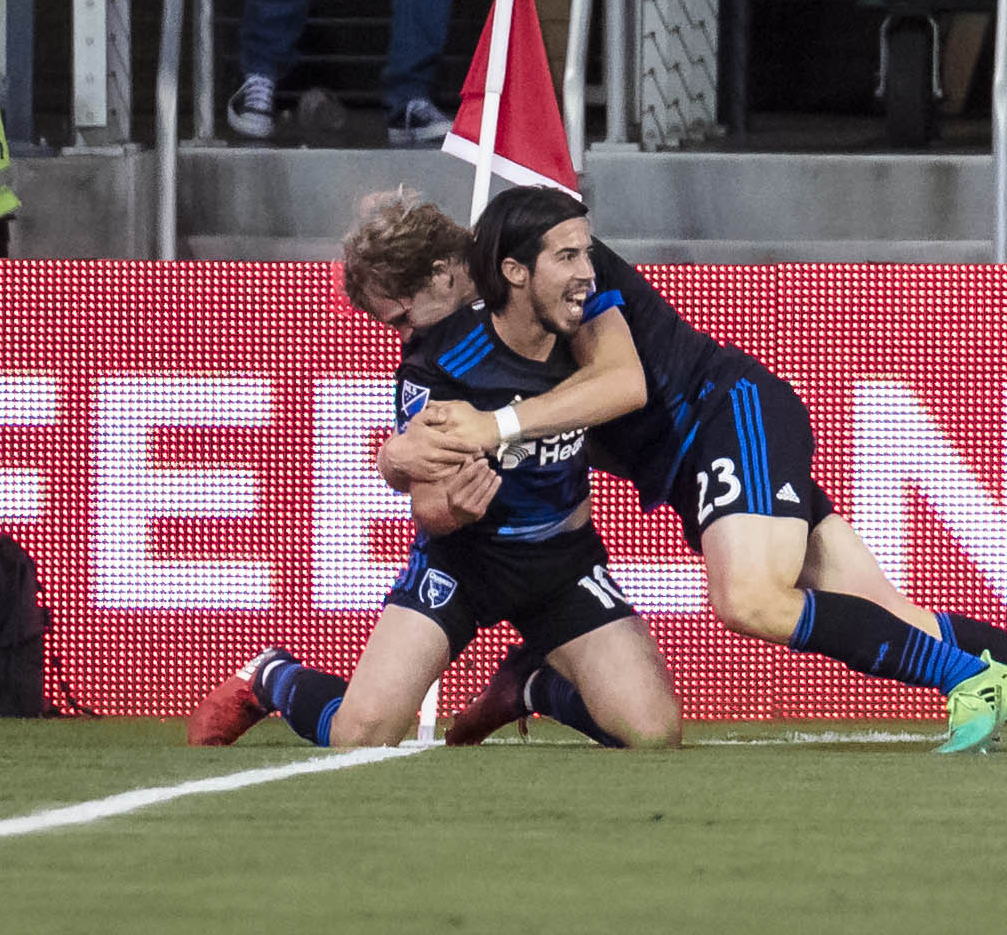 For the second straight match, the San Jose Earthquakes found a way to score in the final minute. On Saturday, it was in the final seconds of stoppage time.
Jahmir Hyka's last-second goal helped the San Jose Earthquakes save a point in their 1-1 draw against unbeaten FC Dallas Friday night in San Jose.
In a last-ditch effort, Hyka held off Atiba Harris and his shot on goal beat a diving Jesse Gonzalez to the far post. Danny Hoesen was there, running in behind the ball to make sure it went in. It was the first failed clearance by an FC Dallas team that held off several chances by the Earthquakes through the night.
Gonzalez made a highlight save from point-blank range on Chris Wondolowski's back-heel attempt in the first half to keep the match scoreless.
Just about 10 minutes earlier, Kellyn Acosta broke the initial scoreless deadlock on his goal in the 79th minute. Maxi Urruti ran up the middle, making defender Fatai Alashe miss and getting Florian Jungwirth to overcommit, opening up Acosta to Urruti's right. Acosta forced Earthquakes' keeper David Bingham to come out and Acosta's shot beat Bingham into the back of the net.
The San Jose Earthquakes (2-2-2, 8 points) will once again look to ride the momentum from the late goal with a short week ahead as they'll take on the New England Revolution Wednesday in Foxborough.
FC Dallas (3-0-2, 11 points) returns home next Saturday as they'll look to remain unbeaten as they'll take on Sporting Kansas City.
MAN OF THE MATCH
Jahmir Hyka helped the San Jose Earthquakes create chance after chance, and when it mattered most, he came through, scoring the game-tying goal in the final seconds of second-half stoppage time.
MOMENT OF THE MATCH
Jahmir Hyka's goal in the final seconds, and just about 10 minutes after the Earthquakes allowed a go-ahead goal to FC Dallas, helped San Jose save a point at home.
MATCH TO FORGET
Earthquakesua defender Florian Jungwirth didn't have a great match defensively. He over-committed to Urruti on FC Dallas' goal, opening up Acosta's chance on goal, which he made.