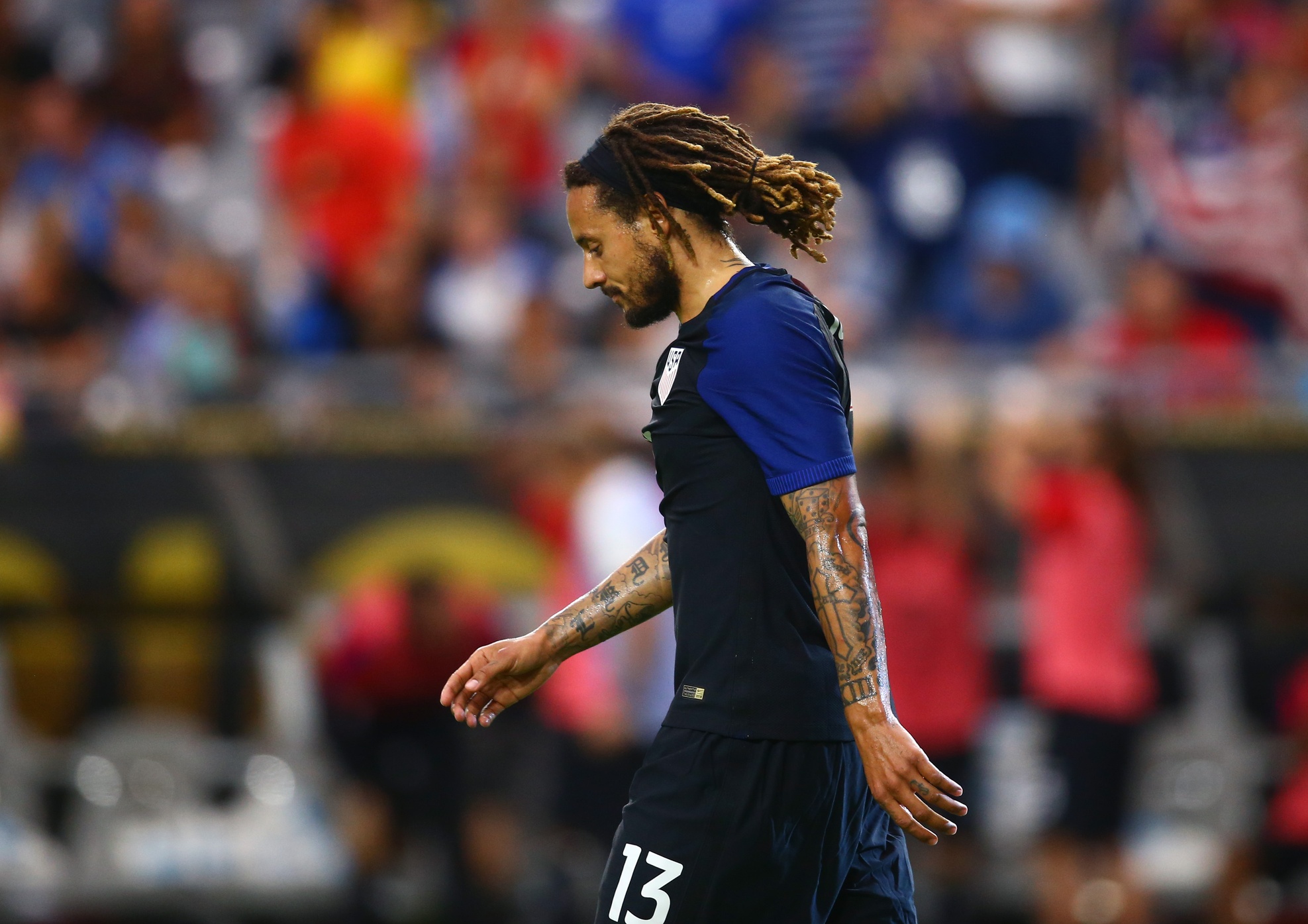 Jermaine Jones understands that criticism is a natural part of playing for the U.S. Men's National Team, but the 35-year-old midfielder feels unfairly targeted and, at times, disrespected.
Speaking to ESPN FC, Jones said Monday that he "definitely" gets less respect then he deserves for his contributions to the USMNT. The statement comes in the aftermath of the USMNT's draw with Panama, one which saw Jones play 75 minutes alongside Michael Bradley in the midfield.
"The criticism is always on me," Jones said. "Everybody tries it, if we lose the game, they always try to find the next guy who can play for Jermaine. It is never somebody else, it is always me.
"And sometimes, I'll be honest, it pisses me off. I say 'Wait a minute! When we play the big tournament, I am always the best player on the field for this country,' but then, end of the day, they try to kick me out when we lose games? That is not fair, you know? I cannot change it. I know what it is."
Jones went on to say he understands that there will be pressure. He pointed to New England Patriots quarterback Tom Brady, a player he sees as constantly a target of criticism in the face of overwhelming success.
Like Brady, Jones says he wants to continue pushing on despite his age. Currently 35, Jones says he believes he can still contribute in the run up to the 2018 World Cup.
"Bring me the guy who is better in that position," Jones said, "and show that week to week in the league, against me, against other teams, I respect it and I will say, 'If he is better I will step away'."
"I am 35. I can step away and say I had a good career, but right now if we be honest, ask my teammates or the people inside, there is nobody who can take my spot. If it comes to a game, a tough game there is nobody who really wants to battle with me."
Jones added that, at the end of the day, he doesn't feel he commands the same respect of a Clint Dempsey or a Tim Howard. Like Dempsey and Howard, Jones forged his reputation in one of Europe's top leagues, but the midfielder says he still hears doubters stating that he is a poor player.
He doesn't feel like his reputation is on par with "legends" like Dempsey and Howard, even though, he says, his achievements stack up. Jones said that he believes that's partly because he's German-American, "maybe not a full American that you can sell like a product".
"If I go to the national team right now, name me a player who has more Champions League games, who played in the highest levels — name me one," he said. "I am not a legend. My name is always [highlighted] when we lose, but all other guys are legends.
"I respect that and I like it and gives me the point that I still want to go. I want to prove people wrong, but I think if you look [at] the numbers, there is nobody who can say, 'Oh I played over 30 Champions League games in club level' and that is important. And if you look at the numbers, you can not lie."
Like Dempsey and Howard, Jones knows he isn't any younger, but the doubts make him feel like he has more to prove as his career winds down.
"I missed 2010, I missed 2006, and to me 2014 was something special and I wanted to go to this one again," Jones said. "I wanted to represent this country again one time. And trust me, after that, I will watch it on a TV, the national team, I will support them. But you will not see me in a jersey anymore."