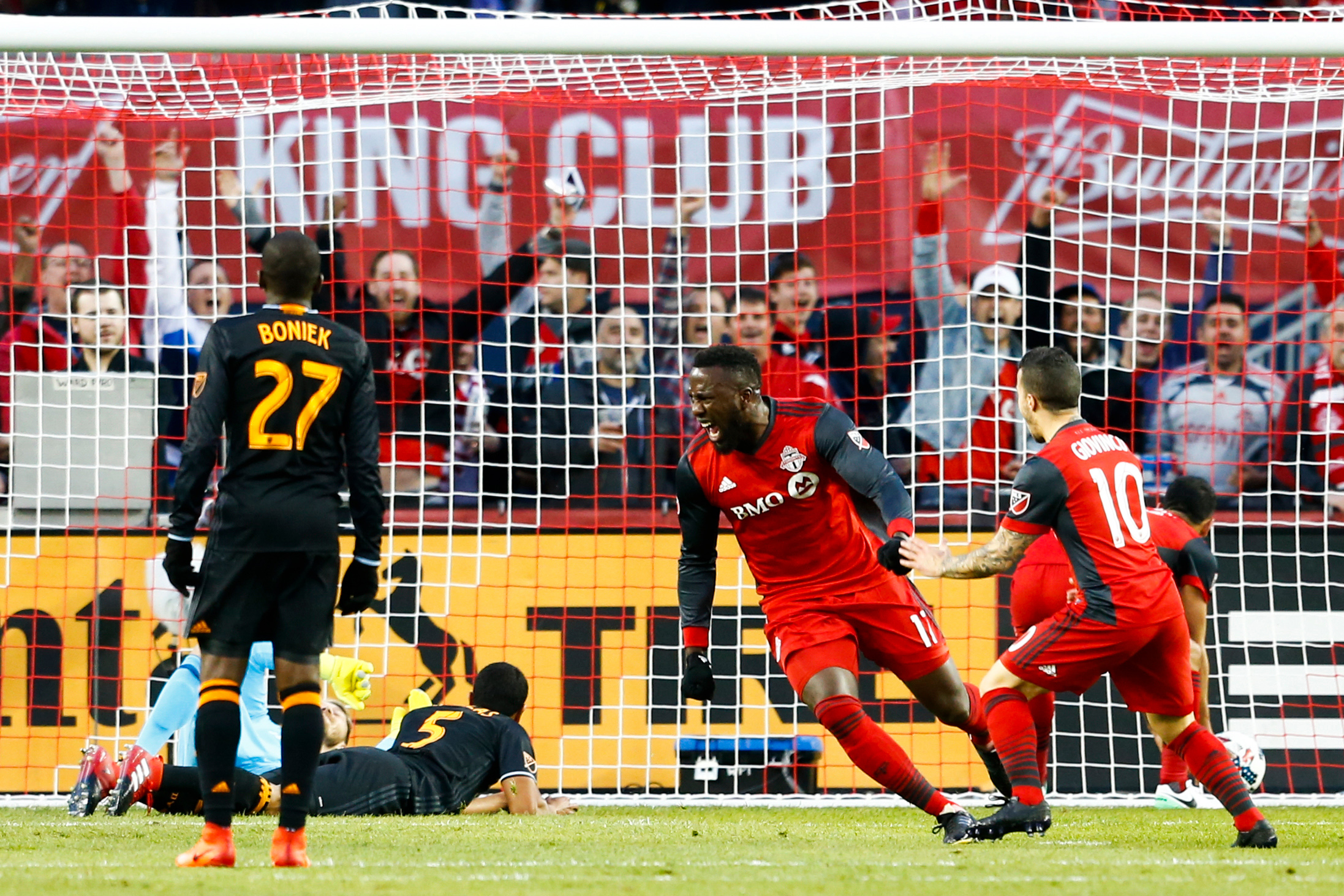 TORONTO — Jozy Altidore became Toronto FC's second all-time leading scorer, as TFC defeated the Houston Dynamo, 2-0, at BMO Field on Friday night.
Altidore grabbed a brace in the victory, recording his 33rd and 34th goals in all competitions with TFC to move past Dwayne De Rosario on the team's all-time scoring list.
The U.S. Men's National Team striker has now racked up 20 goals and nine assists in 29 matches since returning from a hamstring injury on July 23. Altidore is also tied for third in scoring in MLS this season.
It appeared as if Altidore and TFC would be left frustrated by the Dynamo based on the first 15 minutes. The visitors enjoyed long spells of possession and tried to restrict Toronto's attacks by having Juan David Cabezas operating as a third centerback when the Reds had the ball. Houston forced countless turnovers in midfield, but Alberth Elis and Erick Torres failed to capitalize.
Eventually, TFC found the breakthrough in the 16th minute. After a strong run by Marco Delgado, Raheem Edwards collected the ball on the left flank and picked out Altidore for the opener. Replays showed that Edwards may have been offside, but the goal stood.
The Dynamo kept pressing as Elis tried to pressure Toronto's backline with his pace. Once again, though, TFC's quick movement unlocked Houston's deep lines. Edwards found Altidore, who laid it off for Giovinco with his first touch. The Italian flicked the ball over the defense for the American, who took it off his chest and powered it past Joe Willis.
Dynamo head coach Wilmer Cabrera switched to his patented 4-3-3 in the second half after bringing on Romell Quioto and Mauro Manotas. Houston tried to pick out one of its three forwards as soon as it won possession in its own third, but TFC cut out any potentially dangerous attack.
The victory temporarily moves Toronto up to second place in the Eastern Conference with 13 points. TFC also obtained its fourth clean sheet of the season.
The Dynamo, meanwhile, have earned just one victory in their past four matches and have lost all their of their away games in 2017.
Man of the Match
Jozy Altidore will take the plaudits with his two-goal performance, although Victor Vazquez and Raheem Edwards stood out on Friday night as well.
Moment of the Match
TFC's passing was excellent in the final third, and it was on full display for its second goal. Edwards picked out Giovinco from the left wing, the Italian flicked the ball over the Dynamo defense, and Altidore converted off his first touch.
Match to Forget
Houston's defense could not contain Toronto's attack, but Leonardo really struggled. The Brazilian was either outpaced by Giovinco or outmuscled by Altidore whenever he tried to shut them down.