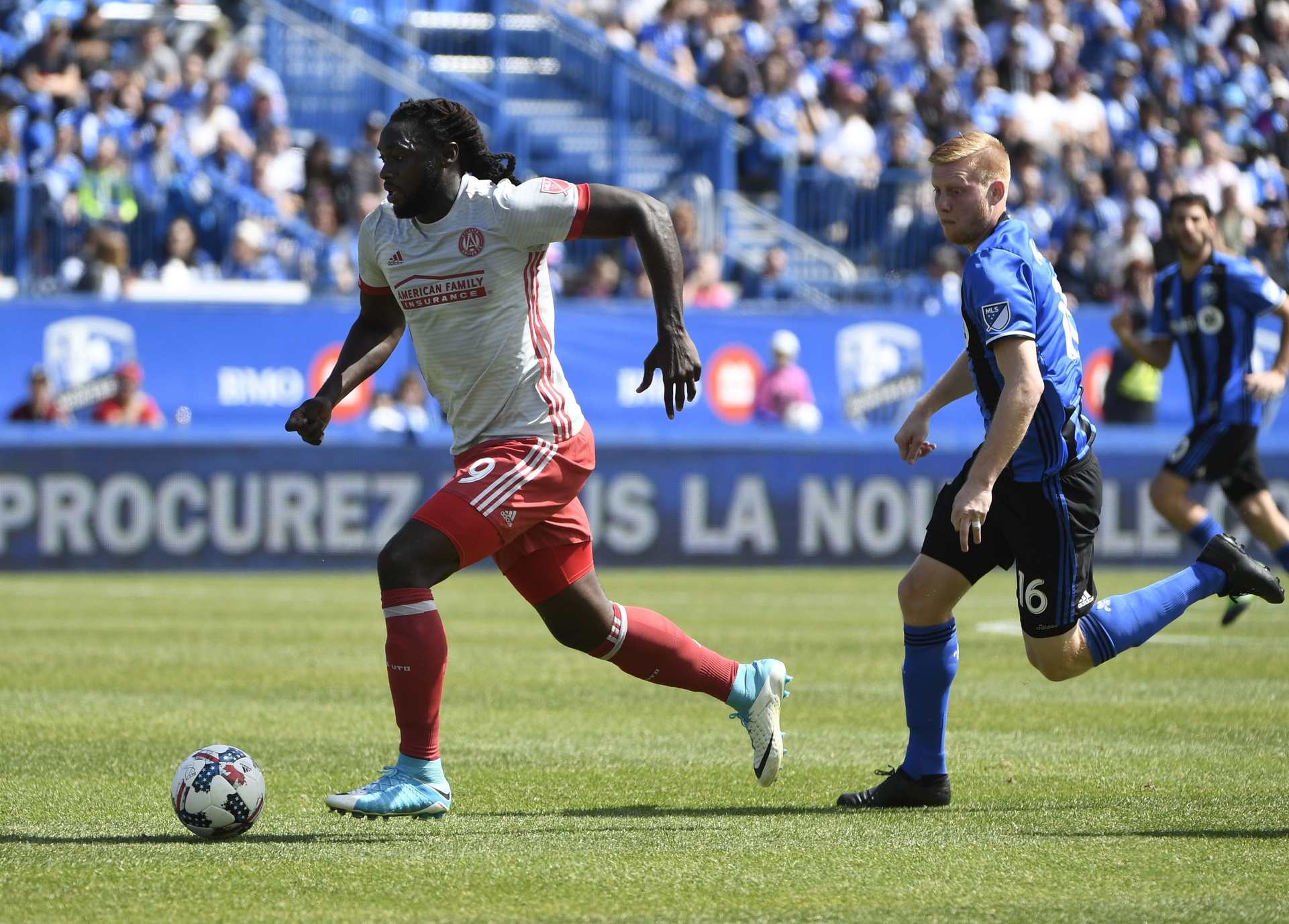 With Ignacio Piatti back in the lineup, the Montreal Impact were poised to take on Atlanta United but it was Canadian homegrown player Anthony Jackson-Hamel who stole the show with a stoppage time goal.
The Impact grabbed the team's first win of the season with a 2-1 win against an Atlanta United team reduced to ten men on Saturday at Stade Saputo.  The Impact grabbed all three points late in stoppage time when Hernan Bernardello took a shot from deep. The ball was redirected by Anthony Jackson-Hamel in the box and was too far for Alec Kann to make the save.
Despite many chances created, the Impact got bad news first, starting the game on a poor note. Victor Cabrera twisted his ankle making a slide tackle on Miguel Almiron. The Argentinan had to be subbed off at the 20th minute by Duluth, Georgia native Chris Duvall.
The Impact had the majority of the scoring chances but Altanta was the first to score. Hector Villalba sent a through ball past the Impact defence to Kenwyne Jones who beat Evan Bush to open the score at the 41st minute. The Trinidadian international took the time to make a summersault to celebrate his first MLS goal.
At the very end of the first half stoppage time, a penalty kick was called on Leandro Gonzalez Pirez for a challenge on Matteo Mancosu. The Argentinian center back received a red card—Atlanta's third in six games. Ignacio Piatti converted the penalty to send both teams to the dressing room tied, with Impact fans over the moon and Tata Martino left stunned.
The 10-men United found less opportunities to attack and find a go-ahead goal. The team in red and black subbed off their goal scorer of the day in Jones and assist man in Vilalba for more defensive options to try and secure the lone point on the road.
Unfortunately for the visitors, they couldn't hold on as the Imapct secured three points with a late goal.
Man of the Match
Ignacio Piatti has shown no signs of slowing down after coming back from injury. The Argentinian scored from the penalty spot but was also the catalyst for many of  the Impact's scoring chances.
Moment of the Match
With few minutes to go, Canadian international Anthony Jackson-Hamel redirected a shot from far by Hernan Bernardello to be the local hero and give the Impact all three points.
Match to Forget:
Despite showing good signs when paired up against Hassoun Camara, Miguel Almiron slowed down in the second half when Mauro Biello was forced to sub off an injured Victor Cabrera for Chris Duvall. Duvall took the right back position while Camara replaced Cabrera at center back and the Almiron threat simmered down.