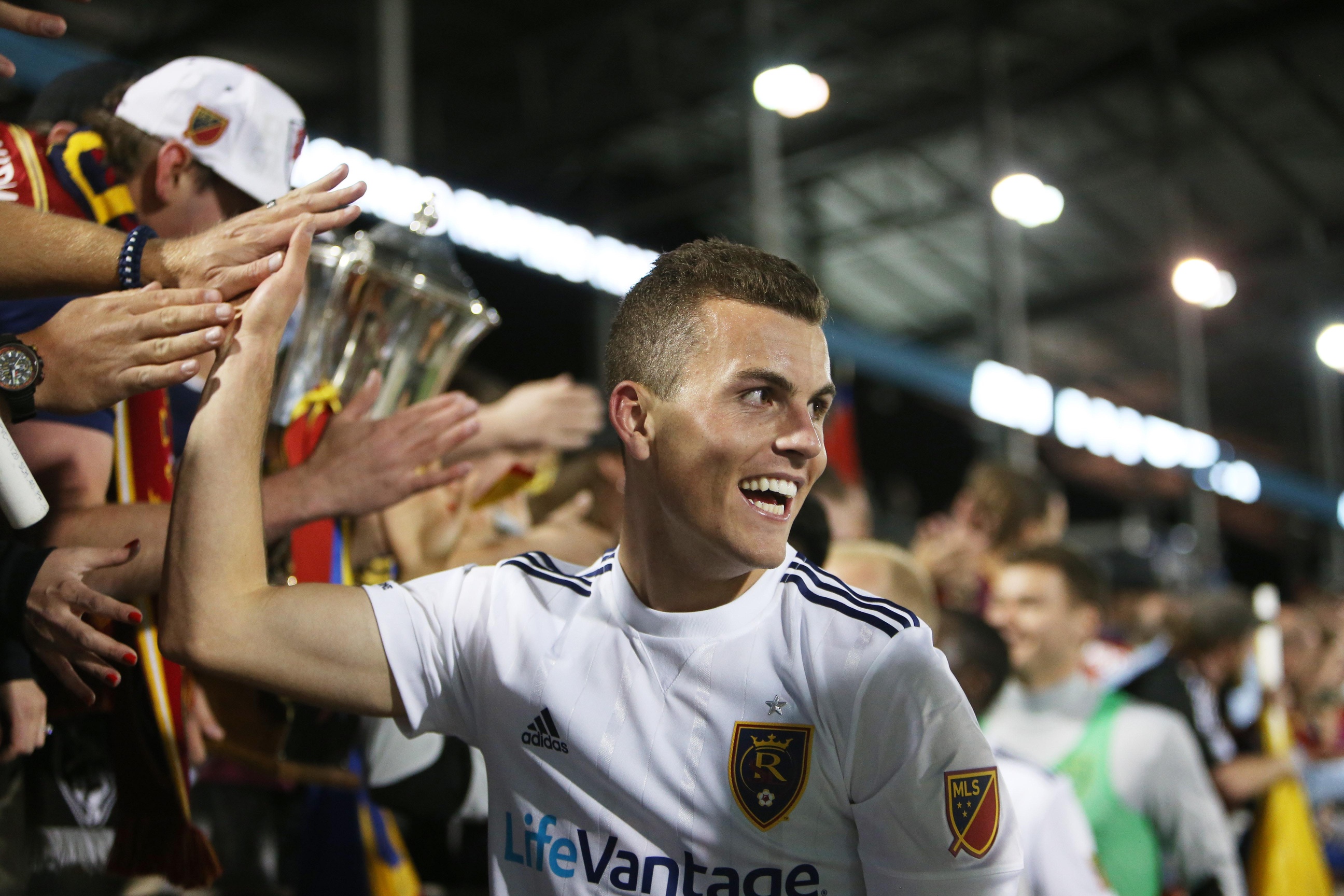 The second week of the Mike Petke era produced a galvanizing comeback that proved Real Salt Lake's first win under their new boss wasn't a flash in the pan.
Yura Movsisyan and Brooks Lennon scored in the final five minutes of the second half to power the Claret and Cobalt past the Colorado Rapids, 2-1, on Saturday night.
The direction of the match changed rapidly in the 84th minute when Jared Watts was sent off for the denial of an obvious goal scoring opportunity in front of the net off an RSL corner. Watts handled a Salt Lake effort on the line, which gave referee Ismail Elfath no choice but to send him off.
Movsisyan proceeded to knock the penalty past Zac MacMath to level the contest at one goal apiece before Lennon unleashed a moment of individual brilliance.
Lennon cut in from the left, eluded a few defenders and fired past MacMath into the left part of the net to hand RSL their second consecutive victory under Petke.
Kevin Doyle headed the Rapids in front after 29 minutes, beating RSL keeper Nick Rimando from the center of the box. The Republic of Ireland international made a great run to head Marlon Hairston's cross in for his second goal of the season.
Neither side posted another shot on goal until the 85th minute, when Movsisyan slotted home his penalty kick. Three minutes later, Lennon delivered his first strike for the club in his fifth game of the season.
Nick Rimando only made a pair of saves in the win, while MacMath made one save while filling in for the suspended Tim Howard.
Real Salt Lake (2-2-3) now haseight points on the campaign and the team returns home to face Atlanta United on April 22. The Rapids (1-1-3) have lost back-to-back matches and face a tough road match at Minnesota United on April 23.
MAN OF THE MATCH
The 19-year-old Lennon netted his first goal in style on Saturday evening. The goal was a piece of beauty from the former Liverpool product, who has started each of the last five games for Claret and Cobalt.
MOMENT OF THE MATCH
The dismissal of Jared Watts turned the match on its head, and cost the Rapids a chance at three points. MacMath ended up being beaten on the ensuing penalty kick and then the depleted Rapids lineup allowed Lennon the space to net the game-winner.
MATCH TO FORGET
Watts' dismissal allowed Real Salt Lake a lifeline in the match, which ultimately turned the Rocky Mountain Cup contest in the visitors' favor.