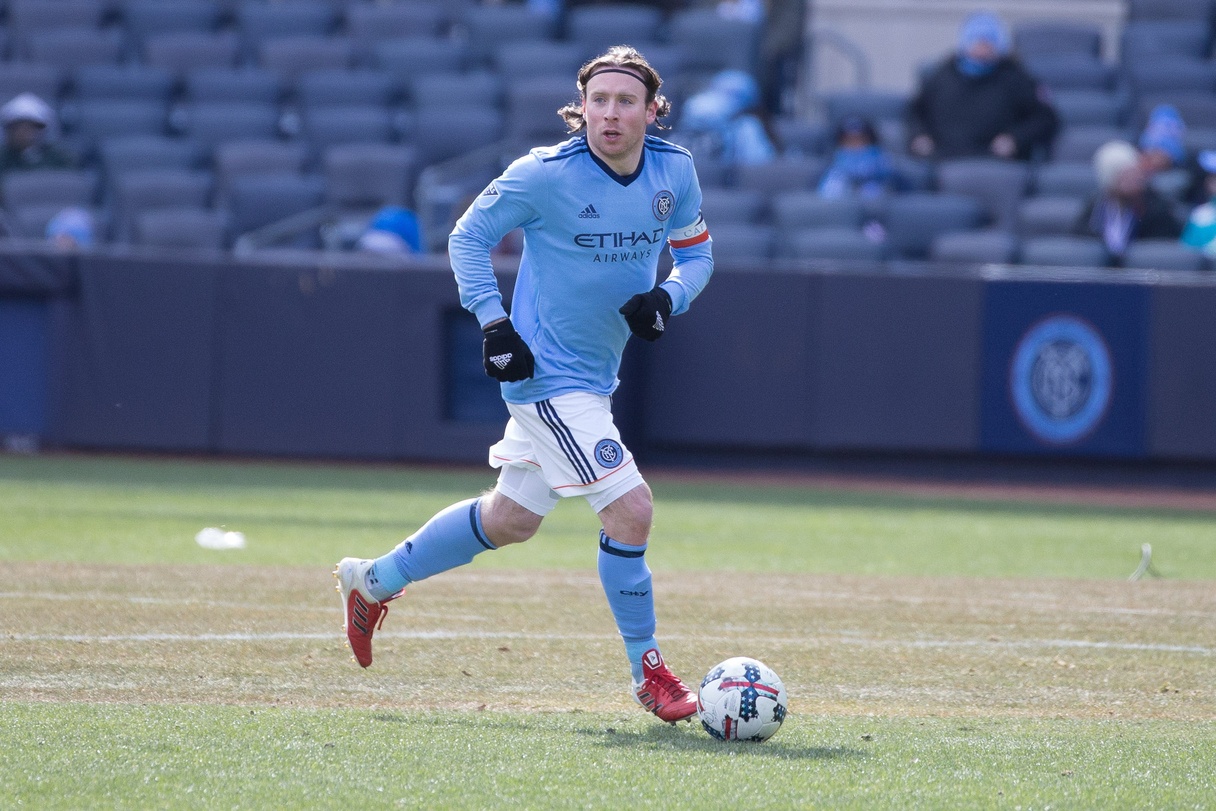 Despite playing less than 30 minutes in New York City FC's 2-1 win over the San Jose Earthquakes, Tommy McNamara dazzled many as he scored the game winner.
Entering as a second half substitute for Andrea Pirlo, McNamara led NYCFC to victory with a second-half winner, helping his side overcome an early deficit. The midfielder's finish capped off a marvelous sequence, one which saw David Villa, Ronald Matarrita and McNamara combine for a perfectly-worked goal.
McNamara, though, credited teammate Matarrita with helping him out.
"I don't fully remember all of it. I just remember thinking to myself, 'Just get myself into the box, get myself free and into a good area,'" he said. "When the ball broke through with [Matarrita], where he got in behind me, and I was just hoping he would cut back to me…thankfully he did and played a perfect ball to me."
McNamara enjoyed his performance, stating that he had a good time playing along the left side. " The aim for him today was to be solid on the ball and to help create for an NYCFC attack in need of a goal. He, obviously, accomplished that.
The American, now in a substitute role, understands the competition he has on the team, though.
"With Andrea as well, we can all play," he said. "We had a lot of the ball, we got up the field very well and got into the final third and created a lot."
His coach, Patrick Vieira, commended McNamara on his attitude, saying that he's still very much a fan of the midfielder's game while calling him "a good professional."
In addition to being a substitute, McNamara has taken on a new role as a leader at the club after a discussion last year as NYCFC welcomed a group of new players. Considering he's been part of the fold for three years, he considers it "a natural progression of myself as a person and a natural progression within this club."
Of course, any discussion of McNamara includes the hype that surrounds him, which flatters him.
"The supporters here in New York are incredible," McNamara said. "I'm very appreciative."
For McNamara, though, Saturday was an opportunity to impress, saying that every time one steps on the pitch, it is a chance to make an impression. McNamara's spirits, obviously, not down, despite having been a starter in New York the last two years. For him, though, the most important aspect of his job remains clear: "to do whatever the team needs at the moment."