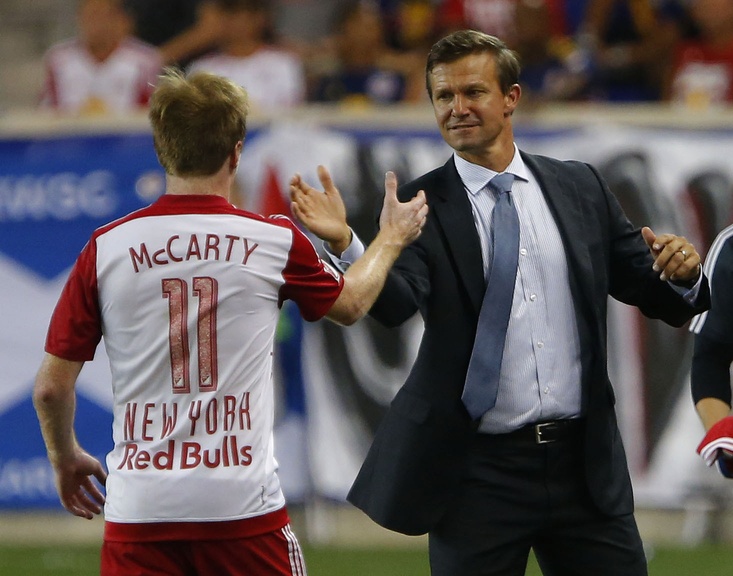 On Saturday, for the first time since the controversial offseason trade that sent him to the Chicago Fire, Dax McCarty will return to Red Bull Arena, and New York Red Bulls head coach Jesse Marsch is very much looking forward to it.
He's not looking forward to the prospect of going head-to-head against his former player or proving his team is better off without him. Rather, he's simply looking forward to embracing a person he worked alongside for two successful seasons.
"It'll be great to see Dax," Marsch said. "It will be hard to see him on the other side of the field. It will be a big moment for our fans to show appreciation to him for all of the years that he played here and what he meant to the club. I know it will be a special moment for him. I've had that experience too when you come back and play at a club that you really cherished. I think we'll see his absolute best.
"Knowing Dax, he's a competitor and he's going to come in here and want to make a statement. He's going to want to play his best and he's going to want to win. That'll be a motivating factor for their team and we understand we'll be in for a really difficult match. Personally, I'll be really excited to see him and, hopefully, give him a big hug."
Marsch admitted to FourFourTwo that the way things went down was "unfortunate", saying it didn't fit the relationship he had built with McCarty over the years they spent together. The head coach took responsibility, but said it was something the club felt needed to be done to usher in a new era.
That new era has had its ups and downs, but, generally, has done well. Tyler Adams has stepped into a more regular role, as has Sean Davis. After some initial hiccups within a new formation, the Red Bulls are back on track, entering Saturday on the heels of two straight wins.
Now a quarter of the way through the season, Marsch is beginning to see his vision of a post-McCarty Red Bulls team come through, and he's hoping that team will be the one that carries them through the rest of the MLS season.
"I think we've come a long way since the beginning and we've tried some different things and learned about ourselves," Marsch said.  "We have a new group and it's a group that's only going to get better, which is an exciting proposition for our team right now. I think we're flying under the radar for a lot of different reasons which is good for us and as good as we've been in certain situations, we can be a lot better.
"That's the motivation: to keep pushing and to figure out ways to improve. Right now, I like the mentality of the group. I like where we're at and I'm really excited about what this team can look like."