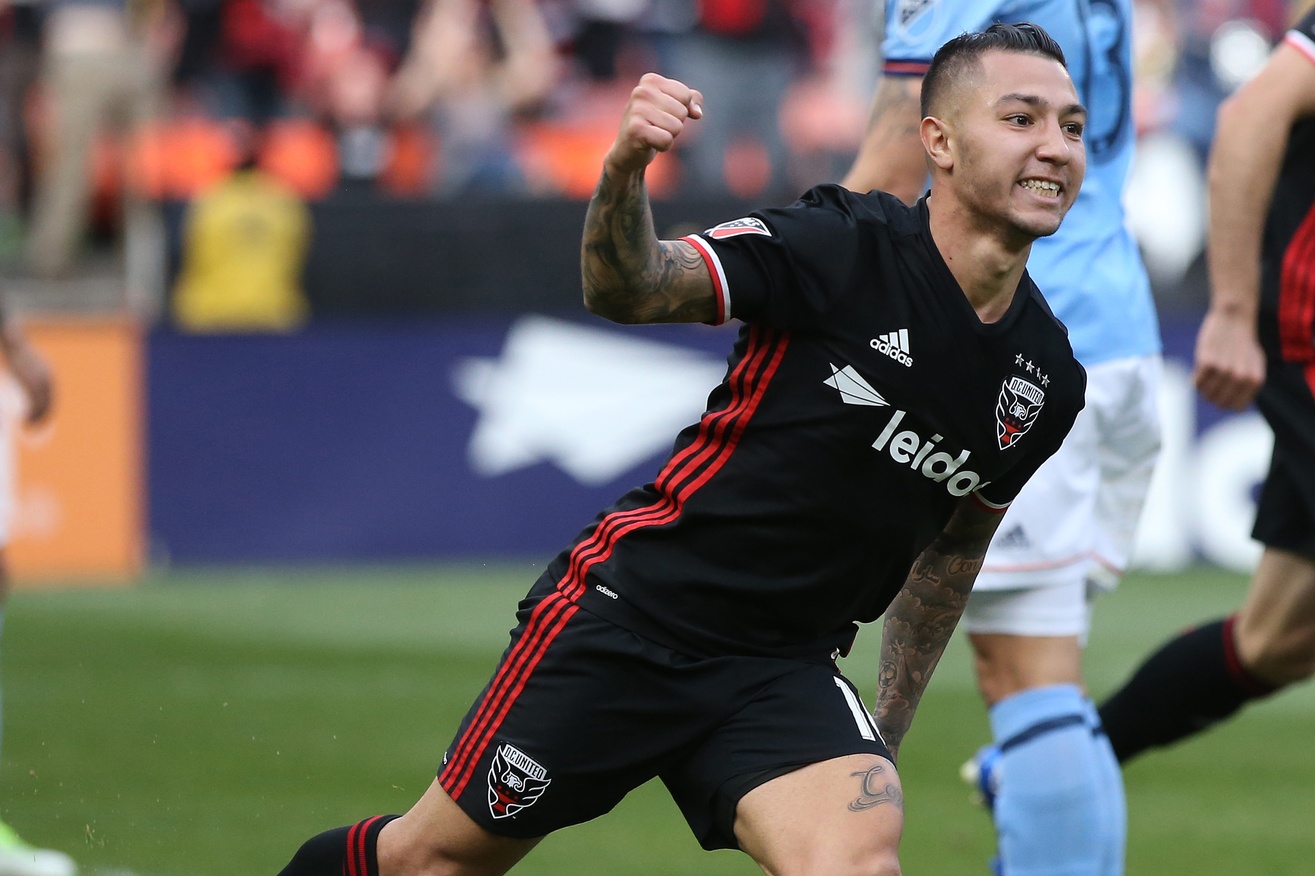 A quartet of rivalry showdowns highlights a busy Week 7 schedule in Major League Soccer that begins with three games on Friday night.
The Cascadia Cup, Atlantic Cup, Trillium Cup and Rocky Mountain Cup will take place this weekend, and there are a few other storylines worth watching.
Can the struggling teams at the bottom of each conference finally break through and earn a win? Can the Portland Timbers continue a hot start at home and will one of the league's most dangerous attacks prey on the worst defense?
Here's a look at all 11 games taking place across MLS on Friday and Saturday.
New York City FC at Philadelphia Union (Friday, 7 p.m. ET, ESPN)
The league's worst team will have a chance to turn things around in front of a national audience against one of the top teams in the Eastern Conference. Much has been made of the Philadelphia Union's early struggles that have put Jim Curtin squarely on the hot seat. Don't expect too many changes in the starting XI for the Union, but an influx of energy is needed to pick up the club's first win of the season.
New York City FC is looking to rebound from a defeat at the hands of D.C. United a week ago. David Villa will be the focal point of the Union defense, but wingers Rodney Wallace and Jack Harrison could be the real difference makers against Fabinho and Keegan Rosenberry, who have faced their share of troubling moments in the first five games.
Seattle Sounders at Vancouver Whitecaps (Friday, 10 p.m. ET, TSN, MLS Live)
The first installment of the Cascadia Cup comes with a new twist as Fredy Montero leads his current club into battle against the side he experienced plenty of success with. Friday night's showdown at BC Place is critical for Montero, who has scored once since his arrival in Vancouver, and the Whitecaps as they look to recover from a slow start.
The Whitecaps are one of two MLS clubs to concede over 10 goals in 2017, the other being Minnesota United. The poor defensive trend will be hard to stop with Nicolas Loderio, Clint Dempsey and Jordan Morris coming to town, but it's not an impossible task. The big injury news coming into Friday involves Roman Torres, who is day-to-day with a hamstring injury. The presence, or lack thereof, of the Panamanian center back could go a long way in determining how many quality chances the Whitecaps fire off at Stefan Frei.
FC Dallas at San Jose Earthquakes (Friday, 11 p.m. ET, UniMas)
The late-night Friday kickoffs have mostly become a thing of the past, but the MLS diehards will be treated to some late-night West Coast action at Avaya Stadium on Friday, and, hopefully, the match is worth staying up for. All indications are it will be an entertaining affair with the San Jose Earthquakes thriving at home and FC Dallas off to a terrific start.
The Quakes are turning Avaya Stadium into a fortress, with all seven of their points coming at home. While you may think the home side will have difficulties with FC Dallas, the Quakes played them tough in all three meetings in 2016. Dominic Kinnear's men earned a road draw, home draw and lost 1-0 at home against the double-winning FC Dallas a year ago.
Atlanta United at Montreal Impact (Saturday, 1 p.m. ET, MLS Live)
The third stop of Atlanta United's four-game road trip is Stade Saputo. The expansion side has shown plenty of mettle on the road by picking up road draws in Seattle and Toronto. Tata Martino's men have a good chance to pick up three points and improve on their 1-0-2 road mark against a struggling Montreal side.
The Impact are one of a few teams in need of a win to revers their early-season struggles in Week 7. With Ignacio Piatti still dealing with a groin injury, the Impact must find a way to consistently create chances, whether it be through an experienced hand like Matteo Mancosu or Dominic Oduro or even a youngster like Ballou Jean-Yves Tabla.
LA Galaxy at Orlando City (2:30 p.m. ET, Fox)
The first showcase match of the year on the Fox network features what is fast becoming one of the best environments in all of soccer, Orlando City Stadium. The Lions will be scrambling a bit in midfield, with Kaka still injured and Matias Perez Garcia serving a one-game suspension. The loss of Perez Garcia isn't a deafening blow, but it will hurt the attacking buildup led by Carlos Rivas and Cyle Larin.
The Galaxy are starting to gain some momentum after a slow start. Curt Onalfo's men took care of business at home against Montreal last week, and they have one of the few road wins in MLS this season over Real Salt Lake. He may not be the first name that sticks out on the team sheet, but Romain Alessandrini will be key for the Galaxy to take points out of central Florida.
New England Revolution at Chicago Fire (Saturday, 5 p.m. ET, MLS Live)
The New England Revolution have flown under the radar in the last few weeks while picking up seven points. The Revs win their first two home games and took a point out of Portland. Now they'll look to stop the wave of momentum in Chicago created by the Bastian Schweinsteiger signing.
Chicago is on a bit of a high after last week's 1-0 win over the Crew. Schweinsteiger is only going to get better as he gets acclimated to the system and the league. Sure, he'll experience some off weeks, but the German is going to make an impact in most weeks. A low scoring affair is expected at Toyota Park as the Revs and Fire combined for six goals across three contests in 2016.
D.C. United at New York Red Bulls (Saturday, 7 p.m. ET, MLS Live)
One of the best, if not the top, rivalries in MLS returns on Saturday with both D.C. United and the New York Red Bulls in need of a positive result. United have earned all of their points at RFK Stadium, including back-to-back wins against the Union and NYCFC, and they have a decent chance of pulling something out of Red Bull Arena given their rival's form.
Despite all the doom and gloom surrounding the new 4-2-2-2 formation and the fixes needed to be made by Jesse Marsch, the Red Bulls still have seven points from their first six contests. The Red Bulls aren't in dire straits, but they're also not flourishing as much as they should yet. Maybe the rivalry will bring the best out of the new setup and prove some of the doubters wrong.
Toronto FC at Columbus Crew (Saturday, 7:30 p.m., MLS Live)
Fresh off a draw in one of the most exciting matches of the young season, Toronto FC heads to Mapfre Stadium for the first Trillium Cup match of 2017. TFC is unbeaten in five matches, but four of those results have been draws, including last week's home thriller with Atlanta United.
The Crew enter Week 7 as the only Eastern Conference team with more than 10 points. Gregg Berhalter's side has taken seven out of a possible nine points from home games, and with Kekuta Manneh ready to contribute after his trade from Vancouver, the Crew will give the Toronto back line all it can handle.
Minnesota United at Houston Dynamo (Saturday, 8:30 p.m. ET, MLS Live)
If you want goals, Houston is the place to be on Saturday night. The electric Houston Dynamo attack is looking to bounce back from a shutout in New England and there are still plenty of questions out there regarding the Minnesota United defense.
Erick "Cubo" Torres and Alberth Elis should have a field day exploiting the gaps in the Loons defense, but don't completely count out Adrian Heath's men, especially with an in-form Christian Ramirez leading the line. Ramirez and Kevin Molino have combined for seven of the team's 10 goals.
Real Salt Lake at Colorado Rapids (Saturday, 9 p.m. ET, MLS Live)
With other teams struggling across MLS, the Colorado Rapids haven't been put under the microscope too much this season, but that could change with a home loss to a resurgent Real Salt Lake side. The trade that sent Sam Cronin and Marc Burch to Minnesota is still baffling, but Pablo Mastroeni clearly trusts the players he has and maybe another week of adjustment for Bismarck Boateng will help.
Real Salt Lake finally broke the league's longest winless run in the snow last week at Rio Tinto Stadium. Offseason acquisition Albert Rusnak turned in a breakout performance for the Claret and Cobalt, and with the Rapids still dealing with some central midfield issues, the Slovakian could run wild for a second straight week.
Sporting Kansas City at Portland Timbers (Saturday, 10:30 p.m. ET, MLS Live)
The final contest of the weekend is an intriguing bout of Western Conference contenders. Sporting Kansas City hasn't suffered a loss in 2017, and they've been able to pull two points out of two road games. That bodes well for their trip to Providence Park. Sporting KC is also riding a high after knocking off the Rapids, 3-1, at home on Sunday. Defending the Timbers' front six won't be easy, but Dom Dwyer's physicality may cause a lot of trouble to the Timbers' back four.
Nothing seems to be stopping the Timbers right now, not even a cross-country road trip. Caleb Porter's men scored their second road win of the season in Philadelphia last week. The rest of the Western Conference has two combined road wins. The Timbers look like the class of the Western Conference, but they'll need to close out the game on Saturday, unlike the Week 5 game with New England.