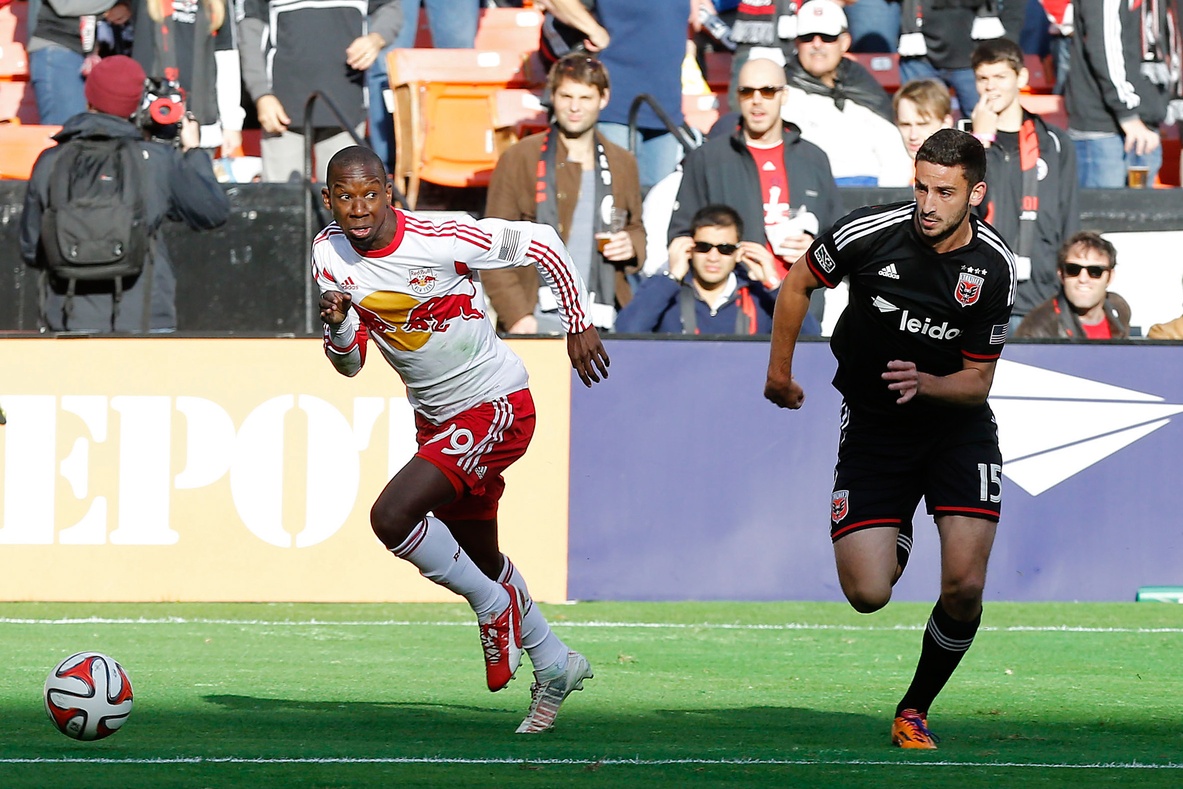 D.C. United could be without a key player for a while.
United revealed that defender Steve Birnbaum has been diagnosed with a concussion after he was stretchered off in Saturday's game versus the New York Red Bulls.
Update: Tests are negative. Steve does have a concussion & will enter concussion protocol.

Thanks fans for your best wishes for our Captain https://t.co/wsuSfCG7DF

— D.C. United (@dcunited) April 16, 2017
While Birnbaum is improving, he will have to go through concussion protocol before he is cleared to train, let alone participate in games.
The 26-year-old has played 81 games in the regular season and playoffs since making his MLS debut in 2014.
Atlanta United stadium opening pushed back
Atlanta United will have to wait just a bit longer to play in their new home.
The club announced Tuesday that a revised Mercedes-Benz Stadium timeline will see three Atlanta United home matches impacted. Atlanta United's match previously scheduled against Orlando City on July 30 will now take place July 19 at Bobby Dodd Stadium while matches with Minnesota United on August 13 and the LA Galaxy on August 19 are being rescheduled for later dates.
"The reason for a revised timeline is quite simple: normal surveying and analysis of the roof structure, as well as steelwork in the roof, have both taken longer than planned," said Steve Cannon, chief executive officer of AMB Group, LLC. "Those two things have had a cascading effect on overall workflows related to the roof and that is the reason for the new timeline.
"We've worked very hard over the last few weeks to find any possible avenue to meet the July 30 timeline, but have not been able to do so. Our construction partners have now worked through re-sequencing the remaining work and are very confident we'll be ready for live events beginning with the Falcons game on August 26."
Earthquakes appoint Bruno Costa as Head of Scouting
The San Jose Earthquakes made a significant hire to their scouting team on Monday night.
Bruno Costa, a former scout for the Brazilian federation and its domestic league, was appointed head of scouting for the Earthquakes.
"Our goal was to hire an experienced scout that knows the U.S. and the international talent markets," said general manager Jesse Fioranelli. "As we develop a comprehensive player scouting and development program across Quakes teams, Bruno will focus on prospects in the Bay Area as much as he will cover U.S. and select markets in Europe and Latin America.
"He brings a tremendous amount of experience in identifying talent to the Quakes, and we are fortunate to have him as part of our team."
During his time in Brazil, Costa was tasked with scouting players for the Brazilian youth national teams. He recruited the likes of Neymar, Coutinho, Willian and Gabriel Jesus over the years.
Costa also had stints with Fluminense and Figueirense as an assistant general manager and helped run the academies for both clubs.
Khiry Shelton out 4-6 weeks with hamstring injury
New York City FC will be a man down for the next few weeks.
The club announced that winger Khiry Shelton will be out for four to six weeks after suffering a hamstring injury in NYCFC's match against the Philadelphia Union on Friday.
Shelton has made four appearances this season, all as a substitute. He is expected to return for NYCFC's game versus Real Salt Lake on May 17.
Former NYCFC defender/midfielder Connor Brandt retires
Despite his professional career being just two years old, Connor Brandt is calling it quits.
The former NYCFC player announced his retirement on Instagram after just two years as a professional. Brandt claims "an unfortunate situation" which led to several trips to the hospital is what led to his decision. He did not reveal the exact reason.
Brandt was released by NYCFC in February. He played in just one MLS match, a nine-minute appearance in May 2015 against Real Salt Lake.
Rapids' midfielder 'Nana' Boateng out 8-10 weeks with back fracture
Bad news for the Rapids in what might be the most painful-sounding injury of the week.
The team announced that midfielder Bismark-Adjei 'Nana' Boateng will miss 8-10 weeks after fracturing three lumbar vertebrae during the team's 2-1 loss to Real Salt Lake this past weekend. Boateng was forced to exit in the 32nd minute, just shortly after earning his first career MLS assist on Kevin Doyle's opening goal of the match. While no surgery is required, he will need time to recover completely.
"This is unfortunate timing for Nana," said Rapids Sporting Director Pádraig Smith. "He has acclimated quickly to the team and the altitude, and was beginning to show the talent and forward drive we identified when bringing him to the club."