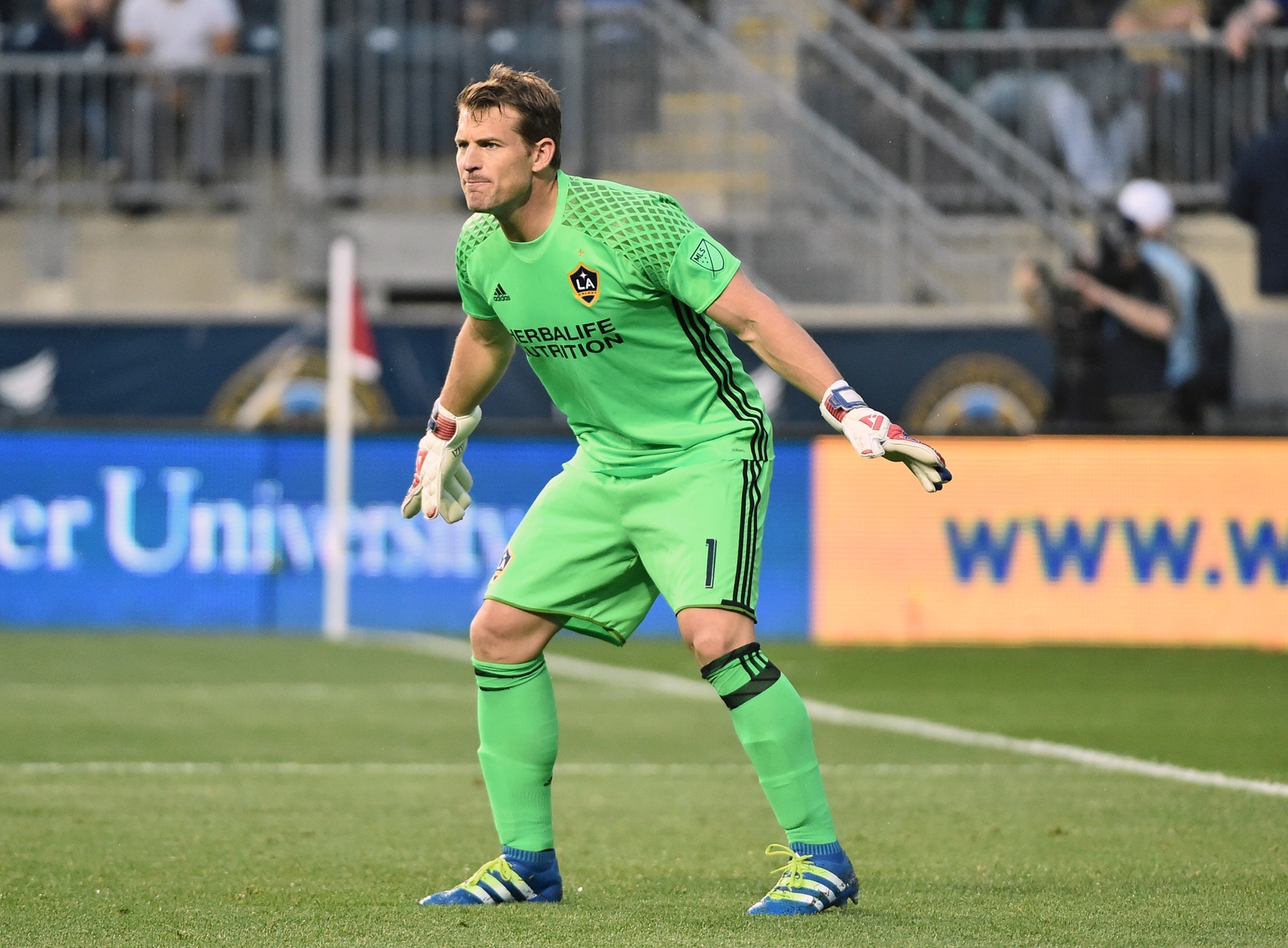 Though the timing is a bit strange, LA Galaxy goalkeeper Dan Kennedy decided it was the right time for him to step away from the game.
The team announced Kennedy's retirement on Tuesday, taking effect immediately. The former Chivas USA and FC Dallas goalkeeper walks away after ten years in MLS, having appeared just 19 times over the past three seasons for FCD and the Galaxy after four years as the starter for Chivas USA. Kennedy will now join the Galaxy front office in youth programming and development, as well as working as an English radio analyst.
"I am incredibly grateful to have spent 10 years playing in Major League Soccer," said Kennedy. "There are countless people – my teammates, coaches, fans and family – that have been deeply influential in my career and that have helped me forge some of the best memories of my life. I want to especially recognize my parents, my sister, my wife Stephanie and my son Archer, who have been unwavering with their support. I will walk away from my playing career proud of the time I spent in this league and how far it has come. I am excited to take this next step in my career with the LA Galaxy as I walk away from my time on the field."
MLS DISCIPLINARY COMMITTEE SUSPENDS PEREZ GARCIA
The MLS Disciplinary Committee issued a suspension to an Orland Coty midfielder on Tuesday.
MLS announced that Matias Perez Garcia has earned a one-game suspension and undisclosed fine for violent conduct against the New York Red Bulls last weekend. The suspension stems from an incident that saw the Orlando City midfielder kick out at New York Red Bulls midfielder Felipe.
Perez Garcia will miss this weekend's match against the LA Galaxy.
IMPACT UNVEIL UPGRADES TO SAPUTO STADIUM
After a multi-million dollar investment, the Montreal Impact unveiled the upgrades to their Saputo Stadium on Monday.
With a $3 million private investment from concessions partner Spectrum Canada, the layout of concession stands, boutiques and club partner activation spaces has undergone a complete makeover all around the stadium. The changes have been completed just in time for the team's home opener on Saturday.
"Starting this season, we will begin to achieve an important goal of our five-year plan: improving customer experience at the stadium. We will provide a more practical stadium, with more space, more services, more choice and more innovation than ever before," said Montreal Impact executive vice-president Richard Legendre. "With so many new stadium projects all around the league, it is of crucial importance to remain competitive and attractive. Today marks a first step in this direction."
UNION WELCOME LEIPZIG GOALKEEPER BELLOT ON TRIAL
Too many good keepers would be a good problem to have, but when you have the reigning MLS Goalkeeper of the Year on your roster, adding another international keeper earns some strange glances.
The Philadelphia Union, already having reigning GOTY Andre Blake on the roster, have invited Red Bull Leipzig backup keeper Benjamin Bellot to Philadelphia on trial, reports transfermarkt. Bellot reportedly has interest from 2. Bundesliga and 3. Liga sides as well, but will be in the U.S. for a trial with the Union first and foremost.
"I am looking forward to the next week at Philadelphia Union, the city and the meeting with Oka Nikolov [goalkeeping coach at Philadelphia], while I myself am still in the the Bundesliga." said Bellot. "The U.S. and the MLS definitely amaze me. "
SPORTSCENTER TO COVER FINAL NEW YORK DERBY OF SEASON LIVE
The New York Derby between New York City FC and the New York Red Bulls has rapidly elevated to one of the biggest draws in MLS, and broadcast partners are taking notice.
ESPN will not only cover the final New York Derby of the year on August 25th at Red Bull Arena, but they'll have Sportscenter live on scene for expanded coverage of the match, reports state. ESPN duo Michael Smith and Jemele Hill will join Taylor Twellman and company in the booth, providing the biggest coverage of MLS yet on the network.
Enjoying #TheSix on the road and here's to @michaelsmith @jemelehill joining us Aug. 25th @RedBullArena for #NYRBvNYCFC @MLS Friday night! 🤔

— Taylor Twellman (@TaylorTwellman) April 10, 2017