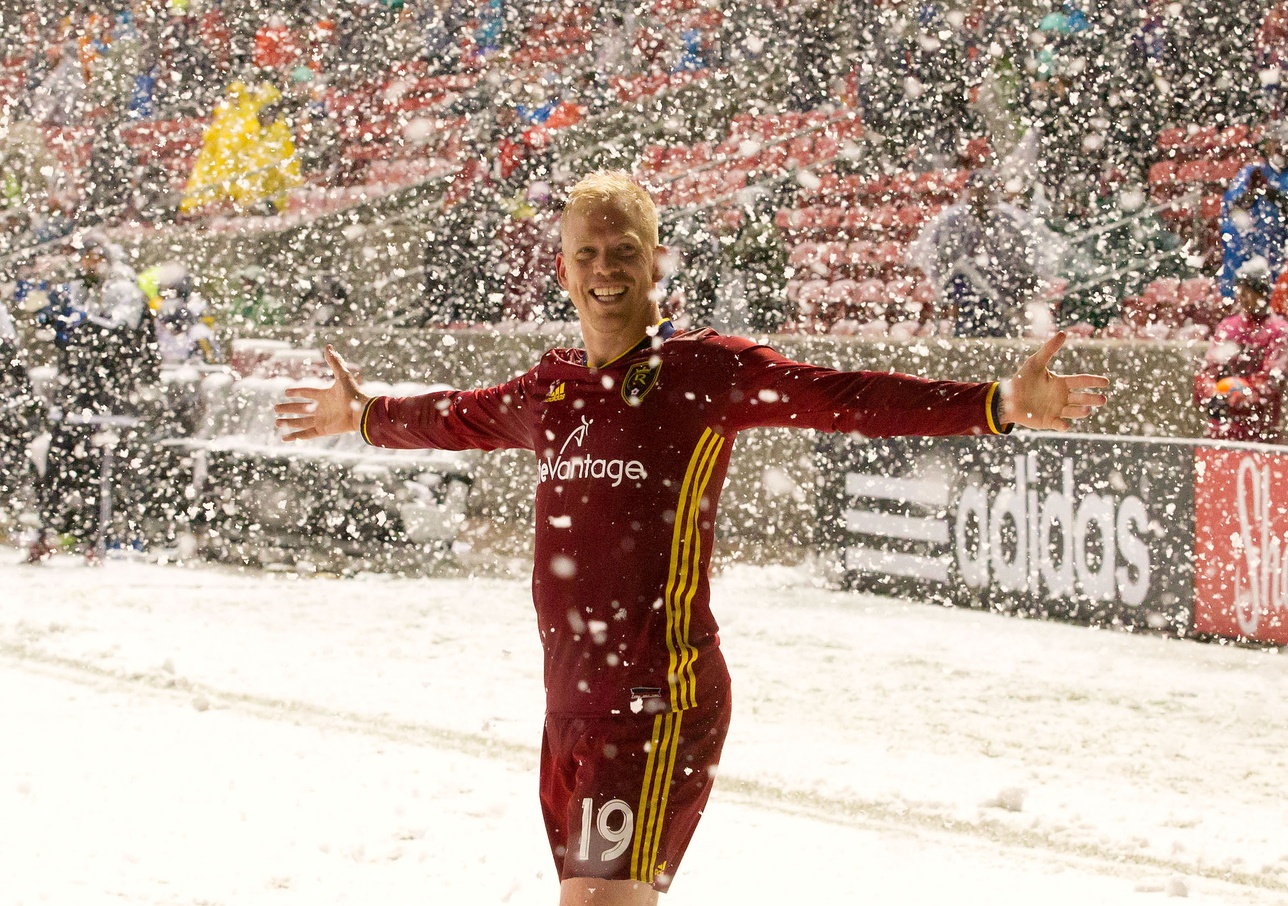 Week 6 of MLS play offered a little bit of everything. There were flashy goals, coaching debuts and returns to form. There were ridiculous passes, snowballs and instant classics. What else can you ask for?
It was certainly a big week across MLS as all 22 teams took the field. What followed was a week full of ups and downs league-wide, with the biggest high coming in snowy Salt Lake City. Under Mike Petke, Real Salt Lake cruised to victory, making one of the bigger statements across MLS.
They weren't the only ones. FC Dallas stepped up to take away some of the sting from their CONCACAF Champions League defeat while the LA Galaxy showed a bit of fight. Orlando City shined on defense while the Portland Timbers made short work of the struggling Philadelphia Union. Toronto FC and Atlanta United, meanwhile, combined for a game of the year candidate, one which was certainly the best game of the weekend.
Here's a look at some of the biggest takeaways from the weekend:
ROUGH TIME TO BE A RED BULL
It was a good week to be a former New York Red Bull in what was a very, very bad week for the current squad.
The Red Bulls lost yet again on Sunday, falling 1-0 to Orlando City. It was a match dominated by the Orlando City defense, a unit that has looked to be one of the best in MLS this season. However, it's hard to excuse the Red Bulls at this point, as the club currently sits on just seven points in six games with just one win in their last five.
At this point, the Red Bulls just haven't clicked. Defensively, the Red Bulls have been among the worst in the East thus far, although they have played an extra game, while the attack continues to sputter. Bradley Wright-Phillips continues to work hard, but the finishing touch just isn't there, while the team's 4-2-2-2 formation has found little success through the first six games of the season.
What could make matters worse for the Red Bulls? Possibly an exponentially better weekend from players they've recently moved on from. Dax McCarty, the club's former captain, logged an assist for the Chicago Fire while Lloyd Sam fired a goal to help D.C. United top NYCFC. Former head coach Mike Petke led Real Salt to a resounding win in his debut. Even someone like Roy Miller, a longtime Red Bull defender, found the back of the net in a Portland Timbers win.
Overall, the Red Bulls are in a funk, and they're probably too talented to remain in that funk for very long. However, we're past the initial honeymoon phase. It's time to figure it out or fall back to the pack.
GALAXY BACK ON TRACK
The frustration isn't completely gone for the LA Galaxy, but this past weekend's result was a step in the right direction.
After stumbling out of the gates to start Curt Onalfo's tenure, the Galaxy righted the ship temporarily against a Montreal Impact team that's playing even worse than they are. In many ways, the Galaxy took care of business as Gyasi Zardes returned to give the Galaxy the closest the team's had to a full lineup thus far.
It was a week headlined by Jermaine Jones and the swagger that oozed from his midweek comments. When it came time to back it up, at least on an MLS stage, Jones did just that, firing an insurance goal late in the second half. He even added to his villain persona, prompting Marco Donadel's red card with what looked to be a very soft call.
With Zardes back in the fold, the Galaxy could very much be primed for a run. Consistency will be key and, to this point, they haven't really shown any. A win over a 10-man struggling Impact team is a good confidence boost, but it's time to put that confidence to good use by climbing back to where they need to be.
TEMPERS FLARE AS SPORTING KC SURGES
The Sporting KC attack finally showed up, and they were rewarded with all three points and the goodwill that comes with it.
Sporting KC's start inspired little more than an "eh." Three draws in four games with just two goals? Not exactly the way to inspire excitement. The points were there, but the results and the play that preceded them were certainly among the more disappointing in the league.
That changed quickly on Sunday. Dom Dwyer and Gerso Fernandes finally found the back of the net in what turned out to be a 3-1 win. The attack fired, finally scoring goals against one of the league's toughest defenses no less. It was a positive sign for Peter Vermes, whose side was expected to be a bit more cavalier with the addition of Fernandes this winter.
Still, much of the post-match talk centered around Dwyer and a confrontation with Tim Howard. Potential future national team teammates, Dwyer and Howard got into if after the game, for whatever reason. It was certainly interesting, but for now, Dwyer and Sporting KC can soak up the good vibes of a start that suddenly looks a lot better than it did a few days ago.
Dom Dwyer and Tim Howard exchanged some words after Kansas City's win over Colorado. #SKCvCOL https://t.co/MlxV4bygKk

— FOX Soccer (@FOXSoccer) April 10, 2017
WHITEOUT AT THE RIO TINTO
Scheduling in North America is always a challenge. Summers can get inhumanly hot and winters are among the more frigid in the world. There's no way to win and, at some point, weather will create havoc.
Havoc is probably an understatement for Saturday's match between Real Salt Lake and the Vancouver Whitecaps, one which saw the Rio Tinto Stadium pounded by snow as the game wore on. RSL emerged victorious for the club's first win under Mike Petke, one which restored plenty of hope for a team that has been among the league's worst out of the gate.
Albert Rusnak, brought in to replace club legend Javier Morales, played the part. The Slovakian provided a goal and two assists, dictating play even as snow pounded the field. Youngsters Brooks Lennon and Danilo Acosta looked solid while Joao Plata and Yura Movsisyan stepped up as veterans do.
For all of the frustration that comes with snow, Saturday was a fun one from an outside standpoint. Even Luis Silva found the amusing side on Saturday, firing a snowball mid-game.
— Real Salt Lake (@realsaltlake) April 10, 2017
It was a sign of RSL's return to fun, return to enjoyment. After weeks of wallowing in frustration, maybe a bit of snow was just what was needed to help bring out a new-look RSL side.
ATLANTA, TORONTO FC COMBINE FOR THRILLER
Since the arrival of Sebastian Giovinco and Jozy Altidore, Toronto FC has been among the more entertaining teams in MLS. This year, Atlanta United has joined that discussion thanks to a young crop of technical, pacey South American stars.
On Saturday the two faced off for the first time and it more than lived up to the hype.
Saturday's match was probably a small step below instant classic given the time of year, but that shouldn't take away from just how damn entertaining the match was. Two sides determined to attack in vastly different ways combined for a thriller.
For TFC, Sebastian Giovinco and Jozy Altidore combined for one of the best goals of the season, one which saw the latter unleash a ridiculous flick to his strike partner. For Atlanta, Hector Villalba, a player who has been overshadowed a bit in the early season, finally unleashed scoring two goals to earn his side a draw.
Was it a potential playoff preview? It's a bit too early to say, especially in Atlanta's case, but if these two teams did meet up for more meaningful matches, I don't think anyone would complain.