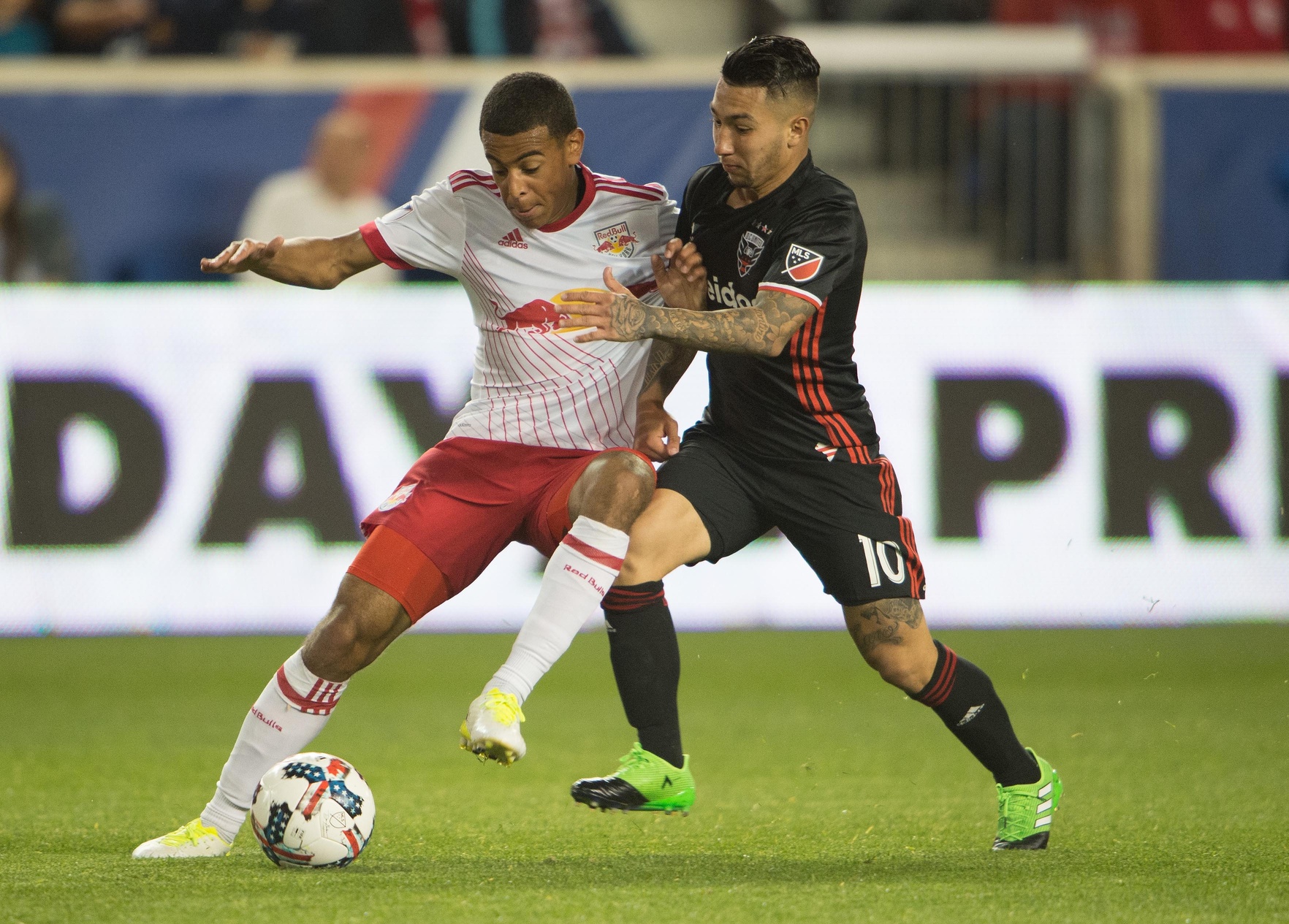 Week 7 of MLS play featured a stunning finish and a highlight reel save, but there was plenty more to take away from a busy holiday weekend.
David Villa and Tim Melia stole the show with their individual moments of brilliance, headlining the week that was in MLS. It was a week loaded with clutch performances from young stars while veteran presences like Villa and Bastian Schweinsteiger stepped up in a big way.
It was also a week with plenty of rivalry action, as the New York Red Bulls bounced back from their recent skid by topping D.C. United. The Vancouver Whitecaps, meanwhile, rode a former Seattle Sounders star to a win over their Cascadia rivals. Meanwhile, the Montreal Impact got the team's first win of the season while the Philadelphia Union's struggles continued.
Here's a look at some takeaways from Week 7 of MLS action:
HOMEGROWN PRODUCTS STEP UP
It would be unfair to say the league's veteran stars didn't step up because they very much did, but a lot of the attention from Week 7 should be turned towards a talented crop of Homegrown players that led their teams to victory.
The MLS Homegrown system remains a work in progress, but teams are certainly reaping the benefits of their academy production. Few teams have done more on the academy level than FC Dallas and the New York Red Bulls, and both saw academy products score over the weekend. Kellyn Acosta's hot start continued as his goal led FCD to a draw with the San Jose Earthquakes while the Red Bulls' Alex Muyl scored the opener of what turned out to be a slump-busting win over D.C. United. Joining Muyl was fellow Homegrown product Tyler Adams, who bossed the midfield against a talented Luciano Acosta.
In Montreal, young stars Ballous Jean-Yves Tabla and Anthony Jackson-Hamel continue to blossom, with the latter providing the game-winner in stoppage time of the Impact's 2-1 victory over Atlanta United. You could technically add Brooks Lennon to the list of Homegrown stars that stepped up as he pushed Real Salt Lake with a late winner of his own.
The Homegrown system is still very much playing catch-up to those around the world and MLS academies still have a lot of work to do when it comes to consistently producing high-level prospects. Still, Week 7 was a banner week for the future stars of MLS.
MONTERO STEPS UP AGAINST OLD CLUB
Entering the weekend, Fredy Montero had yet to really get his feet wet with the Vanouver Whitecaps. He'd made just two starts, scored one goal, but had yet to really show the skills that made him a star with the Seattle Sounders.
With those very same Sounders in town, Montero lit up, adding a new layer and element to one of the league's biggest rivalry matches.
Montero scored a pair of goals on Saturday, leading the Whitecaps to a win over their Cascadia rivals.His first came on a headed shot from a pinpoint Cristian Techera cross. His second? Another header, as he deflected a Tim Parker shot past an absolutely helpless Stefan Frei.
His initial stint with the Sounders was largely spectacular, and Montero came back to haunt his old club on Saturday. It wasn't prototypical, but it was certainly effective, as Montero popped up in the right places at the absolutely ideal times.
The Whitecaps will likely go as far as Montero can take them, especially given the team's general issues in front of goal over the last few years. If Montero can be that answer, and he very well can be, the Whitecaps should be good enough to trouble teams like the Sounders with consistency.
MINNESOTA UNITED SHOWING SIGNS OF IMPROVEMENT
Let's get it out of the way: Minnesota United is still far, far away from being anything but a low-level team. Their defense is still shambolic and their team, as a whole, is still nowhere near ready to contend for much.
Still, the Loons are showing signs and, at this point in the season, that's all you can ask.
After surrendering two early goals to a talented Houston Dynamo attack, it looked like Minnesota United was in for a bloodbath. They'd allowed 22 goals through six games, and with two finishes surrendered inside the first 45 minutes, that number looked like it would jump up quite a bit.
Following the halftime whistle, though, something changed. Adrian Heath's side, ravaged by injuries in the first half, came back through Christian Ramirez and Johan Venegas. The former has validated his status as one of the country's premier goalscorers, while the latter has stepped in and provided the impact anticipated when the Loons went after him this offseason.
The Loons attack is sneakily among the best in the league, as they currently sit fourth in the league in scoring. There's work to be done, sure, but the Loons are at least showing positive signs after a disastrous start to the campaign.
STRUGGLES CONTINUE IN PHILADELPHIA
It's seemingly a weekly occurrence at this point, but the Philadelphia Union fell flat once again on Friday night.
With pressure mounting, the Union slumped to another defeat, this time falling 2-0 to New York City FC. It was another flat performance from a flat team, one that is rapidly tumbling further and further down the table. Two points through six games? Inexcusable.
Roland Alberg failed to make an impact, Alejandro Bedoya still hasn't lived up to his salary and key departures like Tranquillo Barnetta and Vincent Nogueira still loom large. Even Keegan Rosenberry, perhaps the brightest rookie of last season, isn't playing very well. Then there's the forward pool, a unit that continues to flounder in front of net aside from C.J. Sapong's super-sub appearances. Sapong's return to the starting XI didn't produce the magic needed to find a goal.
David Villa's audacious and, quite frankly, ridiculous 50-yard chip of Andre Blake served as a fitting metaphor. Their season, like that shot, continues to soar up and over their heads as the club struggles to find a way to salvage much of anything from the wreckage thus far.