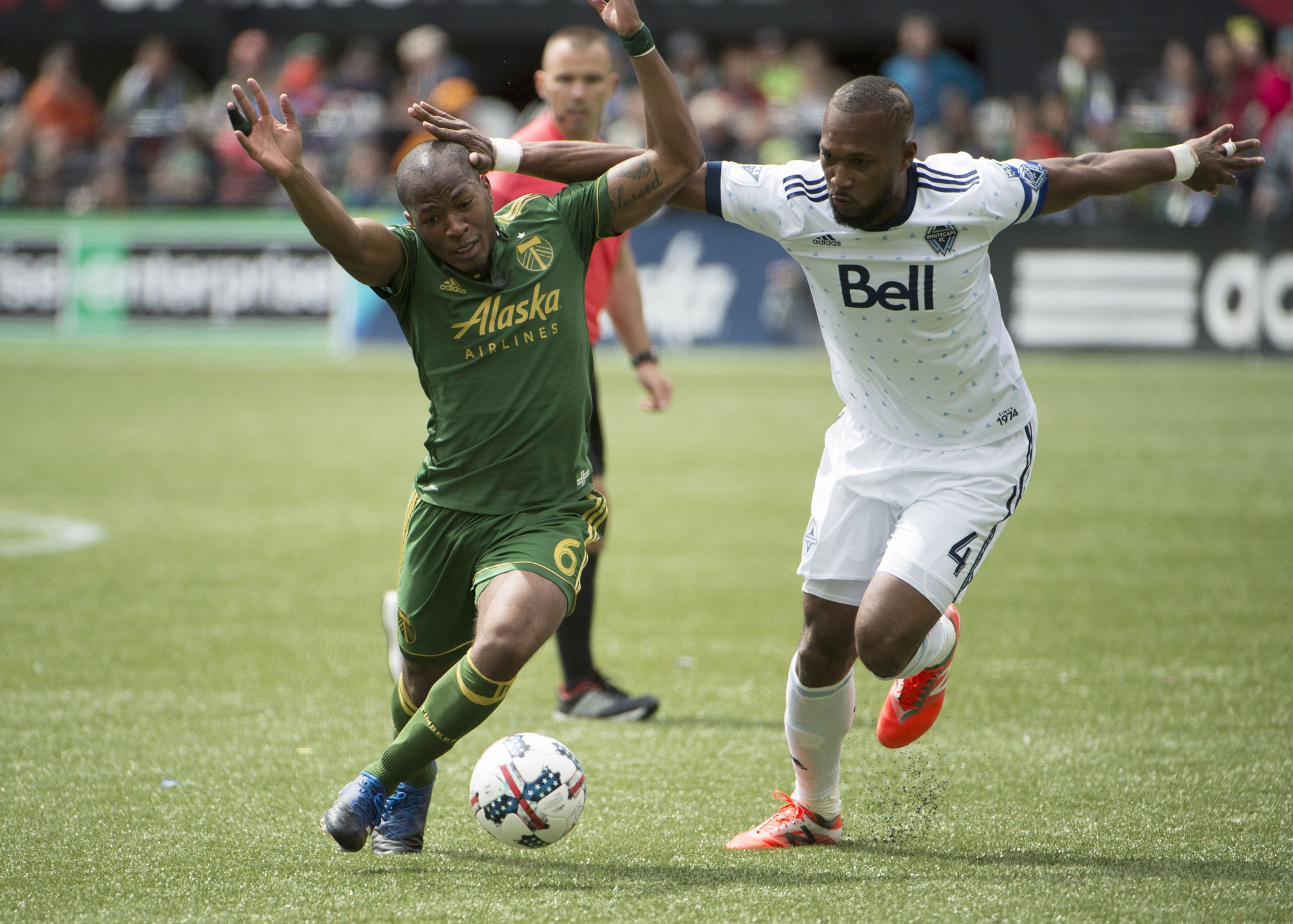 Each and every week, MLS play leaves plenty to ponder. The league is notoriously wacky, and this past weekend was no exception.
It was a weekend filled with stunning goals, lopsided wins and long-awaited returns. It saw a perennial contender thumped on home turf and a recent punching bag beaten back after seizing an early lead. The weekend, in many ways, was a rollercoaster and, unfortunately for the LA Galaxy and Philadelphia Union, that rollercoaster ran them over before backing up and doing it over and over again.
It wasn't all bad news, especially for contenders like the Portland Timbers, Toronto FC and Seattle Sounders. Minnesota United may not count themselves among those contenders, but they did put forth one of the more impressive efforts in maintaining a clean sheet.
With all of that in mind, there's so much to dissect, and here are some of the biggest takeaways from the weekend's action:
BIG TROUBLE IN LA
It's pretty hard not to get up for a match against the MLS champions. It's a perfect measuring stick, a sign of just how far you have gotten and just how far left you have to go.
The LA Galaxy, meanwhile, inexplicably failed to even show up against the Seattle Sounders on Sunday, and they were punished in a big way for their lack of pretty much everything.
In a long line of bad performances to start the season, the Galaxy unleashed their worst in a 3-0 beatdown from the Sounders. The demolition, which came on home turf, could have been much, much worse, all things considered, as the Galaxy failed to put together much of anything in what should have been viewed as a big game.
The midfield? An absolute trainwreck, prompting a first half substitute from Curt Onalfo to try and extinguish the damage. The attack? What attack? Despite going against what was certainly a weakened Sounders defense, the Galaxy didn't do much of anything. The defense might have been the best unit on the field, and they were lucky to only allow three goals.
A lopsided loss like that at home is inexcusable, and Onalfo's tactics certainly didn't help matters. There are big questions to be asked of the Galaxy going forward but the biggest one remains: now what?
BIG DAY FOR KREIS, ORLANDO CITY
Jason Kreis insisted revenge wasn't on his mind on Sunday afternoon, but Orlando City's performance must have felt oh so sweet nonetheless.
Once again, the Orlando City backline stepped up in a major way en route to a 2-1 win over NYCFC on Sunday afternoon in Kreis' return to Yankee Stadium. The former NYCFC head coach was adamant that the narrative shouldn't be about him and his past, but rather the performance put forth by a surging Lions team.
While it is hard to look past the Kries storyline, he does have a point. With a new-look defense, Orlando City is currently top of the East despite spending all but a few minutes without their star Kaka. Cyle Larin continues to evolve and improve, scoring two more goals on Sunday to take his running tally to nine in seven games against NYCFC.
Is Orlando City a title contender? Maybe. A lot will depend on Larin's future and what they can get out of Kaka. If the Brazilian returns and plays at a high level, Orlando has as good of a chance as anyone, a vast improvement from last season's struggles.
UNION GETTING CLOSE TO BREAKING POINT
For the first 40 or so minutes of Saturday's match, the Philadelphia Union were cruising. They were up three whole goals, an amazing feat all things considered. For a team that had looked so bad, suddenly, inexplicably, things were looking very, very good.
Then, it all fell apart, a harsh reminder of the type of season the Union find themselves sinking into.
There really isn't much left to say about the Union. They're the lone winless team. Each loss is somehow worse than the last and, at the end of it all, there isn't much of a light at the end of the tunnel. Something is broken right now and it needs to be fixed quickly.
Still, the first 45 minutes at least showed something. They showed what the Union can be, even if it's far from what they are. They can attack in numbers, control play and limit opportunities. They can play solid, technical soccer and look good doing it. Can they do it for a full 90 minutes? That's the next task and, if they can't, expect major changes soon.
GIOVINCO MAGNIFICO
Entering the weekend, Sebastian Giovinco still hadn't quite had his breakout game. Giovinco, and Toronto FC as a whole, hadn't quite looked all put together. They were good, sure, but not like what we saw last year.
Saturday was a scary reminder, then, for the rest of the league of how good TFC can be when things, and by things I mean Giovinco, are clicking. Facing a solid Chicago Fire team (which still feels a bit odd to say), Giovinco was electric, scoring twice en route to a 3-1 win.
His first was a sublime piece of touch and skill around the box. His second was a ridiculous free kick that left everyone stunned. It was a perfect example of what he brings: technique, excitement and, most importantly, goals.
TFC is on a new level when Giovinco is clicking, and the club will certainly hope he slowly builds up throughout the season. His output will always be ridiculous, but Saturday was certainly a nice reminder of just how ridiculous he could be on his day.
NAGBE STUNS IN TIMBERS WIN
Darlington Nagbe has scored plenty of incredible goals throughout his career. Somehow, some way, Saturday's stunner may not even be in his top 5, but it was still pretty damn incredible.
It was a goal that only a player like Nagbe can score. The Portland Timbers midfield is supremely talented, spectacularly skilled on the ball, and he showed it with his stunner. After weaving past several defenders, Nagbe uncorked a shot that smashed the bar and went straight down, leaving the home crowd stunned as Nagbe went into full "Are you not entertained?" celebration mode.
[protected-iframe id="397c324d411b6e2d2ebf56db9d1b327d-93315145-33390693″ info="https://www.mlssoccer.com/iframe-video?ooyala_id=BtaDJ3YTE6IDF7BFjzcZSZ8A2BaobUf6&partner_code=I1djcxOsLrwl8b-9xe2r_DCXV4cV&player_id=4bfc225f82bf46c48dfb065eda97f74f" class="fluid-width-video-wrapper"]
His skillset has long been heralded as unique, unmatched in the MLS landscape, and it's always something special to see when he actually unleashes it.
Nagbe's playmaking abilities have been on full display throughout the season thus far, but at moments, he's played third fiddle to Diego Valeri and Fanendo Adi. That's more a testament to the latter two's play than a criticism of Nagbe, who has certainly been wonderful in his own way.
He's quietly flourished in 2017, and it appears we're seeing another evolution. The Timbers would certainly like to see more goals from the midfield, even if they aren't all as pretty as Saturday's, but even if they don't necessarily come, Nagbe's role with this Timbers team suits him just fine.