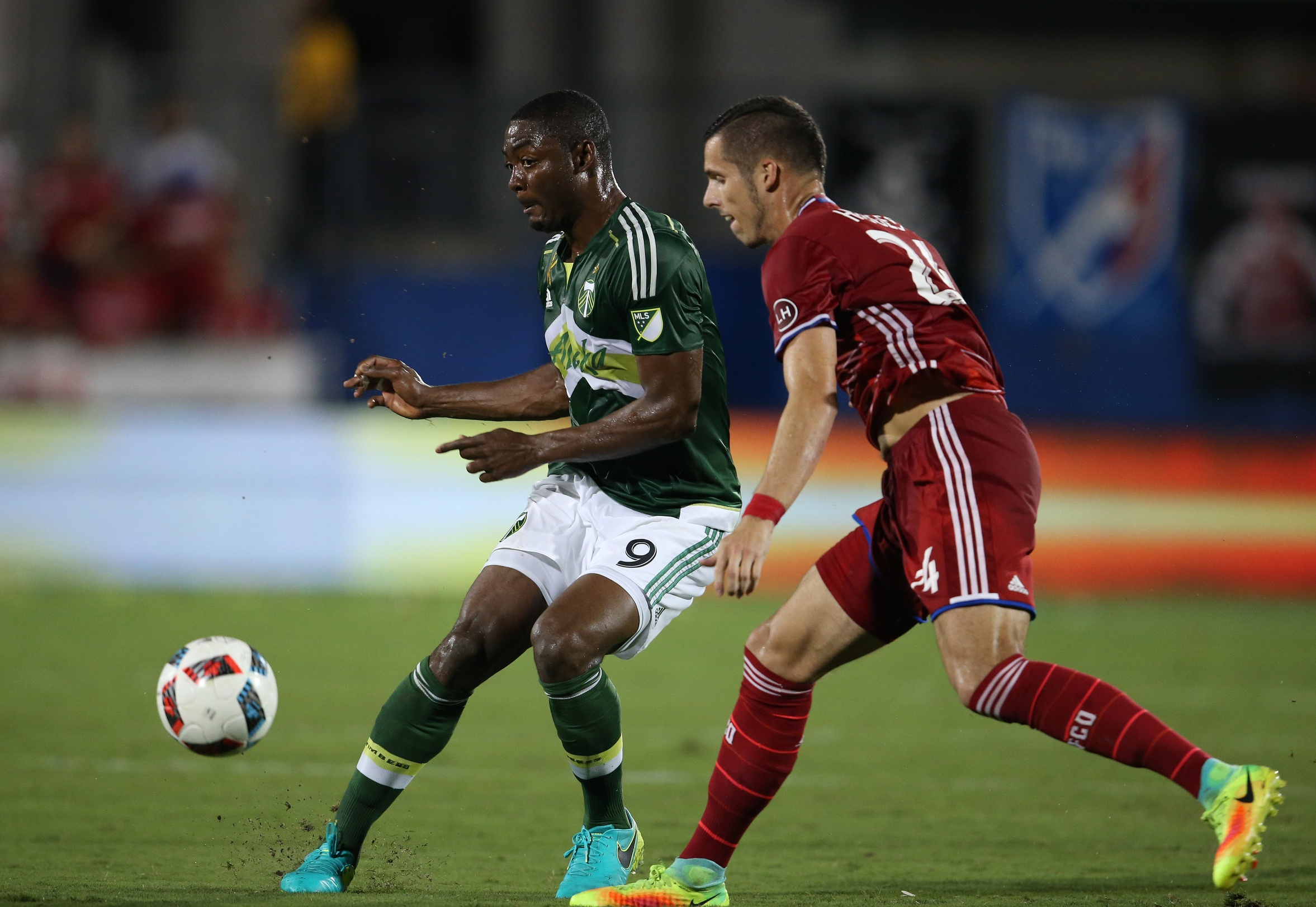 Once again, FC Dallas is involved in the marquee match of the weekend as they face another high-profile opponent.
FCD will play host to the Portland Timbers in a battle of No. 1 vs. No. 2 in the Western Conference. The league's last remaining unbeaten team sits two points behind the visiting Timbers, but with two matches in hand, they seek to seize control of the West. Also out West, Sporting Kansas City hopes to distance themselves from Real Salt Lake below, while Minnesota United aims to build on last week's shutout win as they take on the San Jose Earthquakes.
In the Eastern Conference, the New York Red Bulls battle the Chicago Fire in a battle of playoff contenders, while their cross-town rivals New York City FC do the same as they visit the Columbus Crew.
Several matches grace the inter-conference slate, led by red-hot Orlando City taking on the ice-cold Colorado Rapids as they seek to keep their run of form going. On the opposite end of the spectrum, the LA Galaxy and Philadelphia Union each seek to escape their woes on Saturday night when they meet at the StubHub Center. Also on the schedule is an all-Canadian affair between the Montreal Impact and Vancouver Whitecaps, while Toronto FC takes on the Houston Dynamo and the Seattle Sounders welcome the New England Revolution.
Here's a look at the MLS action in week nine:
TORONTO FC VS. HOUSTON DYNAMO (FRIDAY, 7:30 P.M., MLS LIVE/TSN2)
Toronto FC enters Friday night's showdown with the Houston Dynamo on the heels of a 3-1 win last Friday against the Chicago Fire. Star forward Sebastian Giovinco finally found his form as his brace opened and sealed the match for the hosts. They'll hope to build on his performance as they aim to remove themselves from their early season struggles.
The Dynamo performed well at home last week as well, taking on and dispatching the San Jose Earthquakes in a 2-0 victory. The issue for the Dynamo, however, comes on the road, where the team is 0-2-0 without a point to show. They'll have to figure out how to batten down and handle an antagonistic atmosphere as they head to BMO Field and try to head back to Texas with some points.
MONTREAL IMPACT VS. VANCOUVER WHITECAPS (SATURDAY, 3 P.M., MLS LIVE/CTV/TSN2)
The Montreal Impact play host to an all-Canadian affair on Saturday as they host the Vancouver Whitecaps. The Impact showed a massive amount of resolve to battle back from a 3-0 deficit last week to earn a 3-3 road draw at the Philadelphia Union. That comeback will surely inspire a great deal of confidence in the Impact ahead of their third home match of the season, particularly in recent hero Anthony Jackson-Hamel.
The Whitecaps enter this weekend's affair coming off a loss to their Cascadian rival Portland Timbers in a 2-1 road defeat. The Whitecaps have split their last four decisions with two wins and two losses, remaining winless and without a point on the road with an 0-3-0 record. They'll hope to change that this weekend, perhaps on the back of goalscorer Fredy Montero who enters in good form.
ORLANDO CITY VS. COLORADO RAPIDS (SATURDAY, 4 P.M., UNIMAS/FACEBOOK)
Orlando City remains the hottest team in the league with five wins in their first six matches this season after dispatching New York City FC on the road by a 2-1 scoreline. Cyle Larin recorded another brace and raised his goal-scoring total to six already on the young season. They'll return to their fortress in Orlando where they remain perfect at 4-0-0.
The Rapids are coming off the definitive low point of their season thus far. After winning their opening match of the season, the Rapids are winless in their last five and have lost three straight, including last week's poor offensive effort in a shutout loss to Minnesota United. With just five goals to show through six matches, the Rapids are in deep trouble if they can't find their attacking form this weekend in Orlando.
COLUMBUS CREW VS. NEW YORK CITY FC (SATURDAY, 7:30 P.M., MLS LIVE)
The Columbus Crew enter this week's match as one of the surprise success stories of the year so far. Despite last week's 2-0 loss to the New York Red Bulls, the Crew sit at second in the Eastern Conference with 13 points through eight matches. They'll hope to bounce back against their second New York opponent in as many weeks when New York City FC comes to town.
NYCFC, meanwhile, enter on a low after their home defeat to Orlando City and former coach Jason Kreis. Despite David Villa's late goal, NYCFC couldn't battle back as they suffered their first loss at Yankee Stadium this year. Patrick Vieira and company will have a tall task in visiting MAPFRE Stadium, where the Crew remain unbeaten through four matches.
NEW YORK RED BULLS VS. CHICAGO FIRE (SATURDAY, 7:30 P.M., MLS LIVE/TSN2)
After a slow start to the year, the New York Red Bulls seem to have found their familiar, successful form with two straight wins to snap a four-match winless streak. They close out their three-match homestand looking to remain perfect as they welcome the Chicago Fire to town, on a surprisingly hot start of their own.
The Fire enter on their second loss of the season, this time to Toronto FC at BMO Field by a 3-1 scoreline. Nemanja Nikolic, Bastian Schweinsteiger, and company will remain on the road as they visit Red Bull Arena as they seek their first road win of the year and hope to continue their playoff-level start to the season. The match will be a special one for Dax McCarty, who returns to Red Bull Arena to take on his former club.
FC DALLAS VS. PORTLAND TIMBERS (SATURDAY, 8 P.M., MLS LIVE)
FC Dallas has begun 2017 right where it left off in 2016, and remain unbeaten through their first six matches, the only team in the league to do so. A week after dispatching the formerly unbeaten Sporting Kansas City, they'll face another highly difficult opponent when the Western Conference-leading Portland Timbers come to town.
The Timbers will hope to play spoilers in Dallas and end their opponent's perfect start to the season at home. Coming off their own 2-1 victory over the Vancouver Whitecaps, the Timbers will unfortunately have to make due without the services of Diego Valeri, who will miss the match due to injury. But this potent Timbers attack has enough firepower to make this a must-watch match anyway.
MINNESOTA UNITED VS. SAN JOSE EARTHQUAKES (SATURDAY, 8 P.M., MLS LIVE)
Minnesota United are riding high from the best point in their young team's MLS history. After struggling with massive problems defensively, the Loons pulled out an altogether superior effort in last week's shutout victory over the Colorado Rapids. It was the team's first ever clean sheet and one that should bolster confidence in the cold north as the San Jose Earthquakes come to town.
The Quakes enter after a woeful attacking display of their own, as they fell in a shutout loss to the Houston Dynamo by a 2-0 scoreline. The Quakes have lived by the late goal so far this season, but weren't in position to make it happen last weekend. They'll aim to keep things close, with the help of early Rookie of the Year candidate Nick Lima, and steal a few points away from the Loons in Minnesota this weekend.
SPORTING KANSAS CITY VS. REAL SALT LAKE (SATURDAY, 8:30 P.M., MLS LIVE)
Sporting Kansas City likely knew this season wouldn't end without a loss at some point, but it never makes losing easier to know that. Still, a loss to FC Dallas is nothing to cry over as Sporting KC dropped their first match of the year last weekend in a 1-0 loss. Now they'll need to refocus and bounce back with a more complete effort against Real Salt Lake on Saturday evening.
Real Salt Lake enters having suffered a first defeat of their own, the first under new head coach Mike Petke after two consecutive victories to open his tenure. RSL was simply outplayed by Atlanta United, but the real story came from injuries to goalkeeper Nick Rimando and defender Chris Wingert, both of whom will miss this weekend's match in Kansas City.
SEATTLE SOUNDERS VS. NEW ENGLAND REVOLUTION (SATURDAY, 10 P.M., MLS LIVE)
The Seattle Sounders endured an unexpectedly cold start as well this year, but bounced back last weekend with a dominant statement win. The Sounders thoroughly dismantled the LA Galaxy in a 3-0 road victory, showing that the defending MLS champions still have the stuff. They'll want to take that momentum back home as they welcome the cross-country New England Revolution to CenturyLink Field.
The Revolution hosted two matches last week, but they were unable to seal a home victory in neither a scoreless draw against the Quakes nor a 2-2 contest against D.C. United. The lack of three points at home is never good news, and twice in one week hurts even more. The Revs now need to figure out their road situation, where they remain winless this season, or risk making it three straight without a victory.
LA GALAXY VS. PHILADELPHIA UNION (SATURDAY, 10:30 P.M., MLS LIVE)
The LA Galaxy were on the receiving end of one of the worst beat-downs of the year last weekend, as they were simply outplayed by the Seattle Sounders at home in a 3-0 loss. The Galaxy's struggles are very real, with just six points through seven matches to open the season, including a woeful 1-3-0 record at home. They'll need to sort themselves out and get their new pieces clicking this weekend against one of the few teams more desperate than them.
The Philadelphia Union are by any estimate the basement-dwellers of the early season. Now winless through their first seven, the Union dropped a 3-0 lead at home to the Impact last weekend in a stinging draw. Now they'll go cross-country to the Galaxy, but with the silver lining that the hosts have proven themselves beatable in their own house this year. Can the Union seize the opportunity and their first win?
ATLANTA UNITED VS. D.C. UNITED (SUNDAY, 3 P.M., FOX SPORTS 1)
Atlanta United got back to winning ways for the first time in four matches since back-to-back wins earlier this year, defeating Real Salt Lake on the road, 3-1. Atlanta will now return home to Bobby Dodd Stadium and welcome D.C. United. Atlanta remains without star striker Josef Martinez, but didn't seem to miss a beat offensively last week.
D.C. United stole a point on the road from the New England Revolution last weekend, their first on the road at all this year. They'll now face a trip down south to the peach state where they'll try to turn that first road draw into a first road win. Star midfielder Luciano Acosta is still adjusting after missing the first few matches of the year, but they'll need him in good form to make thing happen in Atlanta.