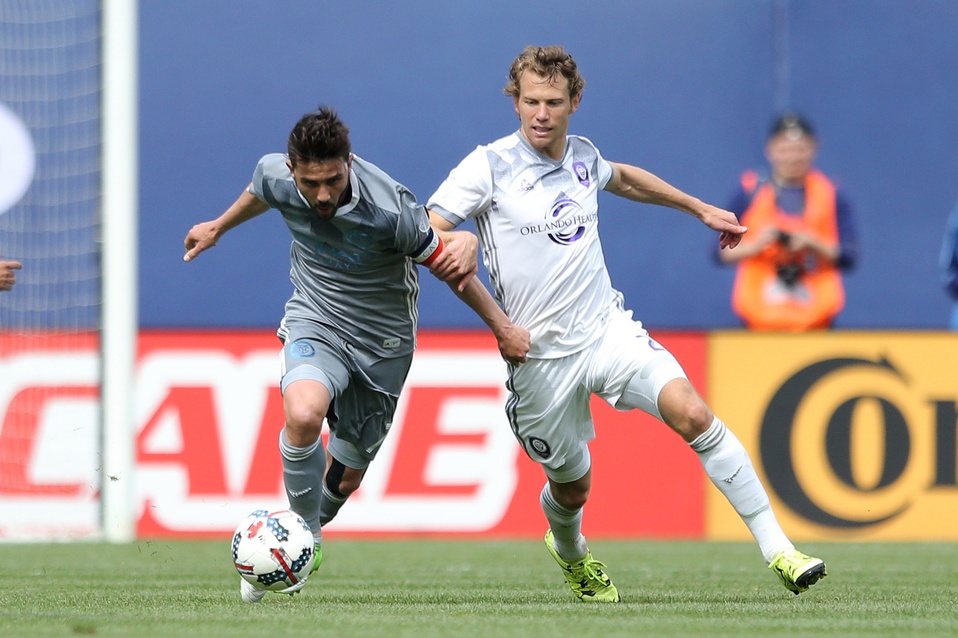 NEW YORK — On paper, it doesn't make sense for Orlando City's defense to be this good this soon.
The unit features two new faces, players learning the quirks and oddities of MLS on the fly. It features an expansion draft selection and subsequent piece of trade bait, a player adjusting to a new club and a new system under what still feels like a new coach and a 20-year-old centerback, one still finding his place on the professional level after spending preseason away from his new teammates.
Yet, despite all of the adjustments, additions and early-season challenges, the Lions defense has rapidly become one of the most dominant units in MLS.
On Sunday, the Lions defense marshaled NYCFC en route to a 2-1 win, one which saw the club allow just its fifth goal in six games. In some ways, the goal felt like an absolute disappointment, an inexcusable mistake for a unit that, to date, hasn't made many.
Despite the goal, though, Sunday's match saw each member of the unit contribute something different and unique. Centerbacks Jonathan Spector and Tommy Redding, two players with vastly different levels of experience, combined to keep David Villa and co. largely quiet, controlling the center of the field for large stretches. Donny Toia and Scott Sutter, two fullbacks new to the team, provided the assists on the two goals while slowing NYCFC's dangerous wing attackers for a majority of the match. Goalkeeper Joe Bendik, meanwhile, made six big saves, showing his continued development as a shot-stopper.
The defense is still very, very new, but Sunday served as another reminder: it's also very, very good.
"It's all we've worked on, to be honest," Bendik told SBI. "We're a good team going forward, and we know that, but defensively, that's going to be our biggest strength throughout the year. We just try and communicate, talk through everything. Even after a win, when we don't see something right, we just try and talk through it and we're all on the same page."
"It's about that collective willingness to do whatever it takes," head coach Jason Kreis added. "You see your strikers coming back to make defensive plays that they don't necessarily want to make. You see midfielders diving to stop things. You see Joe continue to make the biggest saves when we need it at the biggest moments. It's a collective mindset and a collective effort."
The secret, Spector says, is work, and a lot of it, but the pieces brought in to make that work possible have gone a long way.
In 2016, the Orlando City defense was the worst in MLS. The Lions allowed a whopping 60 goals throughout the 34-game season, good for most in MLS en route to an eighth-place Eastern Conference finish. The results ultimately cost Adrian Heath his job midway through the campaign, opening the door for Kreis to takeover as the club's new manager.
Once the offseason hit, defense instantly became a priority. Longtime U.S. Men's National Team defender Spector was added to anchor the unit, bringing Premier League experience to a generally young team. Two-time Swiss international Sutter added depth and competition to the fullback position, as did Toia, who was added in exchange for the eighth pick in the MLS Draft. Will Johnson was brought in to hold down the defensive midfield spot, adding an MLS Cup winner to the mix.
All of the additions joined an existing core that included Redding and incumbent starter Jose Aja, leading to a reconstructed and refitted backline that suddenly became one of the best units in MLS.
"It's a great group," Spector said. "We're all willing to listen to each other and different ideas. It's the open-mindedness and we're willing to work hard for each other, and that's made a big difference. Certainly there's the work that the coaching staff has done to get us to play as a unit. It's not just the back four. We defend from the front. The strikers do a heck of a lot of work up front defensively, too, so you have to look at the big picture as well."
Still, the season is young. While the six games could certainly be the start of a trend, the Lions know there's work to be done. Sure, they're on top of the East for now, and sure, the defense has done it, but the MLS season is fickle and the landscape can change rapidly between April and MLS Cup in December.
To keep that trend going, they'll have to continue to limit mistakes. On Sunday, they had just one, and it nearly cost them. But, at least initially, the early returns are beyond what many expected. The task is now to keep it all together.
"For us as a team, we want to close these games out and make it easier on ourselves," Bendik told SBI. "One set piece and we're switched off there and Cyle (Larin) was down and we're down a man, but if we deal with that a little bit better, we're 2-0 and they didn't have anything until then. Those are things we're going to learn as we get a little more experienced as a team.
"It's just one word: together," Bendik added. "That's it."