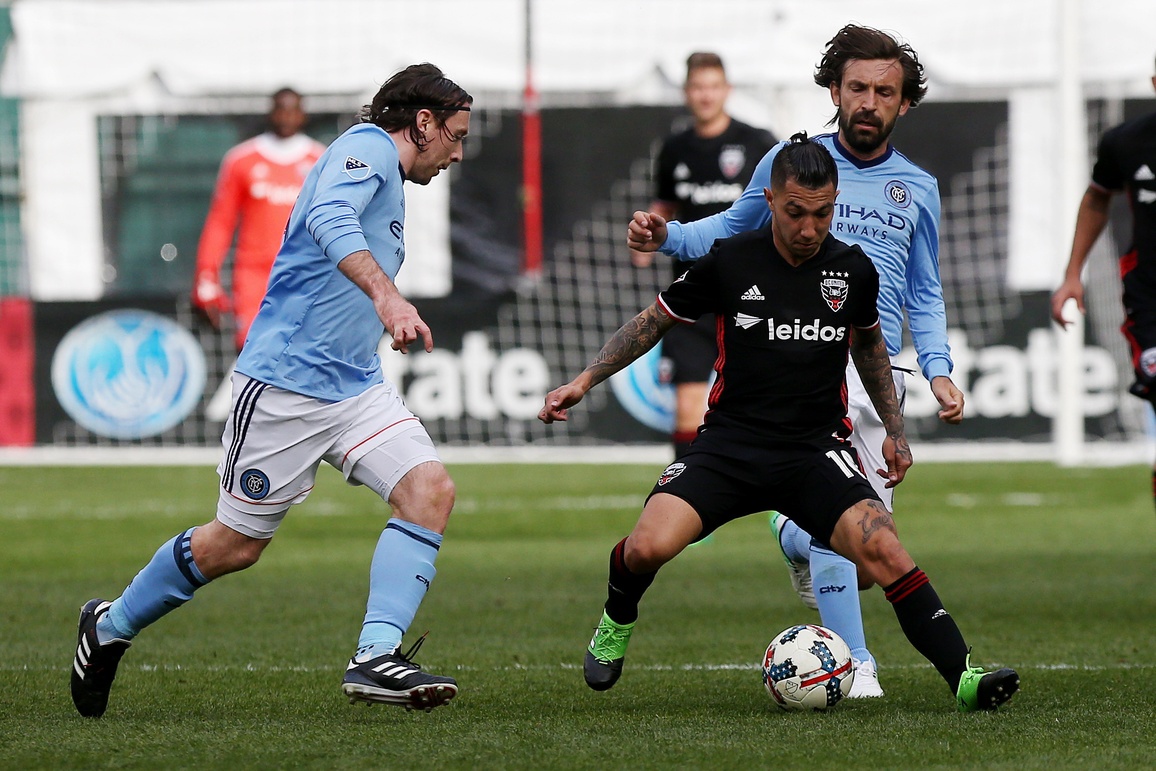 Of the 75 matches that New York City FC has played since its berth in the 2015 season, the contest against D.C. United on March 12 at Yankee Stadium is noteworthy. The 4-0 thrashing of DCU was arguably the top performance in club history.
NYCFC played a 4-3-3 system and created the illusion of large spaces at Yankee Stadium where the pitch appears smaller than many of the greens at Augusta National. The Designated Player trio of David Villa, Andrea Pirlo and Maxi Moralez looked like three boys who had linked up since their school yard days.
Less than a month later against the same team in the nation's capital, head coach Patrick Vieira altered the shape into a 3-2-2-3 configuration. The 2-1 defeat last Saturday was in part a result of NYCFC's tactical deficiencies.
"It was a difficult game and yes, we changed the system," said Pirlo. "We did not play the normal game like we did the other games."
"Tactically, I didn't think we played as well as we wanted," said Vieira. "Our position on the field did not give them enough problems."
Vieira was referring specifically to the talented sophomore winger, Jack Harrison, who had terrorized the left backs in MLS across the first four matches. Harrison carried himself more like a fullback than an attacking winger.
"He was too deep," said Vieira. "When you play in that system and you have one player who is not in the correct position, that brings the other players too deep. For Jack it was a lot of ground to cover."
In this instance, Vieira was implying that right back Frederic Brillant was tactically unfit.
"We need Fred to be a little wider in the attack," said Vieira. "It's important for us to analyze, then work on it and improve the system.  I love the system and we are going to use it again this year, no doubt about it."
The logical query following a dominant win over the same team just three weeks earlier – why change the system and replace an effective Ethan White with Brillant?
"It wasn't about giving Fred more time," said Vieira. "It was just about trying to use the system with the players that will help us to win the game."
For Harrison, it was a venture to sharpen his one versus one defending skills.
"I saw another good side of Jack," said Vieira. "When he needed to defend, he defended as well as anyone else – the way he defended as a right back, he was fantastic."
While his defensive skills are being polished, Harrison provides far greater value close to the goal. He is second on the team in shots this season with one goal and one assist. Harrison has produced five goals and eight assists in 26 career matches.
Pirlo Free Kicks, Playing Time and Future
Upon his arrival on a free transfer from Juventus in 2015, Andrea Pirlo was regarded as the best free kick specialist in the world. He has scored the most dead-ball goals in Serie A history with 15 of his 19 tallies for Juve from set pieces.
When David Villa drew a foul just outside the area at D.C. United last Saturday, Pirlo commanded the free kick and drilled the right-footed shot into the wall. This was not a unique moment for NYCFC supporters. It was the 29th free kick for Pirlo since his move to MLS. He's had but one success – a Yankee Stadium goal versus the Philadelphia Union last season.
In 2015, before Pirlo transferred to the Bronx, Villa scored a pair of stunning free kicks – Villa is 2 out of 14 in his NYCFC career but do not expect a role reversal any time soon.
"I let the players decide on the field," said Vieira.
Pirlo does not plan to abandon that responsibility.
"I try to score goals, I know it's my job," said Pirlo. "I can only try to make it better."
Pirlo has been the 90-minute man throughout his career but has been pulled from each of the last two matches.
"Yes, I want to finish all the games," said Pirlo. "That's normal, I always expect to play the full game. But the coach decides on the situation."
Pirlo was supplanted just two minutes after a soft tackle on Luciano Acosta led to D.C. United's game winning tally.
"Andrea is a real professional, I don't have to manage him in these situations," said Vieira. "We needed to change the game and we were going to be more exposed on the counter attack. I'm more than happy with what Andrea's doing at the moment."
Venezia F.C. Summer Tour?
NYCFC has tentative plans for a summer friendly against third division Italian club, Venezia FC, who will earn promotion to Serie B with one more point in its current season.
Venezia is owned by Joe Tacopina who has gained fame as the defense lawyer for Alex Rodriguez, Jay Z and Joran van der Sloot, the suspect in the mysterious disappearance of Natalee Holloway in Aruba. Tacopina also appeared in the first episode of the Fox reality show, You The Jury.  From a soccer perspective, Tacopina has previously owned AS Roma and was the President at Bologna.
While club CEO Ted Philipakos tweeted that plans are not finalized, Venezia is hopeful to take a summer tour of the states. In addition to NYCFC, the Venice side intends to play matches in Detroit and Miami.