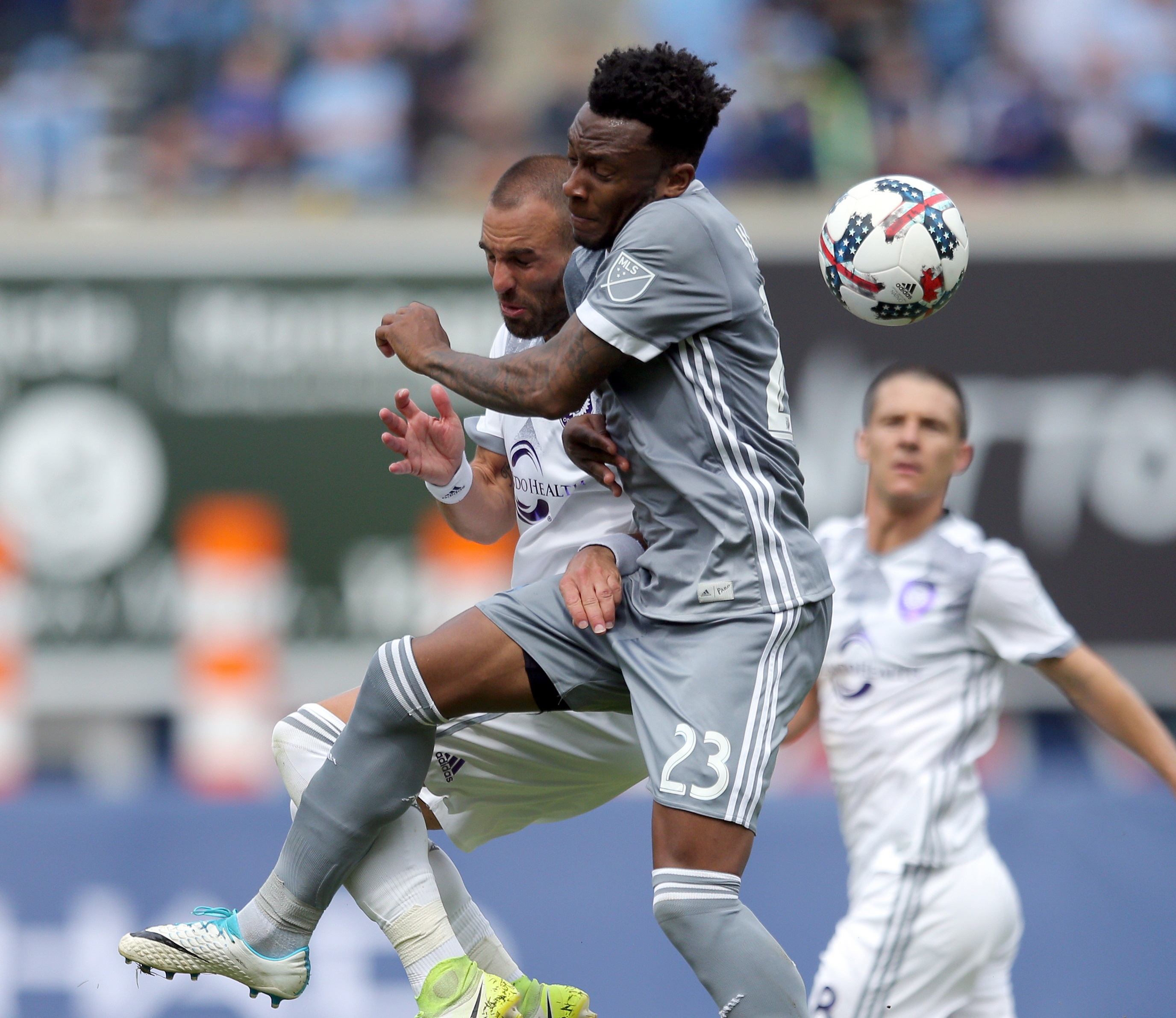 Following the acquisition of Rodney Wallace nearly three weeks into the pre-season, New York City FC coach Patrick Vieira suggested that he considered Wallace a winger – not a fullback.
Although Wallace has performed both roles in his nine years as a professional, Vieira welcomed the Costa Rican international into the NYCFC fold with one positional intention – left wing in a three-man front.
The NYCFC back line was vilified a season ago, but Vieira claimed that his first task on the defending side in 2017 was to enhance the capabilities of the forward line. There have been few superior to Wallace in that role in MLS this season. He has contributed a pair of goals – one a game winner and the other led to a draw – and a lethal left-sided relationship with Costa Rican compatriot Ronald Matarrita, whose overlapping romps have made him a terror in the attacking third.
When Matarrita was felled by an ankle injury last week, Vieira chose Wallace to start at left back against Cyle Larin and Orlando City. Rookie Kwame Awuah was not ready for that assignment. It is apparent that Vieira does not yet have faith in Shannon Gomez nor a renewed belief in R.J. Allen – both of whom are comfortable competing on the left side of defense.
Vieira intimated that he would choose a back three to counter the strength and scoring capabilities of Larin while also leaving Wallace closer to goal.  Distracted by his altered defending responsibilities, Wallace failed to attain a productive attacking posture and was physically overwhelmed on what proved to be the game-winning goal by Larin who has tormented NYCFC for nine goals in seven matches – four of them game winners.
In retrospect, if Vieira believed that a three-back system would best neutralize Larin, then his choice of a 4-3-3 shape and Wallace at the back was a failure. Matarrita is out for at least a month and Wallace continued to train at left back in Vieira's sessions this week. Ben Sweat and Allen also garnered repetitions.
Hamstrung
Khiry Shelton will miss his second straight match when NYCFC plays at MAPFRE Stadium against the Columbus Crew on Saturday night. Shelton is one of 22 players across the league that will be sidelined with a hamstring issue. Orlando City had three regulars hamstrung against NYCFC, including Kaka who strained his hamstring 11 minutes into the season opener – also versus NYCFC – and has not played since.
Holly Silvers-Granelli is the Director of Rehabilitation for the L.A. Galaxy and is on the Medical Committee for Major League Soccer.
"When we've looked at all the injuries over the last four seasons, hamstring has been the number one soft tissue injury that does not require surgery," said Silvers-Granelli. "It's superseding ankle injuries which is interesting because ankle sprains have historically been the most common soccer-related injury."
Silvers-Granelli, who advised her brother-in-law, Tony Meola when he had knee issues during his playing career, is a notable figure in MLS and U.S. Soccer – she had the formula to solve the hamstring sufferings of Jozy Altidore.  Toronto FC summoned Silvers-Granelli after Altidore endured his seventh hamstring glitch.
"We just really took our time and studied him extensively," said Silvers-Granelli. "We find that the strength ratio is unbalanced in hamstring injuries and Jozy's was very unbalanced. Ideally your quad to hamstring ratio should be as close to one as possible – and Jozy was two-to-one on both sides."
Shelton has strained his hamstring in the past and will miss another three-to-five weeks with his current malady. Silvers-Granelli says game-fitness evaporates during a prolonged absence and patience in a pressurized professional environment is critical.
"From a medical perspective, you're not looking at it in isolation because more often than not, it's not just a hamstring issue," said Silvers-Granelli. "I think some players that come back and get re-injured are not being managed ideally."
See Gareth Bale at Real Madrid.
NYCFC II
In ideal conditions, Shelton would have a competitive avenue to pursue after he is cleared by the medical team. 19-year old Yangel Herrera entered the Orlando City match for Andrea Pirlo in the 56th minute. Herrera was uncomfortable initially but found a rhythm toward the end of the match. The rookie has played a total of 45 minutes this season and like any young player, requires matches in order to progress.
Vieira has publicly stated that he is hindered without a competition platform for those first team members who are recovering from injury, have played very little or not at all.
"The best we can do is try to set up training in the right way for them to compete and stay at a good level," said Vieira.
The optimum solution for Vieira and the club would be NYCFC II. However, that project is far from completion.
"We're working on it but there's no real news on that," said Sporting Director, Claudio Reyna. "We ideally want something close so that they can train with the first team, then play on the weekend. It's not so easy for reasons with a stadium and facility to have the right situation and location."
San Antonio FC is the current USL affiliate for NYCFC.  Their Texas partners are unbeaten through six matches and at the top of the table in the Western Conference. At present, they have little need for reinforcements from their MLS big brothers.
"It has to work for both teams," said Reyna. "Finding the right time – it's the reason we teamed up with San Antonio – they train and play the right way."
Meanwhile, Herrera, Allen, Gomez, Awuah, Sweat, Eirik Johansson, Jonathan Lewis and Miguel Camargo wait patiently without a competitive avenue to prevent their game from going stale.
"I know it frustrates Patrick," said Reyna. "We don't have a place for those who need minutes."
Mutual Admiration Society
 Since Vieira's arrival in MLS, he has been clear about the coach and team he admires the most – Gregg Berhalter and the Columbus Crew.
The methods of both coaches is evident – control the match through superior possession and decision making to create more chances than you concede.
"I'm a big fan of the way they play," said Vieira.
Following a 2-0 loss at Red Bull Arena last Saturday against the high pressing Red Bulls, you got the impression that the New Jersey native was happy to get out of Harrison.
"When we were there to compete to see who had authority in the game, we came up short," said Berhalter who observed NYCFC in person last Sunday. "This will be different than the Red Bulls match, absolutely. I like New York City a lot. It's going to be a fight for the ball. It's going to be a fun game – those are always good games."