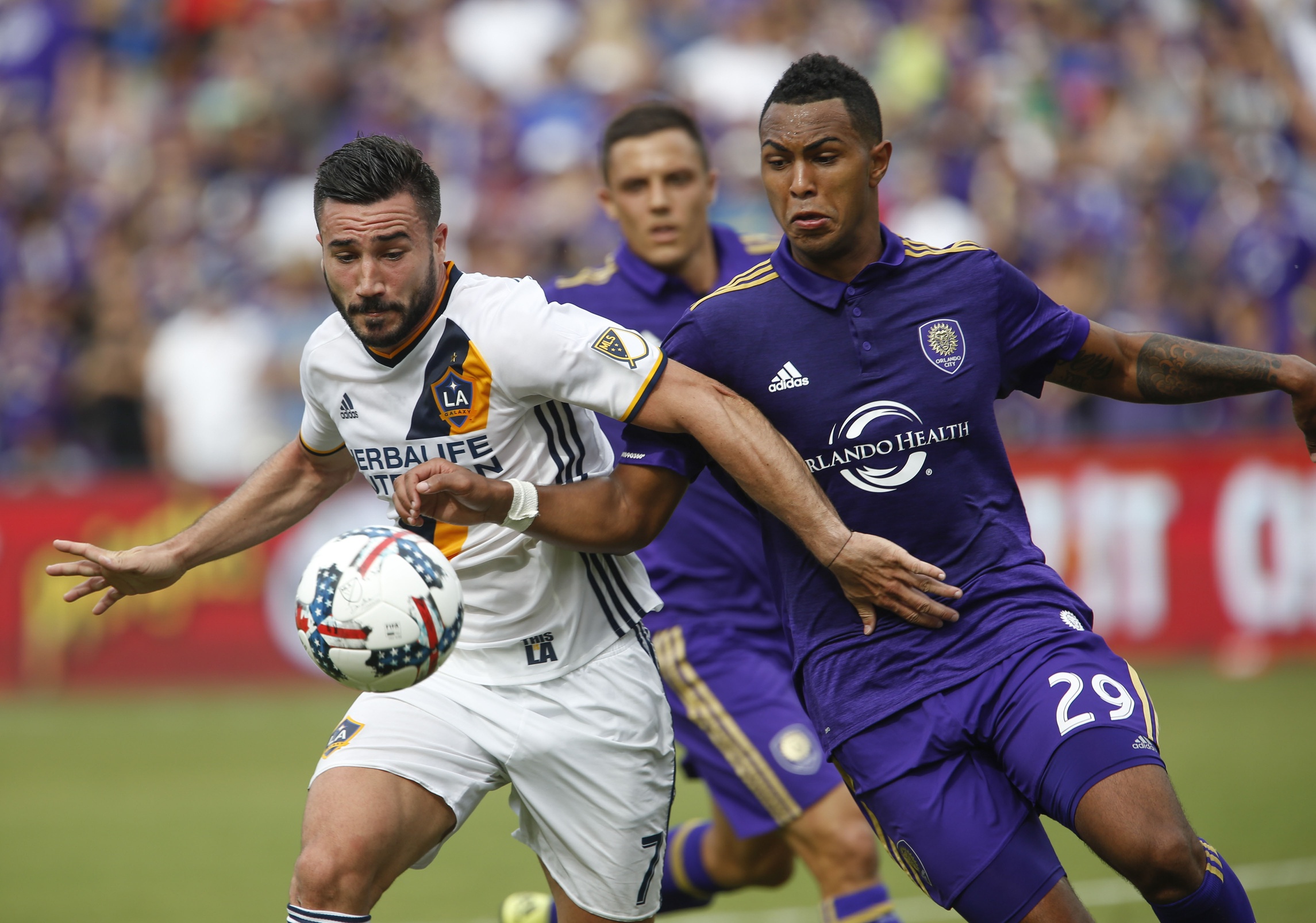 All Tommy Redding could do was smile and laugh. There he was, seated at his locker deep in the bowels of Yankee Stadium. He was just moments removed from another standout performance, another win anchored by the Orlando City defense.
Suddenly, from the neighboring locker, Giles Barnes butted in, and he had a point to make. Barnes is a veteran through and through, a player who has seen star defenders come and go during his time in the U.S. and England. But, in that moment, he had something to say about the one seated right next to him
"How old are you Tommy? 20?," Barnes asked, his arm draped around the young defender. "Find a better center half in this league at 20. Find one. It's true."
The defender is entering a crucial period in his young career, and, much like Barnes says, Redding is making the most of it.
With Orlando City, Redding remains a vital part of a defense that is suddenly the best in the league. Through six games, the Lions have allowed just five goals, just two of which have come in Redding's three starts.
Those three starts came on the heels of a standout performance at the CONCACAF U-20 Championship, a tournament which saw Redding start all six matches for the U.S. Under-20 Men's National Team. With Redding serving as a defensive anchor, the U.S. was able to claim the regional crown for the first time as well as a spot in this summer's World Cup.
"I think the biggest thing for me, and all of the guys on the U-20 team, winning that tournament gave us a ton of confidence," Redding told SBI. "Guys like Brooks Lennon, Danny Acosta, Tyler Adams, we're all coming back and we're all getting into the first team. We're all playing great and we're playing great so far.
"It's been great. The U-20 tournament gave me a ton of confidence, so jumping back in and getting to play with all of these guys has been fantastic. I feel like I'm doing really well so far."
With Redding included, the U.S. has a talented group of centerbacks available for the World Cup, which runs from May 20 to June 11 in South Korea. Real Salt Lake's Justen Glad remains one of the hotter prospects, even if injury issues have halted the start of his season. Erik Palmer-Brown, deployed as a no. 6 in qualifying, is a natural centerback. There's also the looming possibility of a Cameron Carter-Vickers call-up, and the Tottenham star would almost certainly earn a starting nod after making several first team appearances this season.
That makes the next month or so vital for Redding, and every member of the U-20 squad. With so much competition, it's important to not just earn first team minutes, but to use them to impress. So far, Redding has done so, leaping in to the Orlando City lineup after being left out of the starting XI to start the season.
After missing a bulk of preseason due to his U-20 commitments, Redding was thrust into the Lions' lineup midway through an April 1 clash with the Columbus Crew. It would prove to be the club's lone loss of the season to date, as the club has rattled off wins against the New York Red Bulls, LA Galaxy and New York City FC since Redding joined the starting XI.
It's a far cry from the Redding and Orlando City of old. In 2016, the Lions defense was the worst in MLS, allowing a league-high 60 goals as Redding appeared in 18 matches. This season, the backline has been among the best units in the league, showing a continued development for the club and its first Homegrown signing.
"I think Tommy has done really well," said centerback Jonathan Spector, who signed with the club this past offseason. "All things considered, missing most of preseason, being with the U-20 team, we're going to lose him again shortly to go to the World Cup and we wish him luck.
"I think he's improved each and every game, and for a 20-year-old, that's all you can really ask. You need to learn and improve as a player. He's had to step up and he was kind of thrown in, but I think he's responded extremely well. He's a great player, has a good head on his shoulders, a great athlete. If he keeps working as he has been, he's going to go far in this game."
Redding says he has noticed a dramatic change within Orlando City, both on and off the field. Players like Spector have come in and added a new feel, a new leadership dynamic to a team that's still playing without Kaka, it's biggest star. When he returned from U-20 duty, Redding says he instantly felt a new vibe, and that vibe has led to the club's hot start.
He's been a big part of that hot start, at least in recent weeks, but Redding is trying not to look far ahead. The World Cup is looming, yes, and there are big matches on the horizon, but Redding knows he has a big part to play in the weeks ahead.
It's a massive year for Tommy Redding at all levels, and he knows it. He knows that it's his time to step up, his time to assert himself as he marches through his third professional season.
As Barnes made his claim, he did so with all seriousness. He showed a certain belief in Redding, a confidence that the young defender is ready for the big stage. As Barnes talked and several members of the Orlando City locker room looked up, Redding could muster little more than a smile, one that showed a newfound confidence and self-awareness that could go a long way in the months ahead.
"There's still a ton of stuff I have to work on," Redding said, just moments after heading Barnes' sing his praises. "I still think I have so much ahead of me. Communication, being physical on the field, are big, big things for me."
"I take it one day at a time. I focus on what I have the day in front of me and I give it my all every day. If it's here with Orlando or with the U-20s, no matter what I'm going to work hard and stay focused. "