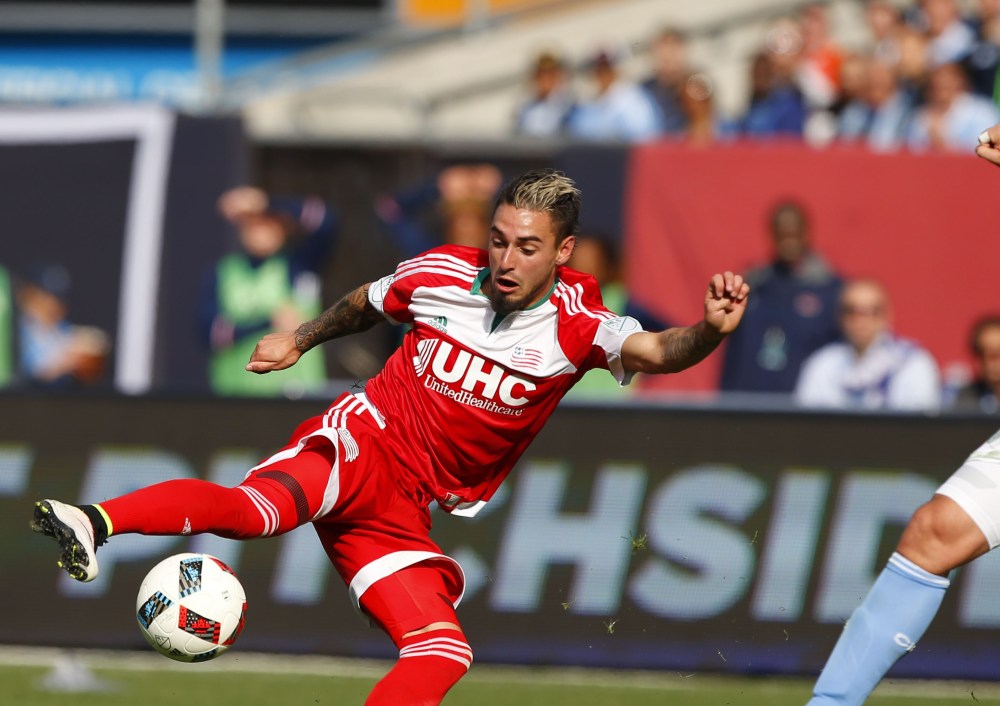 FOXBOROUGH – After winning their first two home games of the season, the New England Revolution let two points slip away in a 0-0 draw against the visiting San Jose Earthquakes on a cold, drizzly night at Gillette Stadium as the Revs controlled possession, but went scoreless on 15 shots.
Both teams shuffled their lineup with a quick turnaround to the weekend. The Revs (2-3-2) get to stay at home to host D.C. United on Saturday, while the Earthquakes (2-2-3) stay on the road, traveling to play the Houston Dynamo on Saturday.
This was the third draw in a row for the Earthquakes, who are now winless in five straight games since starting out the season with back-to-back victories.
The action picked up with a flurry of chances, starting in the 22nd minute when Kelyn Rowe curled in a ball ahead to Juan Agudelo for an open look in the box, but he missed wide right. The Earthquakes switched field, but couldn't convert as Chris Wondolowski whiffed on a look inside eight yards and then Danny Hoesen sent a shot from a similar range off the left post.
Lee Nguyen had a lane to shoot from 12 yards out on a counterattack in the 24th minute, but opted instead to pass it across the face of goal and just wide right as Agudelo came sliding in late.
In the 55th minute, Nguyen played a low pass off a free kick to find Agudelo open at the penalty spot, but his touch was too heavy and Quakes keeper David Bingham (5 saves) closed in to scoop up the ball. A minute later, Agudelo got a shot off but sent it right into the arms of Bingham again.
The Quakes came alive in the final half hour after not registering a shot on goal in the first half.
MAN OF THE MATCH
Diego Fagundez was the only player to put multiple attempts on goal, nearly putting the Revs ahead on nice give-and-go with Agudelo in the 74th minute, as he got it back on a back heel pass inside the box and forced Bingham to dive and tip the ball wide of the left post.
MOMENT OF THE MATCH
Earthquakes midfielder Anibal Godoy gave Revs keeper Cody Cropper his toughest test of the game in the 66th minute when Cordell Cato centered from the right side of the box to Fatai Alashe. He forced Cropper into a reactionary save to send the ball just wide of the right post.
MATCH TO FORGET
Midweek games for players in their 30s can be tough, but Quakes captain Chris Wondolowski was the face of a relatively meek offensive performance by San Jose. Wondolowski did not put a shot on goal in 83 minutes and his most memorable moment will be a swing-and-a-miss on a great opportunity in close in the 23rd minute.